Top 6 AI Tools to Make Eric Voice Text-to-Speech
We all are well aware of the popularity of Eric text to speech in transforming the audio content and captivating the audience. However nowadayspowerful tools with more advanced features are available and you should also give them a try.
In this article, we will explore the fascinating world of Eric Text To Speech (TTS) technology. TTS has gained immense popularity in recent years for its ability to convert written text into spoken words, making it an invaluable tool for various applications.
Part 1. What is Eric Text To Speech?
Eric Text To Speech, also known as TTS, is a cutting-edge technology that enables computers to generate human-like speech from written text. It has revolutionized various industries, including accessibility, content creation, and language learning.
Part 2. Top 6 Eric Text To Speech Tools
1. Best Eric Text To Speech - HitPaw Edimakor
HitPaw Edimakor, a prominent desktop application, has made waves in the TTS community with its innovative features and functionalities. Although the upcoming TTS function is yet to be released with the next version, it promises to be a game-changer.
Key Features:
TTS Function: Seamlessly convert text to high-quality speech.
Video Editing: Edit and enhance videos with various tools and effects.
Cropping: Customize video frames to achieve the desired aspect ratio.
Stickers and Text: Add captivating stickers and texts to elevate video creativity.
Multilingual Voice Options: HitPaw Edimakor offers a diverse selection of high-quality voices in multiple languages, catering to a global audience and accommodating various content localization needs.
Emotion and Tone Customization: With HitPaw Edimakor's TTS function, users can customize the emotional tone of the synthesized voice, allowing for expressive narration that suits the mood and context of their video content.
Background Music Integration: Enhance your TTS-powered videos with background music, elevating the overall experience and adding a captivating touch to your audio-visual creations. HitPaw Edimakor seamlessly integrates background music with the synthesized voice, ensuring a polished and professional output.
Using HitPaw Edimakor - 5 Easy Steps:
Step 1: Install the application and launch it on your desktop.

Step 2: Import your video file by clicking the "Import" button.

Step 3: Access the Text To Speech function through the "TTS" menu.

Step 4: Customize the voice and language settings as per your preference.

Step 5: Click "Export" to save your newly created TTS-enabled video.
HitPaw Edimakor offers a user-friendly experience, making it an ideal choice for both beginners and professionals alike. Stay tuned for the upcoming TTS function and unlock a world of possibilities with HitPaw's innovative features.
2. TTSFree.com
TTSFree.com is a web-based Eric Text To Speech platform, offering a range of features to transform written content into lifelike speech effortlessly.
Features:
User-Friendly Interface: TTSFree.com boasts an intuitive interface, making it easy for users to generate TTS audio without any technical expertise.
Multilingual Support: With support for various languages, users can create TTS audio in their preferred language, expanding accessibility and global reach.
Instant Conversion: TTSFree.com provides real-time text-to-speech conversion, enabling quick and efficient audio generation.
System Requirements: As a web-based tool, TTSFree.com requires a stable internet connection and works on standard web browsers across multiple devices.
Pros
Free Service: TTSFree.com offers its TTS capabilities at no cost, making it an economical choice for users.
Wide Language Selection: The platform's extensive language support ensures inclusivity for users worldwide.
Convenient Accessibility: Being web-based, TTSFree.com allows users to access the service from any device with internet access.
Immediate Output: Users can enjoy instant TTS conversion without any lengthy wait times.
Cons
Limited Features: While TTSFree.com offers basic TTS functionality, it may lack some advanced features present in other tools.
3. Ivona
Ivona is a premium Eric Text To Speech software known for its exceptional voice quality and natural-sounding speech synthesis.
Features:
High-Quality Voices: Ivona boasts a vast selection of realistic voices, creating a more immersive and engaging listening experience.
Pronunciation Control: Users can fine-tune the pronunciation of specific words, ensuring accurate and contextually appropriate TTS output.
Customization Options: Ivona allows users to adjust speech rate, pitch, and volume, tailoring the TTS audio to suit individual preferences.
System Requirements: Ivona operates as a desktop application, compatible with both Windows and macOS systems.
Pros
Realistic Voices: Ivona's lifelike voices elevate the quality of TTS audio, delivering a natural and human-like tone.
Advanced Control: The software's pronunciation and customization features provide greater flexibility and accuracy.
Offline Functionality: Users can utilize Ivona's TTS capabilities without the need for a constant internet connection.
Multilingual Support: Ivona supports multiple languages, broadening its utility for diverse users.
Cons
Premium Pricing: While Ivona offers top-tier TTS performance, it comes with a cost, making it more suitable for professional applications.
4. GoNuTTS
GoNuTTS is a versatile Eric Text To Speech tool known for its ease of use and efficient TTS conversion.
Features:
Text Highlighting: GoNuTTS highlights the text being spoken, enhancing comprehension and user engagement.
Auto-Save: The tool automatically saves the generated TTS audio, preventing data loss and facilitating easy access to previous recordings.
Export Options: Users can export the TTS audio in various formats, supporting seamless integration with other multimedia projects.
System Requirements: GoNuTTS is compatible with both Windows and macOS operating systems.
Pros
Intuitive Interface: GoNuTTS's straightforward interface makes it accessible to users of all skill levels.
Text Highlighting: The feature aids in educational applications, making it suitable for language learning and content accessibility.
Regular Updates: GoNuTTS continuously improves with updates, adding new features and enhancing performance.
Multi-Format Export: The export options allow for easy sharing and compatibility across different platforms.
Cons
Limited Voice Options: GoNuTTS might have a smaller selection of voices compared to other TTS platforms.
5. PlayHT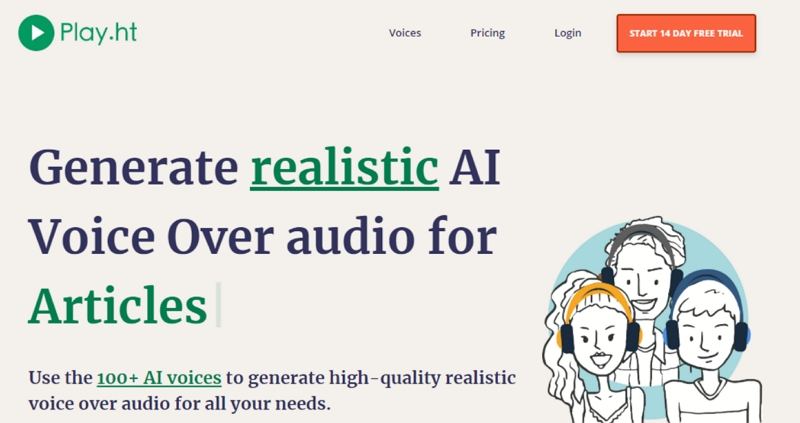 PlayHT is a cloud-based Eric Text To Speech solution, offering powerful features and convenient accessibility.
Features:
Cloud Storage: PlayHT stores TTS audio files in the cloud, allowing users to access and manage their recordings from anywhere.
Multilingual Support: With support for various languages, PlayHT caters to a global audience, facilitating content localization.
Audio Effects: The tool provides options to enhance TTS audio with background music and sound effects, enriching the listening experience.
System Requirements: PlayHT operates on all major web browsers and requires a stable internet connection.
Pros
Cloud Convenience: PlayHT's cloud-based storage ensures data security and seamless synchronization across devices.
Multilingual Capability: The platform's extensive language support enables widespread usage and audience engagement.
Customizable Audio: Users can add creative elements to TTS audio, making it ideal for multimedia projects and storytelling.
Easy Collaboration: PlayHT facilitates collaborative work by allowing users to share TTS audio with others.
Cons
Internet Dependence: PlayHT's cloud-based nature necessitates an internet connection for full functionality.
6. Narakeet
Narakeet is an innovative Eric Text To Speech tool known for its focus on visual storytelling through animated videos.
Features:
Video Synchronization: Narakeet synchronizes TTS audio with animated visuals, creating engaging and captivating video presentations.
Script Customization: Users can customize TTS scripts with animations and visual effects, enhancing the overall visual appeal.
Automatic Lip-Sync: Narakeet automatically animates the character's lips in sync with the generated TTS audio, achieving a more realistic effect.
System Requirements: Narakeet operates as a web-based platform, accessible on standard web browsers with a stable internet connection.
Pros
Dynamic Visuals: Narakeet's focus on animated storytelling elevates TTS content to a new level of creativity.
Easy-to-Use: The platform's user-friendly interface allows users to create compelling videos without advanced technical skills.
Time-Saving: Narakeet's automatic lip-sync feature saves significant time compared to manual animation processes.
Engaging Presentations: The combination of TTS audio and animated visuals ensures captivating presentations.
Cons
Animation Limitations: While Narakeet excels in animated storytelling, it might not be suitable for all types of TTS applications.
Part 3. FAQs of Eric Text To Speech
Q1. How does text-to-speech help students?
A1. Text-to-speech aids students in various ways, such as improving reading comprehension, supporting language learning, and enhancing accessibility for those with reading difficulties.
Q2. Is text-to-speech artificial intelligence?
A2. Yes, text-to-speech involves artificial intelligence algorithms that analyze and convert written text into spoken language using synthesized voices.
Q3. What is the TTS algorithm?
A3. The TTS algorithm is a set of computational rules and methods that process text and convert it into a synthesized speech output with the help of AI-based neural networks.
Final Words
In conclusion, Eric Text To Speech technology has transformed the way we interact with written content, making it more accessible, engaging, and inclusive. Among the top TTS tools, HitPaw Edimakor stands out with its impressive capabilities and upcoming TTS function. Experience the power of TTS and unlock your creativity with HitPaw Edimakor today!