9 Bring Old Photos to Life Apps: Check Pros/Cons/Price/Usage Here!
Old photos carry their aesthetics with them, however, with the right app, users can make old photos more interesting and memorable. These apps often use AI to animate old photos such that still photos become more exciting motion photos. We shall consider how to bring old pictures to life using animate old photos apps.
1. Why People Need An App to Animate Old Photos
If you are wondering why many people need bring old photos to life app, here are some reasons.
Animating old photos give pictures motions that can immortalize the memory of family members or friends who have passed on.
Animated old photos can be used to create an interesting family genealogy.
People use apps to animate old photos to store them on the cloud so the photos can be preserved permanently.
2. The Best Bring Old Photos to Life App
Below are some of the best apps to bring old photos to life.
a. HitPaw Animate Old Photos Online Tool
HitPaw is a multimedia site which provides many useful tools. For instance, there are video editing toolkit, screen recorder and a plenty of free online services. Here, we want to introduce this animate old photos tool.
Pricing: Completely free
How to Use
Go to this page.
Click Upload to import your old photos.
Choose a selection of the photo and then enter the needed info, like email, name and so on.
Go to the email you have entered to check the animated photo.
Pros
The latest technology
Free to use without paying and watching ads
User-friendly interface
Cons
You may need to wait about 30 minutes
b. MyHeritage Animate Old Photos App
MyHeritage app is the rave of the moment as it uses AI to find ancestry and bring related family members together. The app also features a photo editing tool that animates old photos of family members automatically. The photo is seen blinking with the head moving sideways. The person in the photo is seen smiling.
Pricing: Free and Upgraded membership options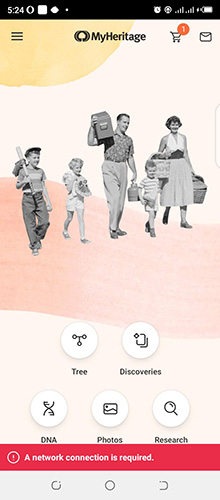 How to Use
Download and install the My Heritage app on Playstore and App Store.
Click Photos and upload pictures from the folder.
Click on the photo to edit the photo. Tap the animation icon for the AI to enhance and apply animation to the photo.
Save and share the animated photo.
Pros
AI automatically animates uploaded photos
Animated photos appear more real than other apps
The basic features are robust
Cons
Many features require an upgrade to work
There's no tutorial feature on the app for new users
c. Motionleap App to Animate Old Photos
Use the Motionleap app to animate old pictures. It has come with enhanced features based on users' reviews of previous Enlight photo editing apps. Motionleap is free for download on both Android and iOS platforms. Free users enjoy basic features while a monthly upgrade fee is charged to unlock more app features.
Pricing: Free basic/ Pro upgrade starting at $3.50 monthly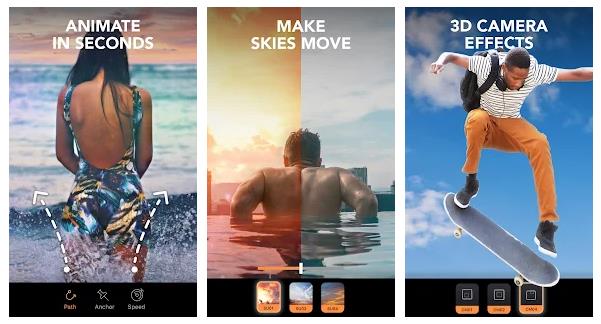 How to Use
Download and install Motionleap on your device.
Upload a photo or take a new shot.
Select Animate to display the animation tools.
Use the Path tool to show the direction of movement of photo elements. Use Anchor to set boundaries for some part of the picture to remain static. Add other effects such as overlays and filters.
Save and share the new photo on your social media platforms.
Pros
Very easy to use
Gives premium effects on photos
Features overlays to enhance photo quality
Cons
Only high-quality photos will give the best results
d. MoviePic App to Bring Old Photos to Life
MoviePic is another app that animates old photos. Its interface is similar to that of Pixaloop. It comes with 20 color filters and robust animation features which are completely available only to Pro members.
Pricing: Free to use and in-app purchases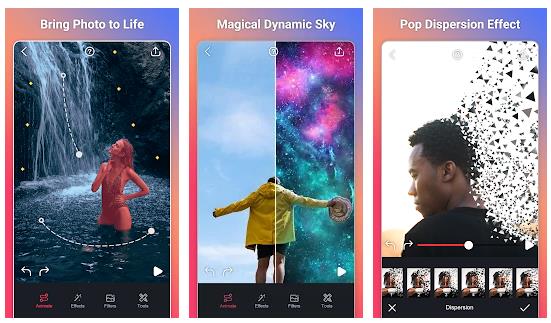 How to Use
Download and install Movie Pic.
Add target photo and select crop size.
Use effects, overlays, and motion tools to animate the photo.
Save the new project as a video and share if you want to.
Pros
Available on both Android and iOS platforms
Easy to operate
Robust effects to boost photo quality
Cons
Can only save motion pictures in a video format, not GIF
Free users will see a watermark on their edited photos
e. Facetune2 Selfie Editor
Facetune2 uses AI to add special effects and colors to pictures. With this app, you can adjust the jaw, change eye and hair color. The Facetune2 app is available on both Android and iOS devices presently. The app requires a minimum monthly subscription fee of $3.99.
Pricing: $3.99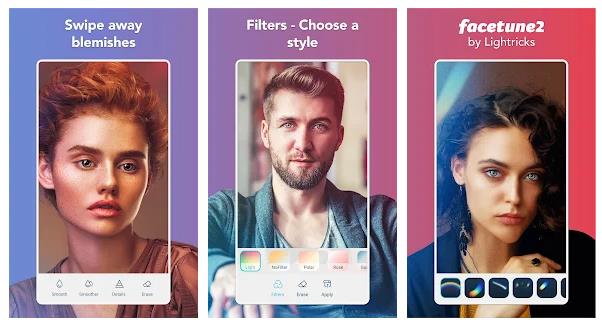 How to Use
Download and install the app.
Pay for the upgrade.
Upload the photo of your choice and apply the effects and animation tools which include frames, smoothness, reshaping, red-eye, etc.
Use the Eraser to remove parts you want out of the photo. Once you are satisfied with the photo edit, you can save it to your gallery.
Pros
Available on both Android and iOS platforms
Increase picture quality with advanced tools
Cons
It is not free to use
New users may take time before learning how to use the app perfectly
f. LightX photo editor
The LightX photo editor has been updated to allow more features. It functions like Photoshop but with less sophistication.
Pricing: $3 monthly/$35 lifetime membership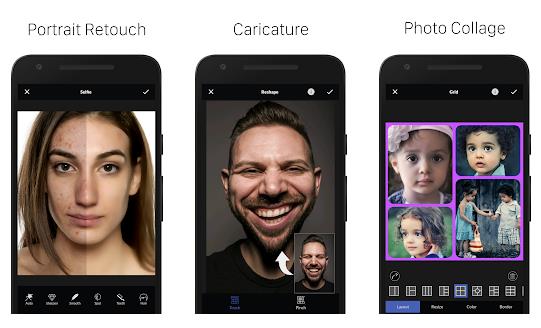 How to Use
Open an image then swipe left to choose what to do to it.
The options include Instant (filters and other photo enhancing tools), Creative (eraser and cutout tools), and Draw which adds emojis, text, diagrams, and shapes.
Use overlays to perfect the picture. Save the photo once you are satisfied.
Pros
First-time users can use video tutorials to learn each editing feature
Users can cut and paste elements on photos easily
Great features available for free
Cons
Saving photos can confuse users
g. Remini Photo Enhancer
As its name implies, Remini Photo Enhancer restores blurry photos with a high degree of perfection. If you have vintage photos that you would like to liven up, try this app.
Pricing: Free with ads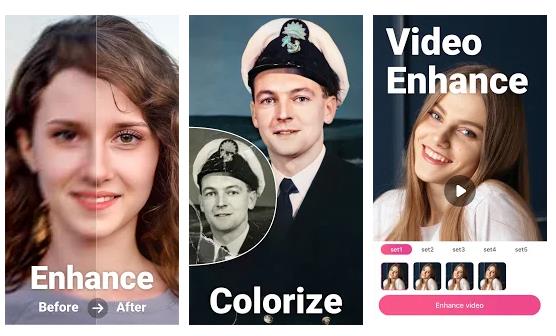 How to Use
After installing the app, upload the picture you want to enhance.
Set the image size and tap the Enhancer tool. Wait until you get the results.
Pros
Free to use
Produces high-quality photos
Does not require much learning
Cons
Ads may disturb photo enhancement
Users can only export a maximum of 2080 x 2080 image size
h. ToonApp to Animate Old Pictures
Changing old photos to cartoons is another way of bringing life to them. The ToonApp is extremely easy to use. There is no need for any guide to use the app as its UI is so straightforward.
Pricing: Subscribe to get free experience with ads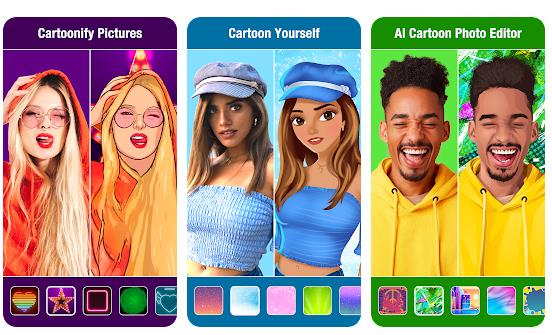 How to Use
Upload the target picture and let the app use your internet connection to cartoon the photo.
Use the Filter and Erase tools to highlight facial features. You can also change the background of the photo.
Pros
The basic features are free
Users can upgrade to unlock more advanced features
It is available for Android and iOS devices
Cons
Requires internet connection to cartoon photos
It only cartoons the head and no other part
i. Colorize Images
If you are looking for a very simple photo editing tool, colorize images is a good choice. It applies stunning colors to photos and changes photo backgrounds. Users can also control image output by using sliders.
Pricing: Free to use with watching ads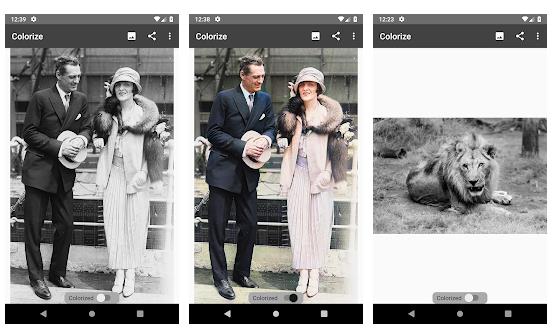 How to Use
Upload the image
Use sliders to indicate preferred color texture
Use the internet to effect the changes
Download and save colored picture
Pros
Easy to use
Flexible pricing plans
Uses a similar interface with My Heritage
Cons
Requires internet connection
Cost is quite expensive
3. Some Popular Photo to Life Videos on Tiktok
Using My Heritage animated old pictures app, many TikTok users have been sharing animated photos of their loved ones across multiple social media platforms. Below are some popular photo to life videos you can watch on TikTok.
Conclusion
We have listed the top bring old photos to life apps. These apps can be used without initial experience. However, to create better projects in a short while, it is better to go through the tutorials on how to use these apps. Most of them can achieve amazing photo animations that one can only imagine.