Catalog
Looking to explore different vocal styles and characters? Hitpaw's voice changer can assist you in transforming your voice into various personas and tones. Do take this guide to know how to change voice with
Download & Installation
Click the following botton to Download HitPaw Voice Changer on your Computer

Double click "hitpaw-voice-changer.exe"

First, choose the installation directory and language for the HitPaw Voice Changer program. Next, review the HitPaw License Agreement and click the "Install" button to proceed with the installation.

The program will start to download on on your computer
Activate
Click the avatar icon in the upper right corner of the program.
Please enter your email address to log in to your HitPaw Account. Alternatively, you can choose to log in using your Google account.
Afterwards, simply click "Upgrade Now" to purchase and activate the software, unlocking all of its features for your enjoyment.
Check for Updates
You can click on "Check for update" to verify if there are any new versions available. Make sure you have the latest version of HitPaw Voice Changer to enjoy New features.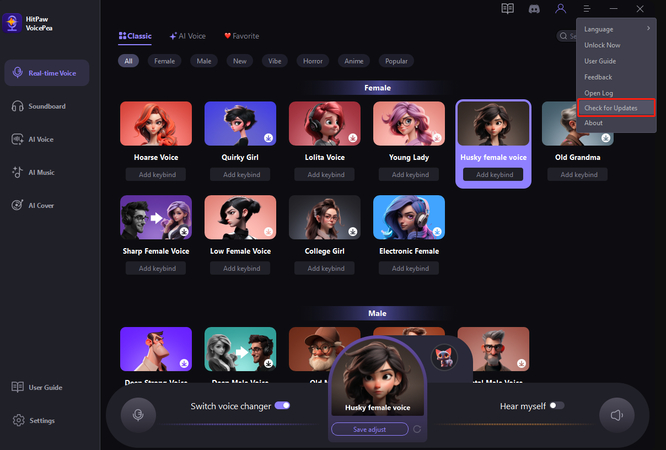 Log
Click to find the log file of your Voice Changer, Feel free to contact our team and upload the log when you encounter any issues. The Support Team will provide you with solution as soon as possible.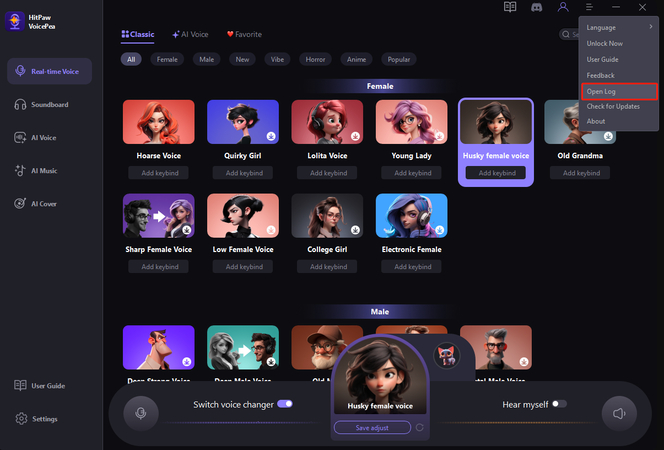 Feedback
Contact our support team to report your issues or give us your suggestions.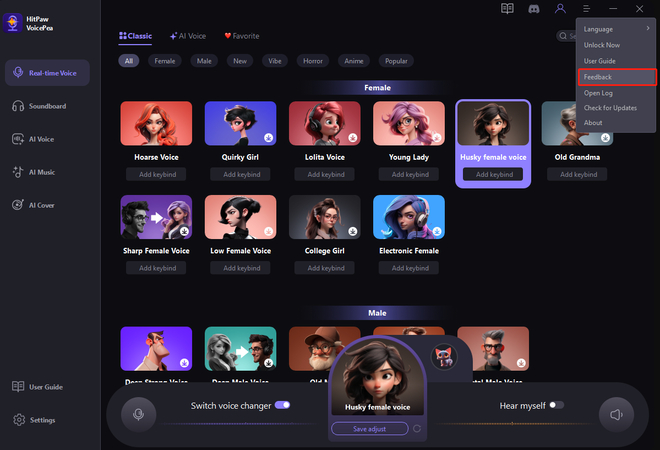 Guide
If you don't know how to change your voice on other platform. The detailed guide have been prepared for you in advance.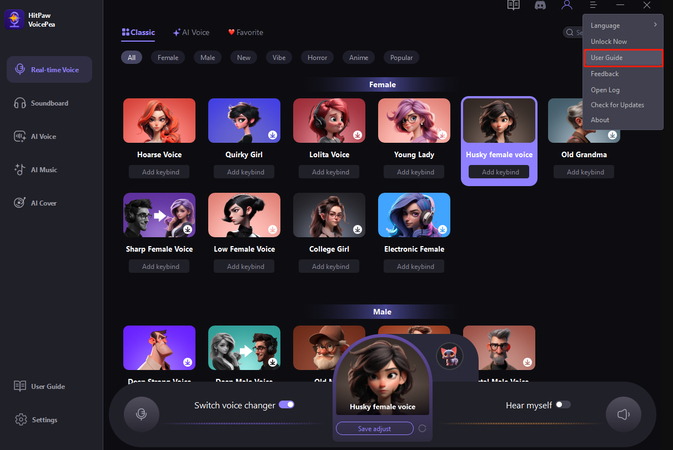 About
Click here to take you to discover more new features of HitPaw Voice Changer.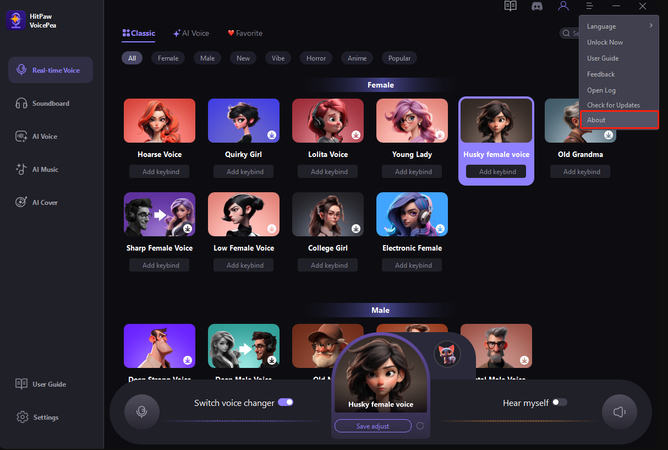 Function Introduction
Adjustment of Sound Effects:
You can personalize the volume, pitch, and timbre according to your preferences. If you want to clear your adjustments, simply click "reset," and the sound settings will be reset.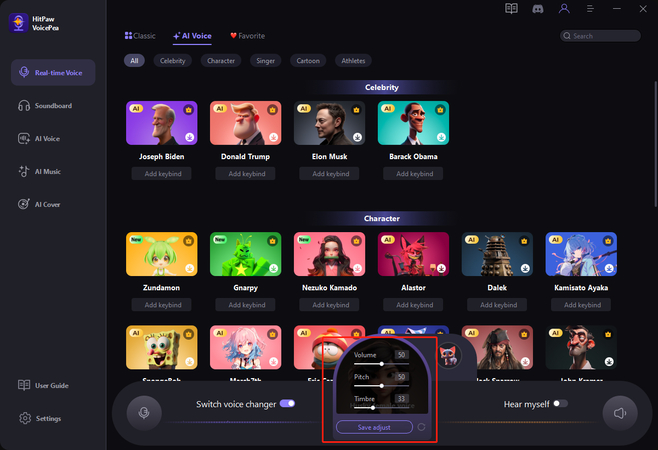 Voice Effects Keybind Settings:
You can assign shortcuts to your favorite effects, enabling you to switch between different sound effects directly during use. These shortcuts can be combined, but the maximum allowed is three. If a shortcut is already assigned to another function, the system will display a "Repeat" prompt.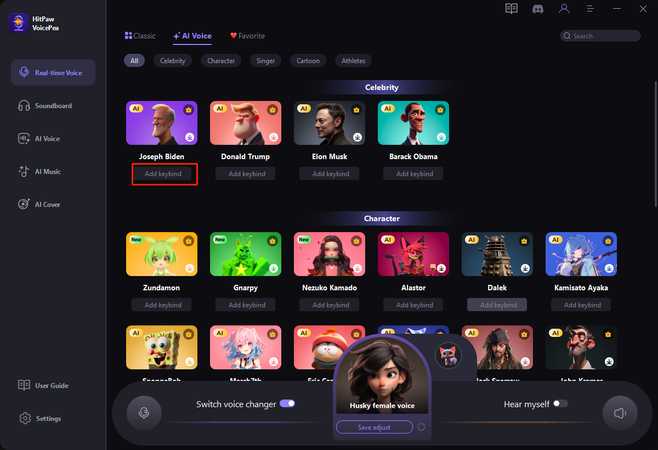 Global Settings:
Hear Myself: Hear your own voice during the voice-changing process.
Voice Changer: Turn on to change your voice.
Noise Reduction: Reduces noise from the user's environment.
Mircophone: Click to turn on/off Microphone.
Speaker Volume: Adjust the program output volume and system output volume.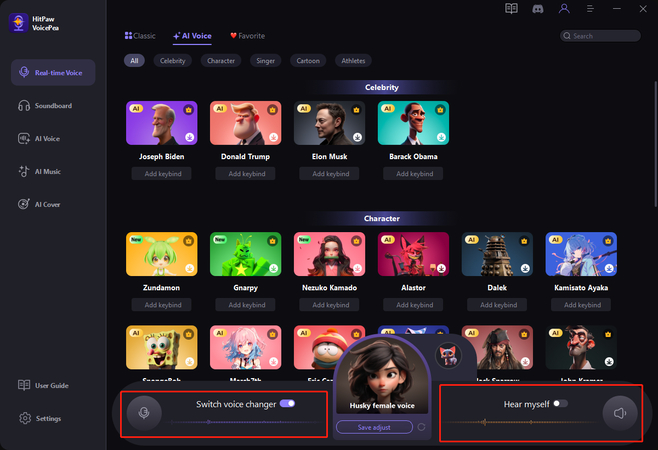 Settings:
Input & Output: You can choose the devices you are using.
Detect: Check your Input and Output devices.
Global settings keybind: You can assign shortcut keys to the global settings, following the same rules as the effects' shortcut key settings.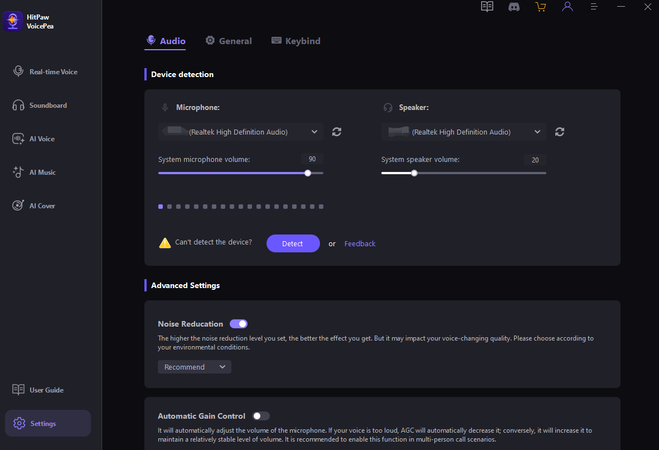 Audio Assistant:
It follows a procedure to check if the user's device is functioning properly, whether it can detect speech and hear one's own voice. It also allows adjusting the volume and noise reduction level. During the detection process, you can set the sound parameters, making it more convenient for subsequent use.