Is SaveFrom.Net Safe? Check the Review and Best Alternatives to SaveFrom.net
It's no doubt that SaveFrom.Net is an efficient and convenient tool for downloading videos from YouTube. Unfortunately, this site is no longer available in the US since April 20, 2020
This can be a real nuisance, especially when you're in a rush to get the video you need. Also, there are some worries about its safety online. So, is it really safe to use SaveFrom.Net?
In this article, we'll cover all these questions and provide you with some of the best alternatives to SaveFrom.Net. So, whether you're looking for a smoother experience or just curious, let's dive in and get to the bottom of this question.
Part 1. What is SaveFrom.Net?
SaveFrom.Net is a website that provides a service for downloading online videos from various platforms such as YouTube, Vimeo, Facebook, and more. It allows users to enter the URL of the video they want to download and provides them with options to save it in different formats and qualities.
SaveFrom.Net gained popularity for its convenience and ease of use, as it allowed users to save videos for offline viewing or other purposes. However, it's important to note that downloading videos from platforms like YouTube may infringe on the copyright of the content creators and violate the terms of service of those platforms.
It's also important to note that, due to copyright concerns and legal issues, SaveFrom.Net is no longer available in the United States since April 16, 2020.
Part 2. Is Savefrom.net Safe?
Yes, SaveFrom.Net is generally considered safe to use. It has been checked and verified by Norton Safe Web, a trusted platform that evaluates websites for potential security risks.
SaveFrom.Net has also gained the trust of millions of users who have successfully used its services without encountering any harmful effects on their devices.
However, it's crucial to exercise caution while downloading files from any online source, as certain downloaded files may pose risks if obtained from unverified or untrustworthy websites.
While SaveFrom.Net itself may be safe to use, the legality of downloading videos from certain platforms, including YouTube, raises significant concerns. It's important to note that downloading copyrighted content without the permission of the content creator or the platform itself is considered illegal in many jurisdictions.
Therefore, it's essential to understand and respect copyright laws when using SaveFrom.Net.
Part 3. How to Remove SaveFrom.Net Helper?
SaveFrom Helper is a browser extension designed to assist users in downloading online videos from various platforms. While it offers convenience in accessing downloadable content, some users may find the extension intrusive or unnecessary for their browsing experience.
If you've decided to remove SaveFrom.Net Helper from your Chrome or Firefox browser, this comprehensive guide will walk you through the step-by-step process.
How to remove the SaveFrom.Net Helper extension from Chrome?
Step. 1 Open Chrome and click on the three dots in the top-right corner of the browser. From the drop-down menu, select "More Tools" followed by "Extensions."
Step 2 In the Extensions page, locate SaveFrom Helper and click the bin icon beside it to delete it permanently from your Chrome browser.
Or, you can directly search "chrome://extensions/" in the address bar to manage extensions. Find the SaveFrom Helper extension and then click Remove to get rid of the extension.
How to remove the SaveFrom.Net Helper extension from Firefox?
Step 1 Start by opening your Firefox browser and then clicking the three lines in the top-right corner. Select "Addons" from this menu and then click the "Extensions" tab.
Step 2 Locate SaveFrom Helper from this list of extensions and click the "Remove" button beside it. This will delete the extension from your Firefox browser.
And that's how you get rid of SaveFrom Helper.
Part 4. Best SaveFrom.Net Alternatives to Download Videos Safely
1. download4.cc
download4.cc is a great alternative to SaveFrom.net that offers users the ability to download videos from over 1000 websites, including YouTube, Bilibili, Facebook, TikTok, Vimeo, Dailymotion, and more.
No installation required
No geographical restrictions
No registration required
100% free
Ads-free
Supports 1000+ sites
Easy and fast
All users need to do is visit its website and enter the link of the video that you want to download. Click the Start Now button to start analyzing the video.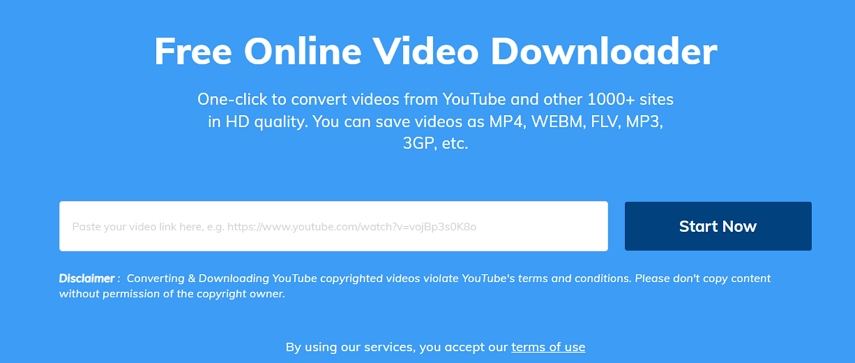 After analysis, it offers different formats and qualities. The free site offers video download up to 720 for totally free.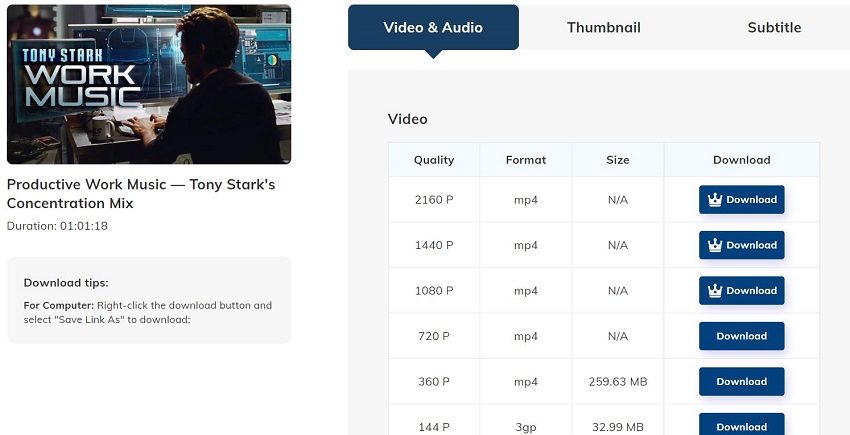 2. y2mate
y2mate is another great Savefrom.net alternative for downloading videos from a variety of sites, including YouTube, Vimeo, Dailymotion, Facebook, and more. It offers an easy-to-use interface and fast download speeds, so you can get your favorite videos in no time. Additionally, it offers a handy search bar so you can quickly locate the videos you need.
3. PasteDownload
PasteDownload is a user-friendly video downloader that allows users to quickly save videos from 500+ sites. Plus, users can preview the video before downloading it – no need to worry about accidentally downloading a low-quality version. With PasteDownload, you'll have the latest and greatest videos in no time.
Part 5. 100% Working SaveFrom.net Alternative -Desktop Solution
If you're looking for an easier, faster, and more secure way to download videos– look no further than the Hitpaw Video Converter.
This desktop software is a great alternative to SaveFrom.net and offers many advantages over online sites including:
Download videos from 10000+ sites, much more than online tools
Supports extract audio from video directly
Download videos up to 8k resolution
No geographical restrictions
Download subtitles and cover image along with videos
Built-in editor allows you to edit the downloaded videos easily: trim, cut, merge, filters, add watermark, etc.
Batch downloads supports
Full GPU acceleration
No virus, no ads
Works on both Windows and Mac computers
How to Download Videos with Best SaveFrom.Net Alteranative?
Using Hitpaw Video Converter is super easy – here's the step-by-step guide:
Step 1. Download and install the Hitpaw Video Converter to a PC or Mac computer.

Step 2. Go to the website that you want to download the video from, and open the video or playlist you want to download. Copy its link from the address bar.

Step 3. Now, paste the video link to HitPaw Video Converter's Download feature. Click the Analysis button.

Step 4. After the analysis, you will preview the video format and resolution that this program supports to download. The video can be downloaded up to 8K, the audio can be reached up to 320kbps. Choose your desired format and quality. Click the Download button.

Step 5. Now, wait for the video to be downloaded. You can access to the downloaded video from the Downloaded tab.
This is the simply steps to download videos in HitPaw Video Converter. You can also download YouTube playlist/channel, convert YouTube to MP3, and download Bilibili videos with similar steps.
The Bottom Line
SaveFrom.Net is a safe site to use and provides a great variety of options for downloading videos for free. But due to its geographical restrictions, users in the US can't access to this site any more. You can use similar websites like SaveFrom.Net like download4.cc.
But if you're looking for an even easier way to download, convert and enjoy multiple videos in different formats, HitPaw Video Converter is the perfect choice. With an easy-to-use interface and quick conversion speed, HitPaw Video Converter supports downloading videos from 10000+ sites in high quality.