Easy Guide on How to Crop Someone Out of A Photo
Photo bombers appear inadvertently when you try to take the perfect shot? This will ruin your photos and really makes you annoyed. So, how to crop someone out of a photo? There are many solutions for removing people from your photo. This article can help save your time. Today, we will have a look at some of the best methods that can help you crop a person out of a photo without affecting the background. Keep reading to know more.
Part 1.

How to Crop Someone in the Middle of a Photo with AI Tool?

When it comes to knowing how to crop a person out of a photo, the best method is to use a dedicated AI tool. HitPaw Watermark Remover is the best tool that comes with AI that can detect and remove the objects, person, or watermarks automatically within few clicks. The tool supports almost all the image formats so that you can add all types of pics.
Smartly remove unexpected person from photos in seconds
Three selection tools to precisely mark the person to crop
Give the best results without any distractions in the background
All types of image files (JPG/JPEG/PNG/BMP/TIFF) are supported
User friendly for beginners with intuitive UI
Follow the below steps to know how to crop someone out of a picture using this tool.
Step 1.Download, install, and launch HitPaw Watermark Remover on your PC. Drag and drop the image you want to crop person into the program.

Step 2.Mark the person or object you want to remove with the selection tool.

Step 3.Tap the Preview option and the tool will begin to remove the object with AI automatically.

Step 4.If you are satisfied with the removal, tap the Export option to save it.
Part 2.

How To Crop Out a Person In Photoshop with Content-Aware Fill?

You can also crop someone into a picture using Adobe Photoshop. Photoshop offers different features for users to remove unwanted objects and watermarks. One of the features that is most used by users is Content-Aware Fill. Follow the below steps to know how to crop out a person in photoshop.
1.Import the image in photoshop. Now, start by using the Lasso Tool. Draw a selection around the object or person that you wish to remove.

2.Now, go to Edit and click Content-Aware Fill) to automatically fill the selection of the person with other parts of the image.
Part 3.

Best App to Crop Someone Out of a Picture on iPhone & Android

Apart from the dedicated tools for computer, you can also crop someone out of a photo with smartphone apps from Android and iPhone. This section talks about such apps that users can use to remove unwanted people from the pics. Read below to know more.
1. Adobe Photoshop Fix (Android) - Best for Existing Adobe Users
Photoshop Fix is a photo-editing app developed by Adobe that lets you crop someone out of a picture in a matter of seconds. The app designers intended to provide you with all of the latest tools and features, thus you can do many of the tasks along with removing unwanted people from pics.
Apart from removing unwanted objects, the app can clone objects, change facial expressions, reduce red-eye, and make other basic edits such as lightening and sharpening.
For users with an existing account on Adobe Creative Cloud, the end results will be synced across all devices.
2. Samsung Galaxy's Object Eraser - Best for Samsung Users
The new Object Eraser tool from Samsung allows you to remove objects and people instantly from your photos . It cuts that object out of the image while rebuilding the newly created hole based on the surrounding space. If you own one of the latest Samsung devices, this tool is readily available in your gallery.
Able to remove unwanted objects and people from pics
Using Object Eraser is incredibly straightforward
Suitable for beginners
3. Snapseed (iOS & Android) - Best for Advanced Customizations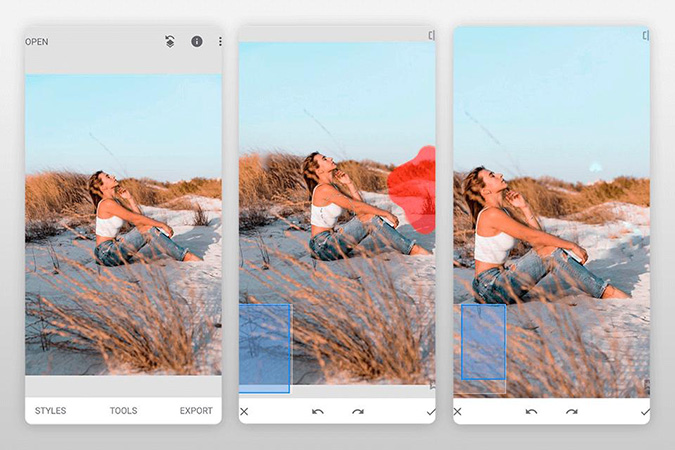 Snapseed is one of the best app to crop someone out of a picture and is a free photo editing. The app is available on Android and iOS. It comes with a variety of editing tools such as Healing tool and Double Exposure tool, with which you can easily remove small objects like rubbish and large objects that should not be in the photo.
Remove an object which is small with the Healing tool
Remove the larger object with the Double Exposure toolComes with classic editing tools such as straighten, crop, and sharpen, as well as frames, filters, vignettes, and text
Adjust or undo a specific edit in the process at any time
4. TouchRetouch - Best for Removing Objects Quickly
TouchRetouch is yet another app that aims majorly on object removal, including wrinkles, blemishes, and text. The app is best suited for swiftly getting rid of different objects in the same pic. This app is best for your needs since the app allows to remove content quickly. It is ideal for users when are in a hurry. However, the app doesn't offer any other editing features.
Get rid of objects such as trash cans, street signs, people, and stop lights.
Capability to get rid of complicated objects such as mesh and power lines
Comes with a Quick Repair tool to get rid of micro imperfections
5.Photo Retouch: Remove Objects - Best for Quick Edits
As the name implies, Photo Retouch: Remove Objects mainly aims on the getting rid of people or objects in your pics. Apart from this, the app also provides body editing features and quite unique skin. It is most suitable for users who wish a mixture of features such as beautifying tools and object removal to make their own perfect photo.
Advanced and intelligent removal options
Clear debris and unwanted people,objects in the photo
Easy UI with most essential features listed easily
Conclusion
In a nutshell, we just had a look at different methods on how to crop someone out of a photo. The best tool to crop someone out of a photo like a pro is to use HitPaw AI Watermark Remover. The tool comes with AI that automatically detects unwanted people and removes them. In addition to this, there are some apps to crop someone out of a picture easily. But, as per our expertise and experience, HitPaw is the best choice to get your job done.