8 Easiest Way to Deblur Images in 2023 for Win/Mac
You are traveling with your family, and after taking the pictures of your kids and wife, it comes out that the photos you've clicked are blurred. When your wife sees those photos, she will mark you as the worst photographer, and you don't want to be called by that name.
So, what are the options for you? You can opt for image deblurring, and the good thing is that we'll reveal several tools in this post that will help you to deblur image.
Part 1: Top 4 Ways to Deblur Image Online to Get Rid of Blur Instantly
If you want to avoid installing the image debluring tool, this article mentions the four top-notch online tools to deblur image.
HitPaw Online Photo Enhancer
Whenever there is a talk about online photo quality enhancers, you can't ignore the presence of HitPaw Online Photo Enhancer. You can sit and admire the image deblurring feature this online tool blesses you with.
With the ability to deblur image without causing image quality loss, along with the motive to enhance the overall quality of photos, HitPaw Online Photo Enhancer has been the real deal for some time.
Deblurring image is now only a matter of a few visits as it only asks you to navigate to its official website to get your job done.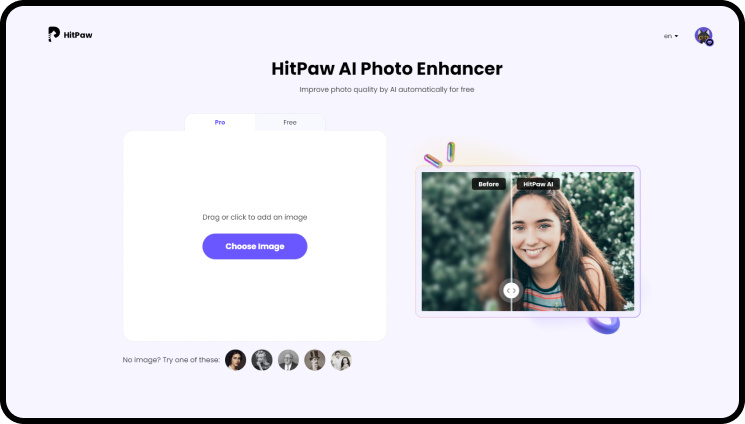 AI-based online photo quality enhancer
Deblur images automatically in a few clicks
Enlarge your photo to up to 8x
Allows you to turn low-resolution images into higher resolution
Image Upscaler
Image Upscaler comes up with unique features, an image deblurring tool that assists you in providing a clear and sharp picture in a few seconds.
This deblur online AI image tool supports removing the blur of multiple types, including manual blur, defocus blur, and motion blur.
Its accessible learning technology makes you adapt to all types of picture editing. To deblur image online, you can go to the official website of Image Upscaler and import the required photos and then ask the tool to do the rest.
Adobe Express
Although it demands you to get prior knowledge of using this online AI image deblur, Adobe Express could be your dream image deblurring tool.
Adobe Express offers various photo editing options, and its ability to deblur an image probably makes it one of the most reliable tools.
All you need to do is visit the official website of Adobe Express, log in with the necessary credentials, and then start upscaling the Photos quickly.
Instasize
If you want to avoid seeing the blurry images and want to deblur image as soon as possible, visiting the Instasize website will be a great idea.
Using this image deblur online tool, sharpening the images and generating flawless photos is easier than you think. From helping a professional photographer to deblur an image to allowing the newbie to remove the blur from the pictures, the Instasize online tool is for everyone.
Part 2: [Stable & Fast] Your Desktop Solutions to Deblur Images Efficiently
Anticipating the deblur image software that, along with removing the blur from photos, offers a simple user interface and doesn't affect the quality of photos is too much to ask for. However, you could also opt for the following desktop software to deblur image.
HitPaw Photo Enhancer
With HitPaw Photo Enhancer making the marks as the best photo quality enhancer, everything is possible.
Now, you can deblur an image courtesy of the AI technology HitPaw Photo Enhancer brings into play without wasting time. Several things make HitPaw Photo Enhancer a dream pick for users.
For instance, you can remove the noise from photos and turn low-resolution photos into higher resolution with minimal effort.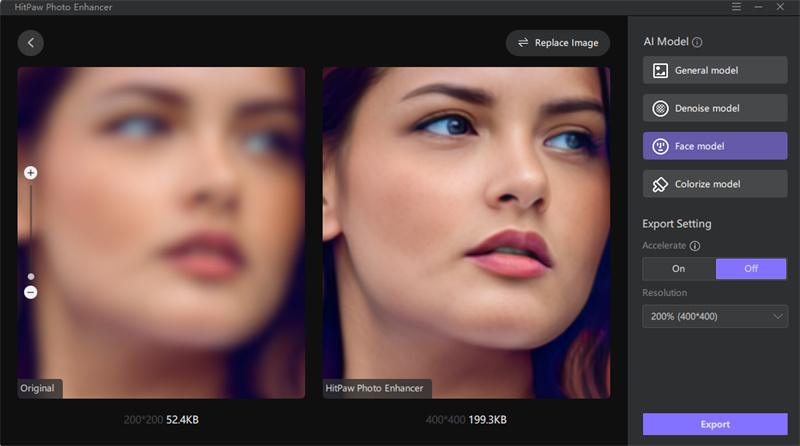 Allows you to deblur an image courtesy of the AI enhancement technique
It helps you to remove the blur of multiple photos simultaneously
Offers the four remarkable AI models to make your photos look top-notch and brilliant
Allows you to customize the photos quickly
Available for Mac and Windows
Photoshop
Regarding image deblurring software for desktop or Mac, Adobe Photoshop is undoubtedly one of the best photo editing tools you'll ever encounter. It has several photo editing features that help you deblur images quickly.
The only thing to dislike about Photoshop is that it offers a professional user interface, and newcomers will find it challenging to use this tool. Thus, they will require prior knowledge of Adobe Photoshop to start editing the photos. You can deblur an image using Adobe Photoshop without affecting the photo's resolution.
GIMP
Another reliable way to deblur an image without wasting much of your time is GIMP. Although GIMP has a more straightforward user interface than Adobe Photoshop, you won't find GIMP to be as professional as expected. Still, GIMP could be a reliable way to upscale the quality of photos by removing the blur from it.
On top of that, GIMP also aims to maintain the original quality of your photos, and the number of blurry-removing features GIMP comes up with is remarkable and heartening.
Thus, if you don't have HitPaw Photo Enhancer or Photoshop available, you can dive into GIMP and can try out the credentials of this reliable image deblurring software.
Conclusion
That's all we've had from this post where you find the most efficient ways to deblur an image. This post has covered everything from helping you explore the deblur image online free tool to coming up with brilliant idea deblurring software.
HitPaw Photo Enhancer remains the best image deblur tool that allows you to remove the blur from the photos quickly and doesn't affect the quality of the pictures.