[2023 Latest] ChatGPT and 6 Other AI Tools to Help You Improve Your Work Efficiency
Ai tools are the new cool. Everyone that knows how to use the internet is using these tools to enhance their workflow. Some are afraid of these tools, but others, know how to use them most effectively.
However, there are so many gems that are still hidden away from the public. In this article, we will discuss 7 tools that will change your life. Read on to find out more about the ai paraphrasing tool.
1.

7 Powerful AI Tools Available for Windows and Mac in 2023

Ai tools have taken the internet by storm, and rightfully so. Who wouldn't like to be more efficient with their work? However, some people are still skeptical about using these tools.

But imagine someone using paper and pen to calculate their finances instead of a spreadsheet. Isn't that weird? So, if you want to be the person who is ahead of your game. Here are 7 powerful tools to get on with.
ChatGPT - AI Chatbot and Content Maker
ChatGPT is the new guy in town that everyone is swooning over. And for all the right reasons. It's an amazing ai writing tools that are revolutionizing the content writing industry. The algorithms use the data available on the internet to create a synthesized form of text that will provide you with the solution to your problems.
It doesn't matter if you're stuck with writing a code or struggling to find some information on the internet. Enter the right query into the chat box, and the algorithms will take over. The chatbot is in its initial phases, so that you might be disappointed a few times. But, once the algorithms enhance. It's a matter of time before the chat gpt tool will be an unstoppable force.
However, the most fascinating aspect about this tool is that it's completely free to use. It's an open-access AI that anyone can use. All you need is a stable internet connection and some brains.
HitPaw Photo AI - AI Photo Enhancer
The HitPaw Photo AI tool is also a video enhancer ai tools. But, it's not like your average AI tool that is in its initial phases. The technology is fully enhanced and ready to take on the world.
There are many features of this tool but the most effective ones include the one-click enhancement feature. Moreover, you can also use the batch enhancement option to get done with your work more effectively.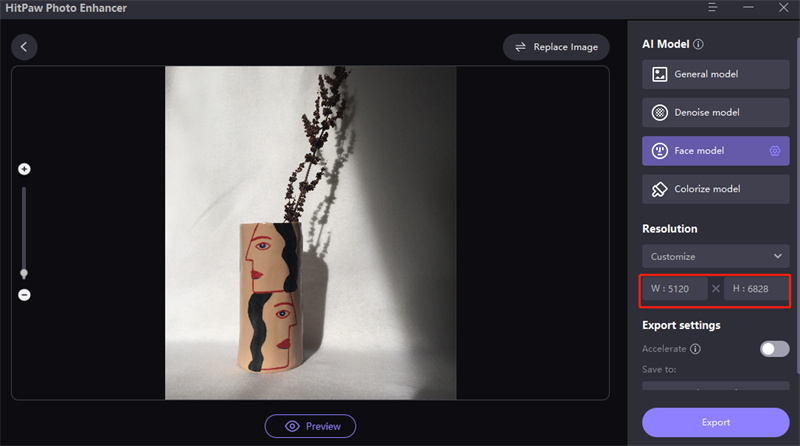 Similarly, you can also customize the size of your photo so that you're satisfied with the result. This tool is available for both Windows and Mac.
Super easy user interface
Responsive technical support
Batch enhancement
Easy steps to follow
Here is how you can use the tool.
Step 1.First things first, you need to download the HitPaw Photo AI tool from the button below.

Step 2.Once you download the tool, launch it on your device. And then, upload the image that you would like to edit.

Step 3.After that, from the 4 options available for the AI tools. Select one and apply it.

Step 4.Using the preview button - you can also preview the effect to ensure you like the end result.

Step 5.Once you're satisfied- click on export, and you're done.
Notion.AI - AI Paraphrasing Tool
On a different note than chatgpt ai. We have the notion tool. It's an effective AI paraphrasing tool that you can use in your day-to-day tasks.
But that's not all. The notion has the potential to become an even more powerful tool. Imagine automating repetitive tasks, such as data entry, scheduling, or even project management. With Notion.AI, users can set up workflows and let the AI take care of the rest, freeing up more time for important tasks.
Notion.AI can also help you gain insights into your work and identify areas for improvement. With machine learning algorithms, Notion can analyze data and recommend optimizing workflows or improving efficiency. It's just a better way to get ahead of your peers.
DALL·E 2 – AI Image Creator
This one is something that does not look real, but thanks to technology- it is real. DALL-E 2 is a continuation of the groundbreaking research project developed by OpenAI, which focuses on creating artificial intelligence systems capable of generating images from textual descriptions.
DALL-E 2 can help you generate high-quality images from textual prompts, ranging from simple descriptions like "a tomato smiling like Leonardo Decaprio" to "the first human being to exist on the face of the earth".
HitPaw Video Enhancer - AI Video Enhancer
The HitPaw video enhancer is also a groundbreaking tool that will help you easily edit your videos. There are 4 models that you can use for your videos based on what you like better. Other than that, you can also upscale your videos to 4k and 8k based on what you like. It also supports multiple languages to make the use of this tool easier.
Easy of use
Compatible with Windows and Mac
Super fast response
One-click solution
Lumen5 - AI Video Creator
Lumen5 allows users to create high-quality videos by simply entering a URL or a text and letting the platform's AI algorithms generate a video based on the content. Users can also upload their own media, such as images, videos, and audio, to further customize their creations.
Lalal.ai - AI Audio Stem Splitter
You know when you are annoyed by the instrumental version of a song? But you want to enjoy the song regardless? Well? Lalal.ai has got the solution for you.
Lalal.ai is an online platform that uses artificial intelligence (AI) to isolate and remove vocals from songs. The platform was developed by a team of engineers and researchers. It uses advanced signal processing and machine learning algorithms to separate the vocal and instrumental tracks of any given song.
Lalal.ai offers a simple and user-friendly interface, where users can upload any song in MP3 or WAV format and then select whether they want to isolate the vocals or the other side instrumental track. It's that easy!
Conclusion
AI tools like chatgpt openai and open ai chatgpt have taken the internet by storm. Some shy away from using these tools but they are the future. You can earn tons of money by writing scripts using these tools and then creating social media posts. But, if you want to further enhance your photos - use the HitPaw Photo AI tool for the job.