Best 6 Free Ways to Get 4K Stock Stock with High Quality
Modern humans are obsessed with consuming videos and the evidence speaks for it. More than a billion hours of videos are watched on YouTube every day, and a billion videos are watched on TikTok daily. Similarly, Instagram has announced that it will shift its focus to video-based content because videos get twice the attention on the app than photos.
If you are running an online business, you should know how crucial video content is for capturing the attention of potential customers. However, you do not need to hire an expensive videographer with fancy cameras to film exclusive content for you. You just need to hop on a website that provides high-quality stock footage 4K that you can use to market your products and services.
Part 1. 6 Sites to Save 4K Stock Footage for Free 
Pexels is an incredible website that provides a huge free stock video 4K for creators. Moreover, Pexels 4K video provides you with different download resolutions so that you can choose the resolution that fits your requirements. There is no requirement to subscribe before you can download the 4K video stock. 
However, subscribing to Pexels allows you to follow videographers and creators to check their contributions regularly. Subscribing to it also allows you to save your download history so you can access it anytime you want. Pexels stock footage 4K can be used for both commercial and non-commercial purposes and do not have any watermarks on them.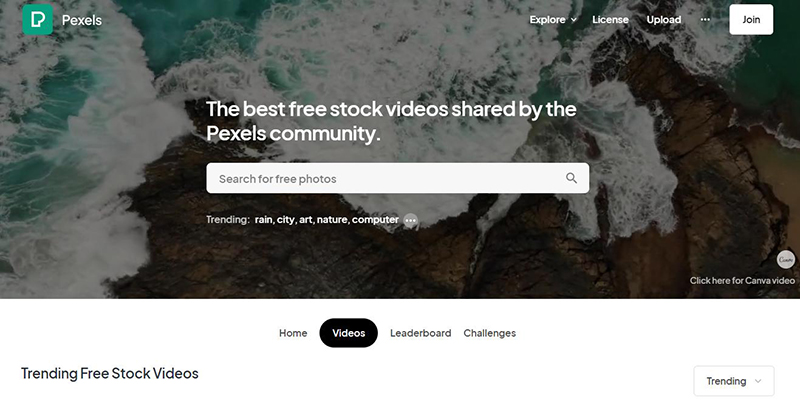 Pros

Free Plan is good enough to offer an impressive stock of videos.

High quality videos are available in different formats. 

No attribution is required when using Pexels' videos.

Cons

Sometimes it can appear limited in features. 

No advanced video search is available.

Price

Images and videos on Pexels are completely free of cost for everyone.
Videezy also offers an incredible collection of royalty-free stock footage 4K. However, all 4K video stock is not completely free on Videezy, as you need to upgrade to Videezy Pro for downloading some of them. The way to do it is to purchase Videezy credits which you can then use to download videos. 
Their premium/paid stock footage 4K can be used without attribution, but their free stock videos 4K has to be used with attribution. 
Pros

Offers a great collection of 4K videos.

Videos are easily searchable.

Cons

The premium version can feel a bit pricey.

There is a cost of Videezy.

Price

1 Credit: $19

5 Credits: $39

10 Credits: $49
Videvo brings you high-quality stock footage 4K for both commercial and non-commercial use. Their 30-second clips have no watermark but need attribution, while 10-second clips have watermarks without the need to get attribution. Upgrading to the Videvo premium plan can bring benefits such as many 4K video stock downloads per month.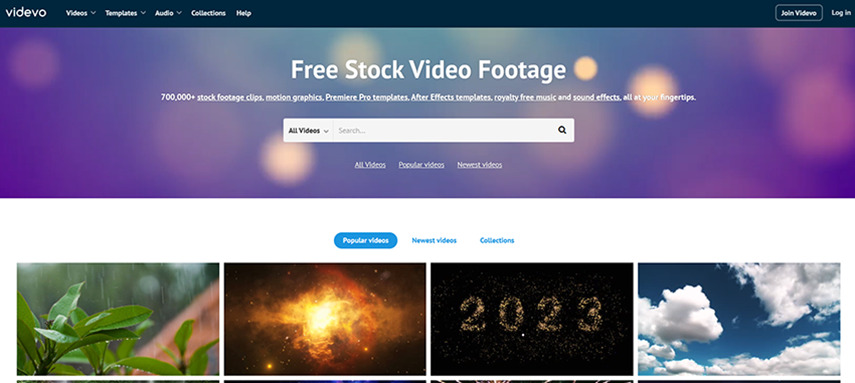 Pros

Offers quality content at decent prices. 

Also offers a free subscription plan. 

Cons

The library resources might felt limited to some users.

Price

Videvo Plus: $14.99 per month

Videvo Pro: $24.99 per month

Unlimited downloads for $144 annually
Pixabay has an impressive stock of more than 1 million stock footage 4K. You simply need to select a royalty-free 4K video stock and choose its download resolution to use it. Pixabay provides all of its videos for free for both commercial and non-commercial purposes. 
However, there are some rules that you need to follow regarding the use of their stock footage 4K as described in this license. 

Pros

Easy to navigate and download videos. 

Provides a rich stock of HD videos. 

Completely free to use. 

Cons

Videos can be missing or contain watermarks sometimes.

Price

You don't need to subscribe or pay anything to use images and videos. 
Vidsplay is another website with an impressively large collection of high-quality stock footage 4K. It requires you to credit their videos by using a link on your website. 

Pros

Provides a large collection of videos. 

All the videos are completely free. 

Cons

You have to credit their videos.

Price

Vidsplay offers free 4K stock footage so you don't have to pay them anything. 
Mixkit has an ever-growing library of high-quality stock footage 4K that does not require any attribution either. There are tons of categories you can choose from and use free 4K stock footage for marketing your products or services.
It comes with a modern and clean UI that everyone finds pleasing. All you need to do is to hover your cursor in the video to preview them. There are more than 1300 videos available that you can use on any platform.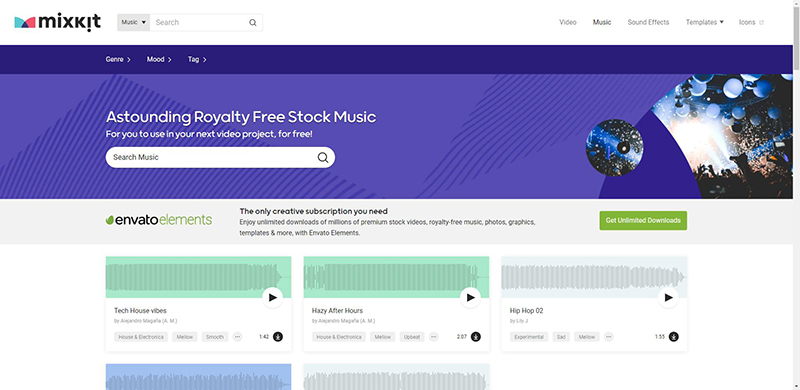 Pros

Mixkit has a simple UI that everyone can get used to. 

Only provides verified assets backed by Envato. 

No intrusive ads on the videos. 

Cons

No account creating option available for free HD stock footage 4K videos.

Price

Mixkit stock footage 4K is completely free and can be used by everyone. 
Part 2. Ultra-tips: How to Enhance SD Stock Footage to 4K With AI Video Upscaler?  
HitPaw Video Enhancer is one of the best video upscaling software available on the market today. It uses 4 incredible AI-powered models that enhance blurry video stock free 4K without any difficulty no matter what the occasion. The General Denoise Model, the Animation Model, the Face Model, and the Colorize Model provide the best AI functionalities to enhance your videos. 
HitPaw Video Enhancer allows you to upscale your video up to 8K, an incredible feat that is hardly achieved by any other enhancer. It also offers Batch Processing that lets you upscale multiple downloaded 4K video samples at once, without losing any quality. All you need to do is to import all the videos at once and HitPaw Video Enhancer will do the rest.
Last but not least, the interface of HitPaw Video Enhancer is incredibly simple and even beginners can get used to it in a short time. Every step is guided clearly so you just need to do a few clicks and get the video of your desired quality.
Features of HitPaw Video Enhancer 
Enhances your video with just one click.
Upscale the video resolution up to 8K.
Offers incredible noise reduction specially for older videos.
Adds a touch of perfection to human faces and anime.
Preview without watermarks.
Offers Batch processing for saving time.
Provides 4 different AI models for video upscaling.
Simple Steps to Enhance a Blurry Video Using HitPaw Video Enhancer 
Step 1. HitPaw Video Enhancer is available for download on the official website. Download and Install it on your computer.

Step 2. Simply upload the original video you wish to edit and improve using AI.

Step 3. Choose the AI model to process the video.

Step 4. Preview the video after applying the appropriate AI models from the three options provided.

Step 5. To save your edited movie, select "export" from the main window.
Learn how to Enhance SD Stock Footage to 4K With HitPaw AI Video Enhancer from this video:
Part 3. FAQs of Free 4K Stock Footage 
Q1. What is the best video enhancer for 4K Stock Footage?
A1. HitPaw Video Enhancer is the best video enhancer for 4K Stock footage because of its incredible features such as AI models and easy-to-use interface.
Q2. When you will need Stock Footage in 4K?
A2. There are many occasions when you need 4K video stock. For instance, if you want to market a specific product or service, you need high quality video stock free in 4K that captures the attention of people and urges them to check what you're offering.
Part 4. Conclusion 
Being a creator or a business that wants to capture the attention of people, it is crucial to know the sources of the best video content available online. Reading this article has provided you with a handy guide that you can now use to search for your favorite free video stock footage 4K and use it to enhance your online presence. 
However, always remember to upload your videos in the highest possible quality using a reputable video enhancer such as the HitPaw Video Enhancer. It brings incredible AI features to the fore, such as the 4 AI models and takes video enhancement to the next level.