Top 9 YouTube to MP3 320kbps Online Converters in 2023
The demand for YouTube to mp3 converter -- 320 indicates that many people wish to convert YouTube to MP3 320. Numerous online resources provide a wide range of conversion formats. The program facilitates the removal of a video's audio track. With the greatest YouTube to MP3 converter 320, we've made it possible to listen to your favorite music without spending a penny. So, let's take a look at top 9 320 YouTube to MP3 downloader online and how you can avoid the malware websites.
Part 1. Best 9 Converters for YouTube to MP3 320 kbps Online
If you want to convert videos from YouTube to MP3 320 kbps online, doing it online is the best option. Here are the nine best tools for extracting MP3 from YouTube videos. Okay, so let's begin!
Over a thousand video-sharing websites are at your fingertips, waiting to be downloaded with a single click. You may use download4.cc on a PC, Mac, or iOS/Android device. Aside from being able to download any video from YouTube, you may also convert YouTube to MP3 320 and other file formats.Download4.cc can be used without worry. The website has no bugs and provides a secure setting for its visitors.
There are no viruses on this website. There are no malicious links that will cause your computer to visit a dangerous website.
A website's biggest enemy is a barrage of distracting ads. That Download4.cc doesn't have any adverts to click through is great news.
More than a thousand more video hosting sites (in addition to YouTube) are supported.
The website Download4.cc allows you to do just that, downloading an MP3 version of a video from YouTube.
Follow these steps to learn how to use Download4.cc to get free MP3 movie downloads:
Step 1.Launch the movie or video you intend to save. If you want to download a song, for instance, you may get it on YouTube. Just copy the link to the audio.

Step 2.Next, copy the song's URL and paste it into the appropriate field on the Download4.cc website.

Step 3.Choose the format you need to download.

Step 4.Now all you have to do to get your MP3 audio is click the download button.
2. YtMP3eu.eu
Videos from YouTube may now be downloaded in high-quality 320kbps MP3 format with the help of YtMP3eu.eu 320kbps converter online. The movie may be converted to high-quality MP3 on the site. You may now enjoy high-quality 320 kbps YouTube to MP3 downloads with the help of this handy YouTube converter 320kbps online free.
With only a few clicks, you may have your download finished wherever you happen to be. Beyond that, there are no restrictions on the size or quality of videos that may be converted, and it's completely free.
The file may be shortened and a variety of filters can be applied. You may use it with any of these operating systems: Android, iOS, Windows, Mac OS X, and Linux.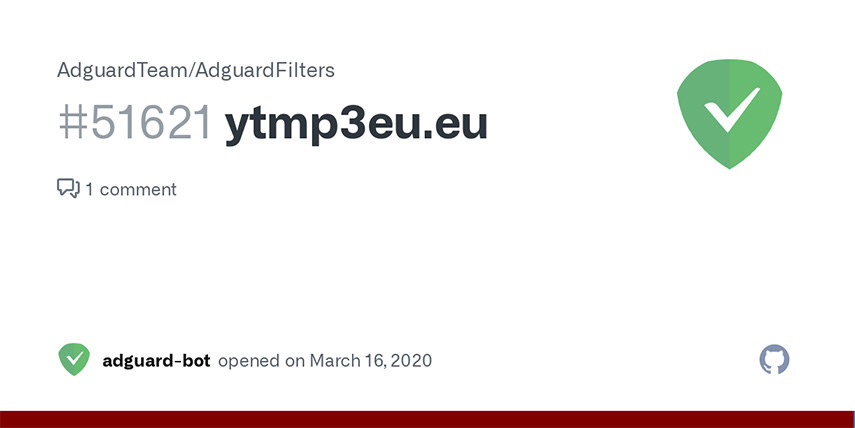 Pros:

Compatible with every device.

Completely online and free.

Converts YouTube videos to MP3 and other formats.

Cons:

Limited output formats
3. YTMP3.NET
YTMP3.NET is another amazing resource for converting videos from YouTube to MP3 high quality 320kbps. YouTube videos may be downloaded from the site in a variety of audio quality settings, including 64Kbps, 128Kbps, 192Kbps, 256Kbps, and 320Kbps. The high-quality output is maintained during the conversion process. You don't need an account to download the files or convert the videos from YouTube.
In addition, it supports an unlimited number of conventions and downloads, requires no additional software, is available for no cost, and is compatible with any online browser. Save any video from YouTube by pasting the link and selecting a quality.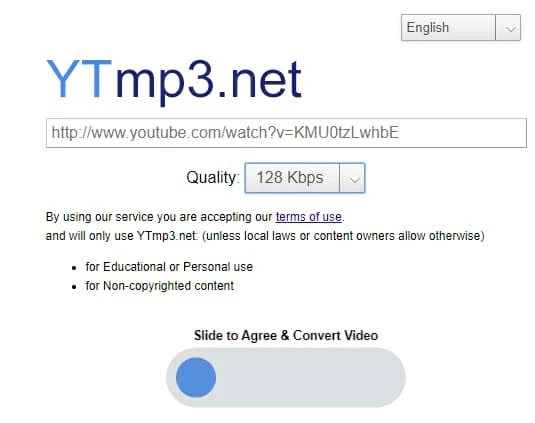 Pros:

Compatible with all online browsers.

Simple and straightforward.

Multiple audio quality settings.

Cons:

Only supports MP3 conversion.
4. YouTubetoMP3
YouTubetoMP3, as the name indicates, is another fantastic resource for effortlessly converting videos from YouTube to MP3 320 kbps converter free download online. Because it is web-based, no further software installation is required on the user's end. Even the longest videos on YouTube may be converted to 320kbps MP3s using this program.

Pros:

It will convert any length of YouTube video to MP3 without interruption.

In addition to Facebook, Vimeo, Dailymotion, and more, you can use it to download videos from over a thousand additional sites.

If you want the highest possible quality MP3 converter, this is your best option.

Cons:

No other format except MP3
5. YTforMP3
It's a web-based tool that can convert your preferred YouTube videos into mp3s. YouTube video downloads in mp4 format are also supported. Converting videos from YouTube to the more portable and high-quality mp3 320kbps format is as easy as clicking a button. It is among the best YouTube to 320 kbps MP3 converter online.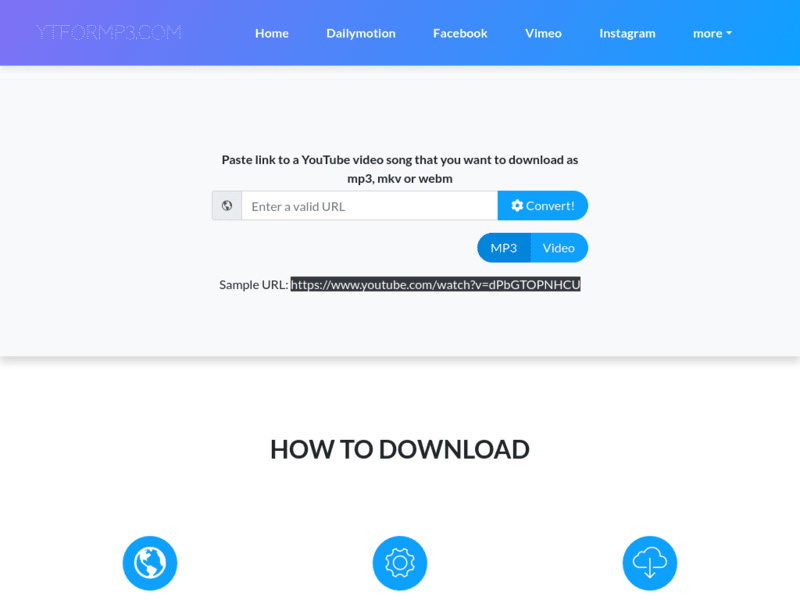 Pros:

It offers the quickest conversion speed possible when converting YouTube videos to 320kbps mp3 files.

There are no restrictions on the number of videos you may convert.

It has an intuitive design that anyone can pick up and use right away.

Cons:

Converting videos might occasionally fail because of unexpected events.
6. MP3Convert.io
Mp3Convert.io online YouTube to MP3 320kbps converter is the next online converter that we will discuss. Converting videos from YouTube to mp3 is possible without sacrificing sound quality. Furthermore, it supports and converts YouTube videos to mp4 format with HD 1080p resolution, which is superior to the standard quality of mp3.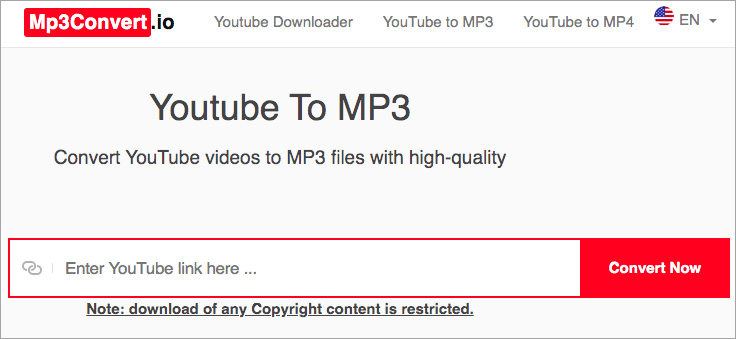 Pros:

The highest quality mp3s (up to 320kbps) may be converted from YouTube videos using this service.

You'll have no trouble navigating the many features thanks to the intuitive design of the UI.

In order to utilize this service, neither an account nor any additional software needs to be setup or installed.

Cons:

The website is 403 forbidden.
7. SaveMP3
SaveMP3 is a web-based service that allows you to convert videos from YouTube to 320kpbs MP3 audio. Using this tool won't cost you a cent, and there's no software to install. The video conversion can be done without creating an account.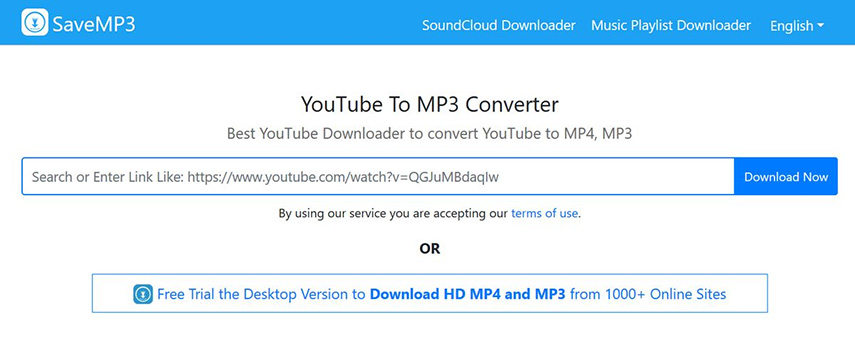 Pros:

There are no limits on the size or quantity of videos you may convert from YouTube to MP3 320kbps.

Video from Facebook, Vimeo, Dailymotion, and over a thousand other sites may be converted.

Provides assurance that the converted audio will be of excellent quality.

Cons:

Only supports MP3 as output format.
Y2meta is yet another web-based service for converting videos from YouTube to MP3. It's entirely web-based, so there's no need to download and install any software on your device before you can start using it.
Due to its browser-agnostic nature, it may be used to download videos on any device, regardless of whether it runs Android, iOS, or Windows.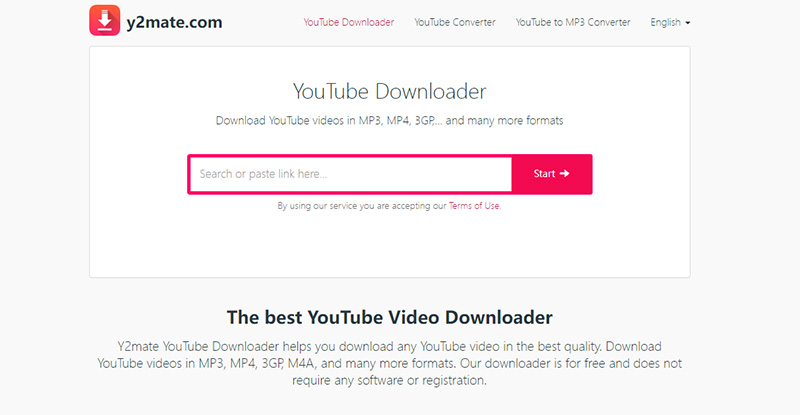 Pros:

Convert videos from YouTube to MP3 in 64, 96, 128, 192, 256, and 320 kbps quality.

It works with any browser and is very user-friendly.

Anybody may convert videos without signing up.

Cons:

Currently, it can only be used to download videos from YouTube; other sites are not supported.
EasyMP3Converter is another straightforward and powerful application for converting YouTube videos to MP3. This online tool is unrestricted in comparison to similar ones.
Without signing up for an account, you may download as many videos as you like. It's simple to use; all you need is the video's URL to start downloading.

Pros:

Videos can be downloaded in 320kbps MP3 quality or in lesser bitrates of 64, 128, 192, or 256.

It works with any browser, making it ideal for use on mobile devices.

There is no limit to the number of videos you may convert or download.

Cons:

In certain cases, the provided YouTube URL is not properly analyzed.
Part 2. What to Do When YouTube to MP3 320 Online Not Working?
Slow internet speed, pop-up advertising, malware, and security concerns all make it difficult to utilize an online website to download YouTube to Mp3 format files. If you can't convert YouTube to MP3 320kbps online, moving to an offline and reliable YouTube to MP3 converter 320kbps such as HitPaw Video Converter. You can mass download YouTube video to MP3 320, entire YouTube playlist to MP3, YouTube Live Stream and more.
Directly download and convert YouTube to MP3 320 in seconds
Support YouTube to mp3 320 kbps, YouTube to mp3 256 kbps and 128 kbps
Convert unlimited YouTube videos to MP3 in High Quality
Not only MP3, but also convert YouTube to 3GP, MP4, WMA, WEBM, M4A, and FLV, etc.
The software contains no adware, spyware, or other malware.
Here's how to use HitPaw Video Converter to get youtube audio into your computer:
Step 1.Launch your preferred web browser, head on over to wherever you found the video (in this case, YouTube), and copy the address bar.

Step 2.Launch HitPaw Video Converter. Click the Downloads tab when you're ready to begin downloading. Paste the copied URL into the interface with a single click.

Step 3.HitPaw Video Converter begins scanning immediately as a URL is put into the program. Select MP3 320Kbps as the output format.

Step 4.Start downloading the MP3 from YouTube by clicking the Download button. You may stop saving whenever you like and resume where you left off.

Step 5.If everything went well, the completed Mp3 will be found in the "Downloaded" tab.
Part 3. FAQs of YouTube to MP3 Converter 320 kbps Online
Q1. What is MP3 and 320kbps?
A1. Bit rates for audio files can be anything from 96 to 320 Kbps, with lower values meaning that the encoder removed more material during compression. A bit rate of 160 or greater is comparable to CD quality, whereas 128 kbs is considered radio quality. The optimal bit rate for optimal audio quality is 320 kbps.
Q2. Is it safe to download YouTube videos or convert them to MP3 320 kbps from YouTubeTo?
A2. It is totally safe if you use the right YouTube to MP3 downloader. HitPaw Video Converter will extract the audio from the video's container (often AAC or MP4) and re-convert it to MP3 at 320 kbps. Audio quality will not be lost while converting a YouTube video to 320 kbps MP3.
Q3. Why I can't convert YouTube to MP3 320kbps online?
A3. There could be a number of reasons why you're having trouble converting YouTube videos to MP3s at 320kbps. Here are a few possibilities:
The video might not be of a high enough quality to produce an MP3 with good audio quality at 320kbps.
The video might be too long to convert in its entirety without losing some sound quality.
You might not have the right software or hardware to convert the video accurately at 320kbps.
Your Internet connection might not be fast enough to support the download and conversion of a high-quality MP3 file at 320kbps.
Conclusion
We reviewed the top 9 YouTube to MP3 320 kbps online. However, most online YouTube converters contain ads, malware and are not safe. So, we recommend you use reliable YouTube converter MP3 320kbps desktop software -HitPaw Video Converter if you want a smooth and fast conversion for your YouTube videos. It is simple, easy to use, and user-friendly. Moreover, it allows you to edit your MP3 files after conversion.