Top 8 Text To Speak Tools For All Kinds Of Uses
In an increasingly digital world, text-to-speech (TTS) technology has become a valuable tool for various purposes.
Whether you need to convert written content into spoken words for accessibility reasons or simply prefer listening over reading, there are numerous text-to-speak tools available to meet your needs.
In this article, we will explore the top 8 TTS tools that offer a range of features and applications, making them useful in diverse scenarios.
Part 1. What is Text To Speak?
Text-to-speech (TTS) technology, also known as "read aloud" technology, is a form of assistive technology that assists individuals in accessing digital content by converting it into audio output.
With TTS, written text can be transformed into spoken words on computers or other digital devices.
Apart from assisting children who face difficulties with reading, this technology can also aid them in tasks such as writing and editing while enhancing their ability to focus.
Part 2. Top 8 Text To Speak Tools For PC & Online & Mobile
Here are the top 8 text-to-speech tools available for PC, online, and mobile platforms:
1.Best Text To Speak Tool For PC/Mac-HitPaw Edimakor
Introducing HitPaw Edimakor, a leading text-to-sound AI tool designed for the convenience of Windows and Mac users.
This remarkable software goes beyond its exceptional text-to-speech capabilities by offering an array of features to enhance your video editing experience. From effortlessly cropping videos to adding stickers and texts, HitPaw Edimakor has it all.
With its intuitive user interface, even those with minimal technical skills can navigate the software with ease and create captivating content without any hassle.
To revolutionize your video editing process with HitPaw Edimakor, follow these straightforward steps:
Step 1: Begin by downloading and launching HitPaw Edimakor on your PC.

Step 2: Import your desired video files through a simple click of the "Import" button or by using the convenient drag-and-drop feature within the software's interface.

Step 3: Once imported, organize your videos effortlessly by dragging them onto the timeline in any desired order that suits your final edited video.

Step 4: Take advantage of a plethora of editing tools at your disposal, including trimming, splitting, merging, cropping & resizing options – allowing you complete control over every aspect of your videos.

Step 5: Preview your edits in real-time to ensure they meet your expectations flawlessly. When satisfied with the results, save or export the finalized edited video directly onto your device.
Pros
Powerful text-to-sound AI functionality that enriches creative possibilities
Offers a wide range of additional video editing features for comprehensive customization.
User-friendly interface ensures seamless navigation for users at all levels.
Cons
The upcoming text-to-speech function is yet to be released (expected in future versions).
2. Text To Speak Tool For PC - Balabolka
With Balabolka, you have access to all the computer voices installed on your system, enabling you to convert on-screen text into audio files quickly and effortlessly.
This program offers a range of features, including reading clipboard content, extracting text from documents, customizable font, and background colors, and the ability to control reading through the system tray or global hotkeys.
Here are some pros and cons of using Balabolka:
Pros
Wide range of supported file formats, including AZW, CHM, DOCX, EPUB, PDF, PPTX, RTF, and more.
Utilizes various versions of Microsoft Speech API (SAPI), allowing customization of voice parameters such as rate and pitch.
Offers special substitution lists for improved articulation quality by changing word spellings.
Pronunciation correction rules can be applied using regular expressions.
Cons
The user interface may appear complex for beginners due to multiple advanced features.
3. Text To Speak For Mac - Spoken Content
Introducing Spoken Content, a text-to-speak tool specifically designed for Mac users. With this feature, you can have your Mac read out the text on your screen by simply pressing a keyboard shortcut.
Additionally, Spoken Content provides various customization options to enhance your experience. For example, you can choose to display an on-screen controller that allows easy adjustment of the speaking rate and control over playback functions.
Pros
Seamless integration into the macOS system settings.
Customizable keyboard shortcuts for easy activation.
The Onscreen controller allows quick adjustments to speaking rate and playback options.
Enhanced accessibility for individuals with visual impairments or reading difficulties.
Cons
Limited customization options beyond speaking rate and playback controls.
4. Text To Speak Online Tool - Speechify
With Speechify's advanced features and capabilities, you can enhance the accessibility and convenience of content on your website and app by adding a 'play button' for audio playback. Customize the reading speed to your preference with options up to 5 times faster than regular reading.
Pros
High-quality AI voices that produce natural-sounding speech.
Customizable reading speed allows users to listen at a pace that suits their preferences.
Ability to save converted audio across multiple devices for convenient access and playback.
Wide selection of over 30 natural-sounding male and female voices to choose from.
5. Text To Speak Online - Lovo.ai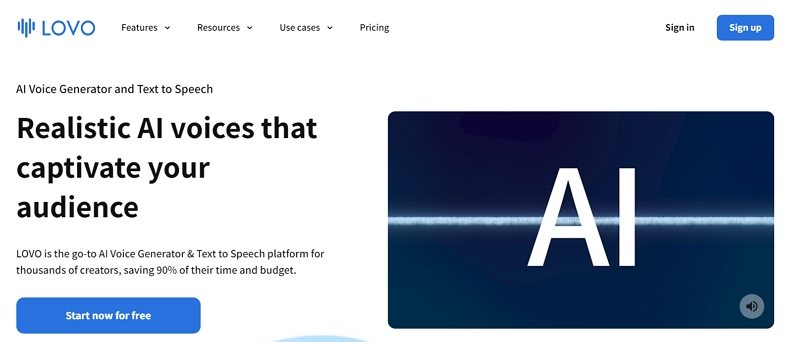 Lovo is an impressive text-to-speech platform offering a vast collection of AI voices that deliver realistic and human-like vocal performances.
With over 30 different vocal emotions to choose from, you have the power to customize the tone and expression of your text. Experience seamless previewing of the generated speech simply by typing the text and hitting the 'Listen' button.
Pros
Massive collection of AI voices, offering a wide variety of options to choose from.
Realistic and human-like vocal performances enhance the quality of the generated speech.
The instant preview feature allows users to listen to the text immediately after inputting it.
Customizable vocal emotions allow users to convey text with various tones and expressions.
Cons
Requires internet connection.
6. Text To Speak Online - HeyGen
HeyGen is an innovative online text-to-speech tool powered by AI that offers a wide range of natural voices. With over 300+ voice options across 40+ languages and diverse accents, HeyGen enables users to effortlessly convert text into high-quality speech.
Whether you're looking to create professional voiceover videos or simply transform written content into spoken words, HeyGen helps you save time and costs compared to traditional methods.
Pros
Wide range of 300+ voices across 40+ languages, offering diverse options for voice selection.
Natural-sounding speech output generated by advanced AI technology.
Cost and time-efficient solution for creating studio-quality voiceover videos.
User-friendly online platform that is easily accessible from anywhere with an internet connection.
Cons
Platform compatibility limitations.
7. Text To Speak Extension - Read Aloud
Read Aloud is a powerful text-to-speech extension that facilitates seamless reading of web page articles with just one click. This convenient tool employs TTS technology to convert webpage text into audio and supports over 40 languages.
Pros
One-click functionality for easy and quick text-to-speech conversion of web page articles.
Support for over 40 languages, ensuring accessibility for a diverse range of users.
Compatibility with various websites, including news sites, blogs, publications, textbooks, and online university course materials.
Cons
Certain cloud-based voices may require additional in-app purchases.
8.Text To Speak On Android - Select to Speak
Select to Speak is a text-to-speech feature available on Android 12 that offers convenient functionality for reading and describing selected items on your screen. With this feature, you can simply highlight text or objects and have them read aloud or described to you.
Select to Speak is compatible with web pages and applications that support selected texts, providing accessibility without the need to enable any additional settings.
Pros
Select to Speak enhances accessibility by allowing users to have text on their Android device read aloud or described.
The feature offers a simple and seamless user experience, requiring no additional settings or configurations.
Select to Speak works on web pages and applications that support selected texts, making it versatile for various content types.
Users can conveniently highlight and have specific items read aloud or described without needing to navigate through the entire page or screen.
Cons
The feature only works on readable text, such as text from a web page.
Part 3. FAQs of Text To Speak (No more than 70 words for each answer)
Q1. How does text-to-speech help students?
A1. Text-to-speech technology provides invaluable support for students in various ways. It assists students with reading difficulties or disabilities by converting written text into spoken words, making the content more accessible and easier to comprehend. This can improve their reading skills and boost overall learning outcomes.
Q2. What is the difference between text-to-speech and human reader?
A2. The main difference between text-to-speech and a human reader lies in the method of generating spoken content. Text-to-speech relies on computer algorithms and AI-powered technology to convert written text into audio output.
On the other hand, a human reader is an actual person who reads aloud written text. A human reader brings their own unique vocal qualities, intonation, emphasis, and emotions to the reading process.
Q3. Is text-to-speech machine learning?
A3. Yes, text-to-speech (TTS) technology often relies on machine learning techniques to generate speech from written text.
Machine learning algorithms are used to train models that can analyze and understand linguistic patterns, phonetics, and contextual cues within the text. The models then use this knowledge to convert the written words into spoken words with synthesized voices.
The Bottom Line
Text-to-speech technology has become an invaluable tool for various purposes, revolutionizing the way we consume written content.
Whether it's improving accessibility for individuals with reading difficulties or enhancing productivity by enabling multitasking, the top 8 text-to-speak tools discussed in this article provide a range of features and applications to meet diverse needs.
Among these tools, HitPaw Edimakor stands out as a powerful option that goes beyond traditional text-to-speech functionality. With its intuitive interface and comprehensive video editing capabilities, HitPaw Edimakor offers users the opportunity to transform written text into engaging audio while also unleashing their creativity in video production.