[Complete Guide] Everything You Should Know About Silent Hill Movie & Game
The series of Silent Hill movies have been jaw-dropping and absolutely amazing. Apart from the movie, the movie game is also available to the public. However, some people complain about the graphics and fight sequences being presented in the game are not that aligned with the narrative of Silent Hill film.
Whatever the case is, one thing is confirmed this movie got an exceptional response from the public from storytelling to the horror factor in the movie. This guide will explain everything about the Silent Hill movie you are looking for. So, give it a read.
1.

[Upcoming Event!] Konami's Latest News of the Silent Hill Series

Considering the popularity of the Silent Hill film series, there have been many rumors and leaks about what's next in it. So, on 19th Oct (Wednesday), Konami finally made it public that they are all set to plan for the Silent Hill franchise.

In that 48 min long live stream, the first announcement was a surprise as the studio, Bloober Team, which developed "Layers of Fear" and "The Medium", is currently working on the Silent Hill movie remake.

However, there is no final release date is announced. However, you can expect to enjoy the game in the first 12 months on PS5 and PC after the film release. Moreover, it was also announced that Konami has collaborated with Christophe Gans (Director of Silent Hill, 2006) to make a new film based on Silent Hill movie 2.
2.

[Full Guide] Everything About Silent Hill Film Series In Detail

The director of Silent Hill the movie confirmed that he is deciding to make a comeback for this film based on the Konami horror series. You can expect a little bit of addition to a new terrifying fatal frame.

If you are looking for how many Silent Hill movies are there then to date two Silent Hill films have been released, Silent Hill 2006 (based on the first and second games) and Silent Hill Revelations 2012 (based on the third game). Another Silent Hill 3 movie was released but it was not related to the original plot.
Silent Hill, 2006
This horror movie was released in 2006 and directed by Christophe Gans. This movie was an adaptation of Konami's video game. The story of this film revolves around Rose who takes her adopted daughter (Sharon) to Silent Hill town and then the suspense starts.
Silent Hill Revelations, 2012
This movie was directed and written by M.J. Bassett and released in 2012. It was a sequel od the previous movie. The story is based on Clemens who discovered that her presumed identity is not correct. It is further drawn to various fictitious American towns of Silent Hill.
3.

[Pic & Info] 5 Symbolic and Impressive Silent Hill Movie Monsters

The Silent Hill films have featured really horror and new monsters which received much popularity among the public. Here are 5 symbolic and Impressive Silent Hill movie monsters you must know.
Pyramid Head
Pyramid head Silent Hill movie is one of the primary antagonists of Silent Hill 2. It served as a personal tormentor of James Sunderland. This is also very close to James' psyche. The primary role of the Silent Hill movie pyramid head is just manifesting James's guilt since he thinks he should be punished for his sins. So, this pyramid head finds ways to torment him more.
Bubble Head Nurses
It appears in Silent Hill 2 mostly in Brookhaven Hospital. These bubble head nurses are tied with the theme of sickness and sexuality since their outfit is designed in the sexiest way. This Silent Hill movie nurse represents James' sexual frustration evolved because his wife was sick for a longer period.
Twin Victims
These are unkillable ghosts that are not permanently dead. The Locane Children (Billu and Miriam) reincarnated in this form when Walter killed them with an axe. They are also symbolic of Walter's attachment to his mother.
The Conjurer
It is one of the most disturbing monsters in the game. It is also Walter's regular body. This is a mixture of a humanoid creature and disgusting-looking flesh.
Screamers
This creature looks so intense, harrowing, and off-putting on the surface. However, when you see into their lore, you get an idea why they feel so darn horror. These are noteworthy monsters with long-claw-like hands having terrible screams.
4.

A Powerful Enhancer to Improve the Image Quality of Older Silent Hill Games & Movies

Watching movies or playing games comes with some instant desire to capture a favorite scene or important turn in the game. If you just took a photo and it is not up to the mark to be shared with friends then you can clear up the photo to remove the blur and noise of the photo.

HitPaw Photo Enhancer is professional software that can automatically enhance your photos to make them look appealing and high quality. It corrects your photo by analyzing the millions of pixels and gifts you with a fine image.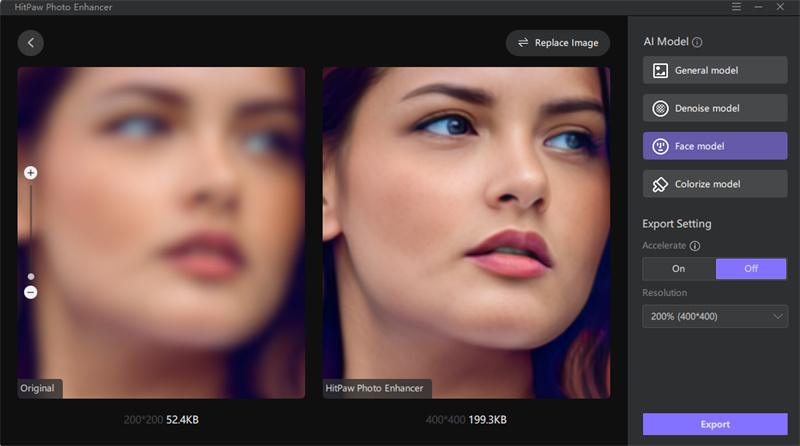 AI-Powered
Batch Processing
Compatible with Windows and Mac
Built-in AI models
Here is how you can enhance any photo you just took from the Silent Hill movie or game using HitPaw Photo Enhancer
Step 1.Launch the software and upload your desired image by clicking "chose images"

Step 2.Choose any AI model and start the image processing

Step 3.Preview the photo by clicking on "Preview the effect"

Step 4.Save the enhanced image by pressing the "Export" option
Conclusion
The Silent Hill movie series has got much popularity among the public. Be it a game or sequel film, this movie sustained its main theme of horror. So, if you want to take photos of your favorite parts of the film or game then try HitPaw Photo Enhancer. It will clear the entire photo for you and you will have a clear good visual picture.