How to Convert RAW to JPEG on Mac [Batch & FREE]
If you have just bought a camera and are new in the field of photography, you might not be familiar with the term RAW. Although RAW files are considered powerful, they aren't on the priority list of many people, and there are many valid reasons behind this theory.
So, if you're also one of those who don't like RAW files and have struggled to convert RAW files to JPEG Mac, you can read this post to learn how to convert RAW to JPEG on Mac.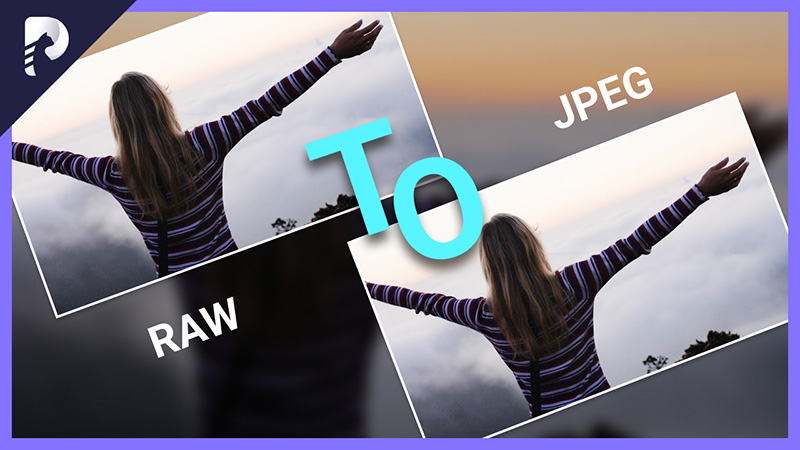 Part 1.

What is a RAW File

Before converting RAW to JPEG, it is equally important to discuss what RAW files are. A camera sensor takes a RAW photo, generating uncompressed image data. Like other image file formats, a RAW photo is an image file format that isn't compressible. Unlike JPEG, RAW files led to a high level of capture detail.

Thus, RAW files will offer you advanced and better options for manipulation and processing. Since RAW files are customizable, many photographers tend to capture photos in this format. But, the thing is that many devices don't support RAW files, meaning you won't be able to open the RAW files on those devices.

Moreover, another downside you carry with RAW files is that these files take up a lot of storage space. Hence, turning the RAW files to JPEG to be compatible with most devices makes sense.
Part 2.

Fastest Way: How to Batch Convert RAW to JPEG on Mac without Losing Quality

The most effortless way to convert RAW to JPEG Mac is none other than HitPaw Video Converter. It is a gorgeous software that makes it look simple when turning the RAW files to your desired, courtesy of the flawless features.

Besides offering you the opportunity to convert images, HitPaw Video Converter helps convert video and audio files. Another significant thing is that HitPaw Video Converter empowers you to download video and audio files from 10000+ online, making it the best tool.
It helps you convert RAW to JPEG or other image formats quickly.
It converts the images without compromising the original quality of the photo.
No watermark or ads.
Supports 1000+ audio and video formats.
Download the videos from 10000+ online websites.
Effortless user interface.
Outstanding technical support.
How to convert RAW to JPEG on Mac using HitPaw Video Converter?
Step 1.Click on the ''Toolbox'' icon and select the ''Image Converter'' icon.

Step 2.In this phase, all you need to do is to import the RAW files you'd like to convert into JPEG. Once the JPEG format is selected, you'll need to tap on the'' Convert All'' icon to start transforming the RAW to JPEG.

Step 3.After converting the RAW files to JPEG, you must tap on the ''Export'' icon to start downloading the images into your desired format.
Notes:
There are lots of things that urge you to take the HitPaw Video Converter on board. Despite offering the affordable premium package everyone can afford and blessing you with as much of a good conversion feature as possible in even the most expensive tool, HitPaw comes up with an effortless user interface.
It is the complete package and won't disappoint no matter what you throw, as it responds outstandingly.
Part 3.

How to Convert RAW Files to JPEG with Preview in macOS

If you want to know how to convert RAW to JPEG on Mac, you don't need to do much as Mac comes with the built-in tool, Preview, that empowers you to serve your purpose. It only asks you to follow a couple of simple steps to convert RAW to JPEG Mac.

Here's how to convert RAW photos to JPEG on Mac using the Preview on Mac.
Step 1.Navigate to the Preview and launch the RAW image or images.

Step 2.Tap on the ''Export'' icon after entering the file menu. If you intend to convert more than one file and have selected multiple files, tap on ''Export Selected Images''.

Step 3.Now, you can select any preferred format from your drop-down menu. Since you want to know how to convert from RAW to JPEG on Mac, choose JPEG as your destination format.

Step 4.Rename your converted image and export it to the desired location on the Mac PC after hitting the ''Save'' icon.
Part 4.

How to Convert RAW Photos to JPEG Using Photoshop

Photoshop is one of the most popular photo editing tools, with the massive ability to edit a photo in the manner you want. Besides performing the basic edits on the photo and making it look worth watching, Photoshop also tells you how to convert RAW files to JPEG on Mac.

Since, Photoshop is a professional, getting prior knowledge of using this software is essential to ensure you don't make any mistakes when turning RAW files into JPEG. Follow the step-by-step guide below to learn how to convert RAW to JPEG on Mac.
Step 1.Install Photoshop after visiting the official website and start the program to begin the process you've been looking for. Next, tap on File and Open icons to import the RAW photos you'd like to turn into JPEG.

Step 2.Since you've uploaded a RAW, it makes the ''Camera Raw window'' open automatically. Now, you can perform any editing process on your photo. Next, launch the photo in Photoshop after hitting the '' Open'' icon.

Step 3.Tap on Export after pressing the File and Export options. Now a window will appear, and all you need to do is visit the File Settings. Select the JPG format after hitting the drop-down menu.
Remember:
Photoshop might have all the features in the world to convert RAW to JPEG Mac, courtesy of its professional and advanced nature. But, if you're a newcomer and looking to know how to convert RAW images to JPEG on Mac, Photoshop might not be the go-to software for you.
Instead, it offers professional features at the cost of providing a hectic user experience. Thus, you should look for the services of HitPaw Video Converter, which is unique in a way that blesses you with an intuitive and user-friendly interface despite having as many professional features as Photoshop offers.
Final Words
Despite looking at the various options, if your question,'' how do I convert RAW images to JPEG on Mac,'' is unanswered, this guide could be a great helper for you. Using Preview and Photoshop to convert RAW to JPEG Mac is an exceptional idea, but these methods aren't user-friendly.
So, if you're wondering how to convert RAW to JPEG on Mac without breaking your sweat, HitPaw Video Converter seems the most reliable option. Apart from turning the audio and video files, HitPaw Video Converter has introduced the feature of converting images.