How to Fix YouTube to MP3 Not Working - Solutions and Alternatives
YouTube to MP3 converters have been experiencing issues lately, with many sites like youtube-mp3.org shutting down due to lawsuits from the music industry. These sites were popular for converting YouTube videos to MP3 format for offline listening, but their closure has left many users wondering how to continue using this service. In this article, we will explore solutions and alternatives for fixing YouTube to MP3 not working.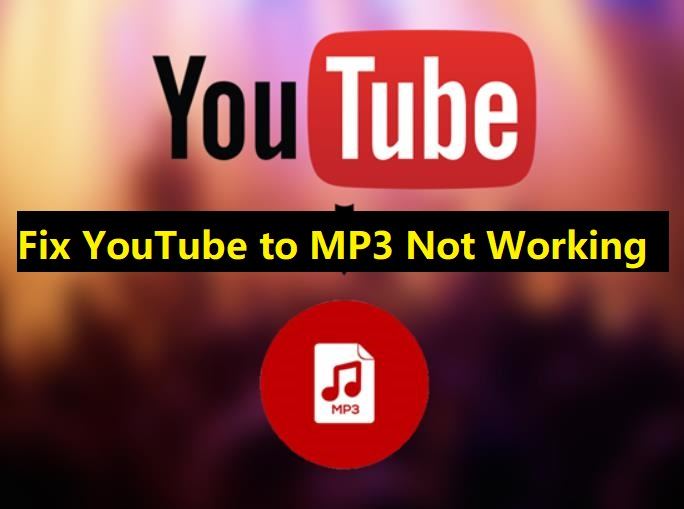 Part 1. Why Is YouTube to MP3 Not Working?
YouTube is a popular platform for sharing videos, and users often find themselves wanting to download audio versions of their favorite videos. The problem is that downloading YouTube to MP3 can easily lead to copyright infringement. YouTube-mp3.org, one of the most popular tools for converting YouTube to MP3, was shut down due to allegations of copyright infringement and geographical restrictions.
It is important to note that the use of YouTube to MP3 converters can lead to consequences such as hefty fines and legal charges due to copyright infringement. Therefore, it is imperative that users be cautious when downloading YouTube videos through such tools. Alternatives to convert YouTube videos to MP3 legitimately do exist, so users should avoid unnecessary risks by researching and choosing to do so through legal methods.
Part 2. The Best Solution to Fix YouTube to MP3 not Working -Desktop Method
YouTube-mp3.org is not the only YouTube to MP3 solution. There are desktop programs that provides more stable features. HitPaw Video Downloader and Converter is one of the reliable desktop YouTube converters to save YouTube as MP4 or MP3 files.
Main Features of HitPaw Video Converter
Here are some of the notable features that make HitPaw Video Converter stands out.
Convert YouTube to MP3 or MP4 without any virus
Supports extracting MP3 audio and MP4 video from 10000+ sites
Batch downloads support
Extract and convert MP3 from YouTube videos, playlists and channels
Convert YouTube to MP3 up to 320kpbs
No ads or geographic restrictions
How to Convert YouTube to MP3 on Windows and Mac
Here's a step-by-step guide on how to use HitPaw Video Converter:
Step 1: Install and launch HitPaw Video Converter
Download and install HitPaw Video Converter free to a Windows or Mac computer. Launch it and switch to the Download tab.
Step 2: Copy the Video/Playlist/Channel URL
Navigate to the YouTube video or playlist that you wish to download, and copy the video URL from your browser's address bar.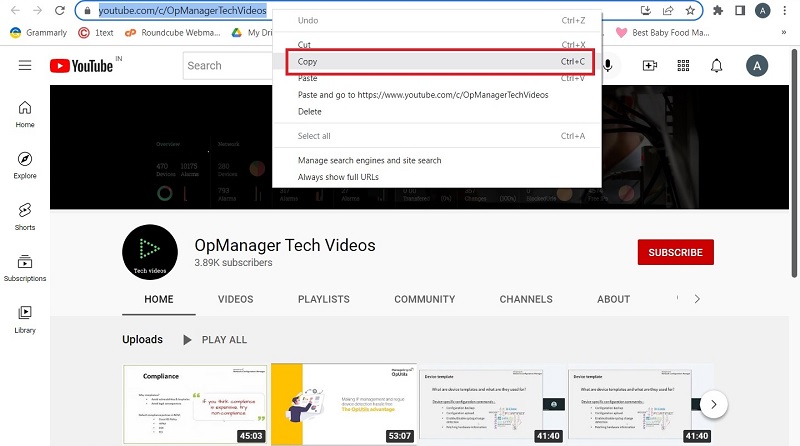 Step 3: Paste the URL and Analyze
Paste the copied URL into HitPaw Video Converter, and click the Analysis button to start parsing the link.
Step 4. Choose Format and Quality
After analysis, users can see the file type(s) and qualities that the original video provides. Choose MP3 320kpbs shall extract audio from the YouTube video.
Step 5. Download and Convert YouTube to MP3 320kpbs
Finally, click the Download button. HitPaw Video Converter will start downloading and converting YouTube to MP3 with ultrafast speed.
With HitPaw Video Converter, you can enjoy your favorite YouTube videos as high-quality MP3 or MP4 files with no restrictions or limitations. Free download HitPaw Video Converter and experience Hassle-free downloading.
Part 3. Best Online YouTube to MP3 Converters That Are 100% Working
Are there any YouTube to mp3 converters that still work? The answer is yes. In the following part, we will introduce the best five online YouTube to MP3 alternative that are 100% functional. Get ready to learn more about how these converters can help you obtain all your favorite music tracks through just one click of a button!
1. download4.cc
download4.cc is one of the best free YouTube to MP3 alternatives that allows users to extract audio from YouTube videos on PC, Mac, and mobile.
Features and Pros:
Requires no registration or installation of any software
Supports 1000+ websites including YouTube, Facebook, Twitter, Instagram, etc.
Works on both mobile and desktop platforms with ease
The download quality is quite impressive, with bitrates ranging from 128 kbps to 320 kbps
100% free
Ads-free
Cons:
Does not support batch downloads
2. YouTube to MP3 Convert y2mate
Y2mate is a popular online YouTube to MP3 converter known for its fast, easy-to-use interface and the ability to download high-quality audio files directly from YouTube videos.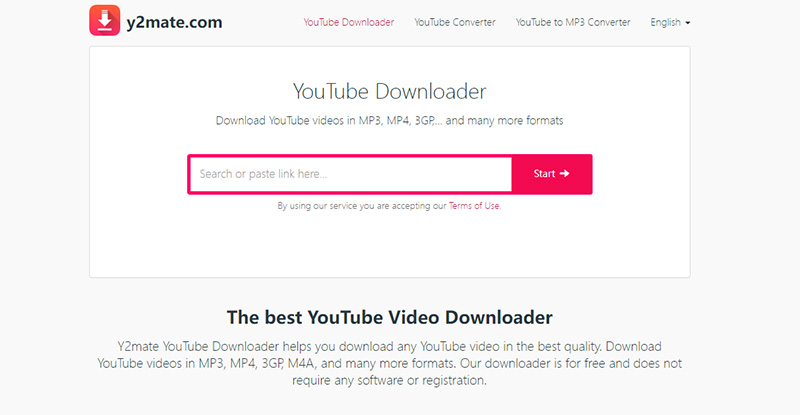 Main Features:
Convert and download video from YouTube to MP3
Download YouTube to MP3 in high quality
Has an option of trimming or cutting video before downloading
There are no annoying ads or pop-ups, making it user-friendly
Cons:
Some downloads might be slow because they depend on your internet speed
Sometimes, the website might throw a captcha to verify that you are not a robot, which can be an inconvenience
Does not support batch downloads
3. YTMP3: YouTube to Mp3 Music Converter
YTMP3 is another online YouTube to MP3 converter that allows users to convert and download YouTube videos into MP3 and MP4 formats. It is known for its simplicity, user-friendly interface, and fast download speed.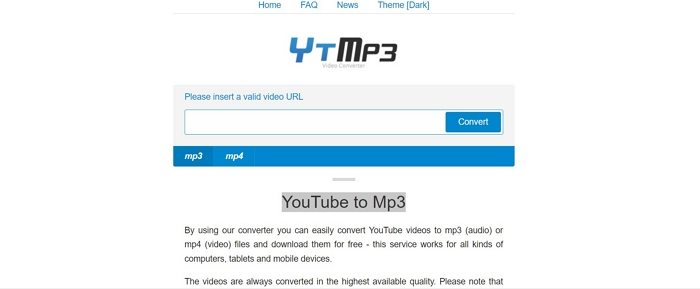 Pros:
The site is free to use, and it does not require any registration or installation of any software.
Has a simple interface, which makes the conversion process straightforward.
The site offers high-quality audio files, with bitrates ranging from 64 kbps to 320 kbps.
Ability to download entire playlists in MP3/MP4 format.
Cons:
The site may take a bit longer to convert longer videos.
It does not support video trimming.
4. ytmp3.net
ytmp3.net is a simple and easy-to-use online converter that allows users to convert YouTube videos to MP3 format in seconds. It offers a clear and straightforward interface that makes it easy to navigate for users.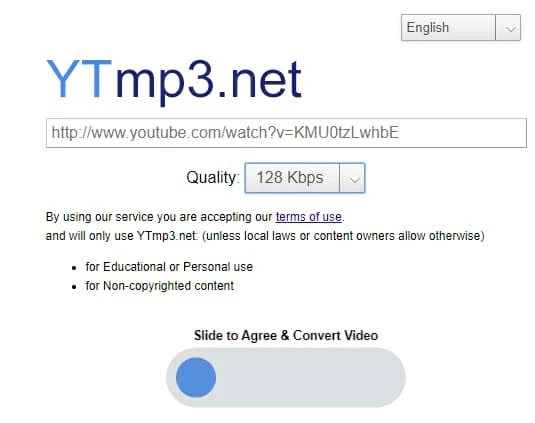 Pros:
It offers high-quality audio downloads with bitrates ranging from 64 kbps to 320 kbps.
The site is 100% free and requires no registration or installation of any software.
Supports a wide range of formats, including MP4 and AVI.
Cons:
The website has ads that might be disruptive to users.
Does not support video trimming.
5. Youtube to Mp3 Converter - YT1s.com
YT1s.com is a simple and user-friendly converter that allows users to convert YouTube videos into audio files in MP3 format. It is known for its speed, precision, and straightforward process.
Pros:
Supports various formats, including MP4, AVI, and MP3.
You can trim the video before converting it to MP3 format.
Fast conversion speed.
High-quality audio downloads with a bitrate of up to 320 kbps.
Cons:
There are too many ads.
The site can be quite slow at times, depending on the server connection.
Overall, there are many online YouTube to MP3 converters out there, and it is wise to research each site and consider the pros and cons. Ultimately, identifying the right converter depends on your needs, preferences, and the quality of downloads you wish to have. Try them all till you find the one that suits your needs best.
The Bottom Line
YouTube to MP3 converter not working issue is highly solvable with the help of professional video converter software. The desktop alternative HitPaw Video and Audio Downloader provides incredible YouTube to MP3 conversion. The best parts of using a desktop converter are no geographical restrictions, no ads, batch downloads and lossless quality. We also recommend some online YouTube to MP3 alternatives that are helpful to download videos and audio from YouTube without installing any software.
Get yourself set up with HitPaw Video Converter now and enjoy an effortless YouTube to MP3 string of success!