How to Download YouTube to MP3 128kbps with High Speed
MP3 file format has gotten more popular than ever. It comes in handy in multiple scenarios. For example, maybe you want to extract specific audio from a video, do your voiceover, or create your background music. 
There are tons of YouTube to mp3 converters 128kbps out there; however, you can not trust any random website you land on. Therefore, we have crafted a list of the best ways to convert YouTube to mp3 128kbps online. Of course, you all need a laptop or desktop and a stable internet connection, and you are good to go. 
Part 1. Things You Should Know Before Converting YouTube to MP3 128Kbps
1. What is Mp3 in 128kbps? 
To start, kbps stands for kilobyte per second and is the measurement used to determine the quality of compressed audio, particularly in MP format. 
128kbps is a mid-range file that needs 128 kilobytes to compress and transfer the data. There are both pros and cons associated with this file type. 
Pros:

The process will be relatively fast if you download a song from YouTube to mp3 128kbps. 

When you convert YouTube to mp3 128kbps, you save a lot of your disk storage thanks to the small file size. 

It is a common format on most websites and guarantees CD sound quality

Cons:

Music producers or experts might find the sound quality low

If any segment of the compressed file is lost, it cannot be recovered

High-frequency sounds might lose quality
2. Why People Need MP3 in 128Kbps?
There could be a multitude of reasons why one might wish to download YouTube mp3 128kbps. However, here we have listed a few common reasons you might need to convert to mp3 128kbps. 
You need to convert a newly released song that is not yet present on other streaming platforms. 
To rip off music or audio from the background of a video. 
Your YouTube isn't working correctly due to a poor internet connection.
You are somewhere where there is no Wi-Fi connection or bounded cellular data.
You wish to share particular audio or music with your friends. 
Part 2. Best Way to Download YouTube to MP3 in 128Kbps Without Quality Loss
When converting from YouTube to Mp3 128kbps, you need to make sure that you are using a reliable and safe converter that won't push any malware into your software. HitPaw Video Converter is an easy-to-use YouTube converter with 128kbps that lets you download online anytime and anywhere.
The tool is compatible with both macOS and Windows. If you routinely convert videos for work or pleasure but don't have access to expensive tools, this program is worth a second look because of its simple and intuitive interface.
With that said, let's look at what the converter offers and the steps for YouTube converter mp3 128 kbps using a HitPaw Video Converter.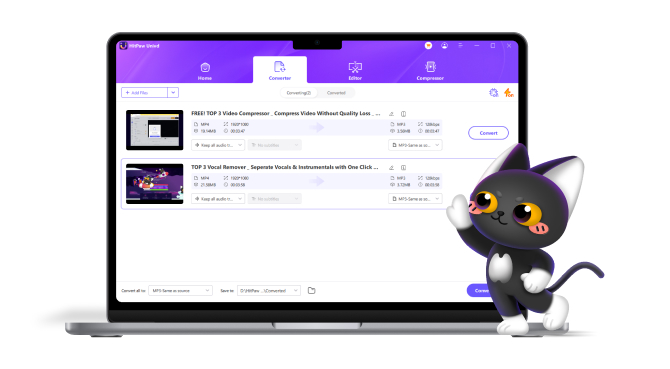 Features of HitPaw Video Converter 
The following are the features of this audio and video converter.
The user interface of HitPaw Screen Recorder is simple to use.
Its most notable feature is that you can modify the pip position and size
Allows you to use all of its features without demanding a single penny. As a cherry on top, your exported video will be free of any watermark. 
You can download the Hitpaw converter to MP4, MOV, MKV, M4V, and more than 800 other formats.
Take full advantage of the extensive stock footage in Hitpaw video converter media and spice up your final results.
This video converter can accelerate your video conversions without compromising quality.
Reduce CPU loss and complete transformation lists more effectively because of the GPU acceleration option, which accelerates conversions by up to 90 times.
Converting YouTube to Mp3 128Kbps Using HitPaw Video Converter
You can download YouTube mp3 128kbps format using the Hitpaw video converter. 
Step 1.Download the HitPaw Video Converter. After installation, run the software.

Step 2.Now, open YouTube and copy the URL of the Video you want to convert. 

Step 3.You can paste the URL of the YouTube video and select the format of your requirement. 

Step 4.Once all the above steps are done carefully, you can download the converted YouTube video. 
Part 3. Alternative Online Ways to Download YouTube to MP3 128kbps
While offline converters are reliable and easy to use, online converters can also come in handy at times. First, YouTube to mp3 128kbps download does not come with additional downloads, so storage will never be an issue. Next, these online converting tools are easy to use.
The interface is relatively simple and limited to a few options, so converting files will be hassle-free. The only drawback of online mp3 converters is that they could easily feed viruses into your software with the help of different adware.
But we have collected three of our favorite YouTube to mp3 download online 128kbps converters that are relatively safe. 
1. Listenvid.com 
The web service Listenvid.com offers a YouTube to MP3 converter of 128kbps. Every video on YouTube could be instantly converted to your choice of audio and video codecs. Along with many other platforms, the application supports Vimeo, Instagram, and TikTok.
Many devices, including PCs, smartphones, tablets, and other mobile devices, are easily compatible with Listenvid.com. The YouTube album, however, cannot be launched.
Pros:

Interactive and intelligent interface

Several streaming websites are supported.

Dedicated servers' complete conversion in under 30 seconds.

Cons:

Several obnoxious pop-ups and adverts

Due to this, the external file cannot be downloaded.
How To Convert YouTube to MP3 128kbps with Listenvid.com? 
Step 1.Copy the URL of the video you wish to convert. 

Step 2.Head over to listenvid.com and paste the link into the conversion box. 

Step 3. Choose your preferred file format. 

Step 4. Hit the "Convert It" button and wait for the conversion to complete.

Step 5.Click on the "Download the Converted file" option. 
2. YoutubetoMp3music.com
Youtubetomp3music.me is yet another online converter that allows users to convert their favorite YouTube videos into various formats. 
Pros:

The converter has been here for a long time and has earned many positive reviews

Provides a variety of bitrates, including 128 and 320 kbps 

There are fewer pop-up ads than other converters

Cons:

The website does not provide a secure connection  
How to Convert and Download YouTube to MP3 128 in kbps with YoutubetoMp3music.com? 
Step 1.Copy and paste the link of your YouTube on the conversion tab.

Step 2.Choose your desired file format and click convert.

Step 3.Allow the conversion to finish, and download the file onto your device. 
The finest YouTube to MP3 converter overall, at least in terms of versatility and power, is Y2Mate.com. It offers more alternatives than other online converters because it enables conversion to MP3 or MP4 in 11 file qualities.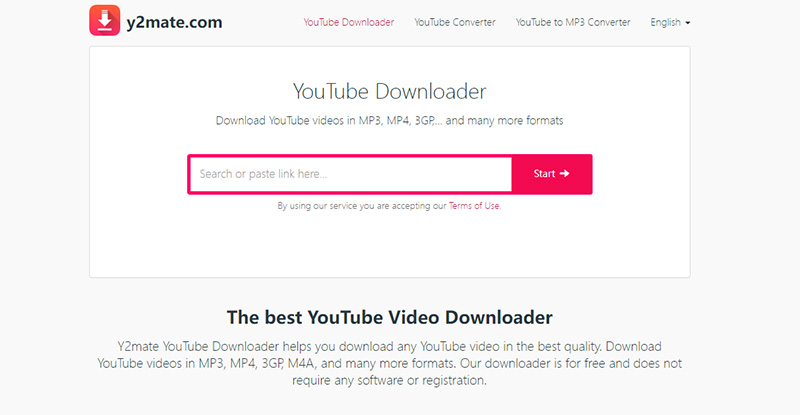 Pros:

It enables the users to do as many conversions as they want

The conversion process is quick

No sign-up required

Cons:

The converter requires a stable and constant internet connection to function correctly.
How To Convert YouTube to MP3 128kbps with Y2Mate? 
Step 1.Paste your video link or enter the title in the search box. 

Step 2.Select your preferred format. 

Step 3.Wait for the conversion to complete and download the converted file. 
Part 4. Which One Is the Best You Should Choose? 
Desktop Mp3 converters are a better choice since they are at lower risk of feeding any malicious viruses into your software and provide great features such as batch conversion and post-exporting editing. Let's learn why HitPaw Video Converter is the best among all!
| | Hit Paw Video Converter  | Listenvid.com | Youtubetomp3music.com | Y2 Mate |
| --- | --- | --- | --- | --- |
| Speed | 120X faster speed  | 3 to 5 minutes  | 5 to 7 minutes  | 3 to 5 minutes  |
| Supported Formats  | 4K, HEVC, MOV, MP4, MKV, AVI, M2TS, Apple ProRes, etc | mp4, mp3, AAC, m4a  | Mp3 files in 5 different bitrates  | MP4, M4V, 3GP, WMV, FLV, MO, MP3, WEBM, |
| Online/ Desktop  | Needs to be installed in the software  | Available online  | Available online  | Available online  |
Part 5. Conclusion
If you are looking for a fast and reliable YouTube to Mp3 128kbps converter, finding something better than the HitPaw Video Converter will be a challenge. The software is easy to use and makes bulk conversions quickly. 
Besides supporting various file formats, HitPaw Video Converter guarantees the best export results. Regardless of which converter software you choose, converting all your favorite files to mp3 128kbps format is now possible.