8 Best Instagram Story Video Makers To Uncover Your Creativity
You are welcome to the world where everything has been successfully covered by a deep layer of technology and users are provided with amazing facilities to bring soul to their imagined structure. Instagram has successfully made a significant position in social media platforms and its feature of Instagram story is the most used one.
Because of having so much popularity, you are also allowed to get access to a video maker for Instagram story generation. These makers are fully featured and provide you with the results based on your preferences.
Part 1: 4 Easy-to-Use Apps To Make Instagram Story Videos
Instagram stories are now much more trendy than Instagram posts and now everyone is in the race to make aesthetic Instagram stories. If you are also an Instagram user then you will surely find these apps helpful as you will get a lot of advanced features and editing options here. So let us discuss their details so that you can choose the best one for you:
(1) InShot
InShot is the perfect Instagram story video maker app that can create such Instagram stories that will surely attract everyone's attention even at first glance. The main reason why people recommend this Instagram story maker is its plethora of easy-to-use design features that are available for everyone to use.
Key Features
Users to allowed to access slow and fast motion control
Free music is available to be used in videos
You can easily adjust the frame size according to your need
Flaws
The story created from the free version has a watermark
(2) InstaStoryMaker
InstaStoryMaker being the highest-rated Instagram story editing app is available for every user along with a huge variety of amazing templates. In addition to a library of templates, users are also allowed to get access to Marriott options for the addition of different design effects in their Instagram stories.
Key Features
It comes with slow and fast motion control
You can add built-in transitions and fonts to your Instagram story
You can share the resultant video on different social media platforms
Flaws
It has compatibility issues with certain operating systems
(3) StoryMaker
If you want to get access to such an Instagram story video creator that provides a great facility for you to get access to advanced features without paying any charges then StoryMaker is a perfect choice for you. You will be amazed to have a look at the available elegant and minimalistic templates that will help you create attractive and interesting Instagram stories.
Key Features
It has a large library of templates, footage, and music
You can perform different adjustment options
You can use the available cool effects to make the story more attractive
Flaws
The available export options are limited as compared to other apps
(4) StoryLab
Another most recommended free Instagram story video maker is StoryLab. This app allows users to add different video clips as well as combine photos to make Instagram stories. Moreover, you can also get access to different editing features like fonts, animation, designing effects, and sounds.
Key Features
Allow users to benefit from the green screen feature
Users can record the screen working
A variety of video templates are available
Flaws
This app also has limited export options
Part 2: 4 Online Platforms For Creation Of Instagram Story Videos
If you don't want to install an app on your device for the creation of Instagram stories then you can also go ahead with online tools. You can use all the editing features online and hence no need to go through the hassle of downloading the app. These online tools are as capable as above mentioned apps hence no need to be worried while using them.
(1) VEED.IO
If you are in search of an easy-to-use and simple online tool for the creation of Instagram stories then none other than VEED.IO is a blessing for you. Once you have access to its interface then the remaining work will be done by the tool itself and you just have to provide the particular commands.
Key Features
Allow users to perform different adjustment options
The free plan also has the latest features
The available customer service is active all the time
Flaws
Users face limitations of advanced editing capabilities
(2) Canva
Canva is the most popular and recommended Instagram story video maker online free that helps users create fascinating and aesthetic Instagram stories. You can easily access its services at any time to generate wonderful pictures having text overlay and other effects for your Instagram story.
Key Features
It supports more than 60,000 templates
You can access more than 1 million background images
It has a large variety of badges, icons, and speakers
Flaws
The advanced design features are limited as compared to other online tools
(3) FlexClip
Now we are going to discuss another online Instagram story video maker with lots of teachers, fonts, filters, and photo effects. FlexClip also allows users to perform complex video editing tasks like the removal of background and clipping an object from a picture etc.
Key Features
This tool supports almost every video format
Allow users to access amazing templates
Has a user-friendly interface
Flaws
The free version has limited features
(4) Animaker
Lastly, Animaker is listed among the most preferred Instagram story makers just because of its wonderful collection of inbuilt services and features. You will be amazed to know that this tool has a large variety of typographic layouts along with different font options that result in creating appealing and fascinating stories.
Key Features
It contains more than 100 fonts
The text styling tools are advance
You can choose the image from thousands of stocked images
Flaws
Some of the available editing features are complex
Part 3: Bonus Tip: Perfect AI Video Editor To Make Instagram Story Videos
In addition to the above-mentioned Instagram story video makers, there are also some more tools available in the market that have advanced features and specifications. We are here with one of the perfect video editors who has made a distinct position in the world of social media and comes with advanced features for users.
HitPaw Edimakor
When listing the best AI video editors, HitPaw Edimakor always scores the top position. The main reason behind so much preference is the advanced algorithm and the features that are provided to users for the creation of perfect videos.
This ai video editor comes with amazing features and editing options that result and the creation of a perfect video for different platforms like Instagram, Facebook, YouTube, etc.
Features Of HitPaw Edimakor
After the creation of the video, you can choose to export it on any social media platform in seconds.
The interface is suitable for every user can be a professional video editor or a beginner
You can even create a perfect speech video by inputting the content in the form of text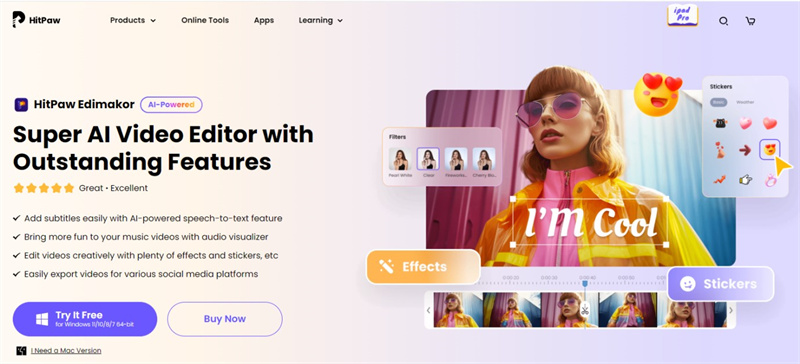 Part 4: FAQs About Instagram Story Video Maker
Q1. What Size Is The Instagram Story Video?
A1. Instagram story video has an ideal size of 1080 pixels in 1920 pixels in height having an aspect ratio of 9:16. The main reason why an Instagram story video has this ideal size is that this format is created to be supported by mobile phones. Hence this format provides the best experience to the viewers.
Q2. Which App Is Best For Insta Story Makers?
A2. Deciding the best Instagram story video maker from the list of tools is somehow critical and completely depends upon the preferences and needs of the user. If you want to get an access tool that is reliable and provides the best user experience then you can go ahead with the HitPaw Edimakor.
Final Wording
The selection of the right tools and attention at the detailing is very important while crafting compelling Instagram story videos. Therefore it is important to make sure that the Instagram story maker selected by you must be fully featured and completely knows how to structure a perfect Instagram story video. HitPaw Edimakor(Video Editor) will be helpful for you.