5 Best AI Tools to Convert Audio to Sheet Music 2023
Are you searching for the best tools to convert audio to sheet music online? Don't know what are the best sheet music converters present? We've got you covered. In this article, we will tell you everything about how to convert audio to sheet music free and will also guide you about the best applications that you can use to convert your favorite audio to sheet music. Continue reading the article so you can learn more about these applications.
Part 1: What is Audio to Music Sheet Converter?
An Audio to Music Sheet Converter is an application used to transcribe or convert audio to sheet music. This software is beneficial for content creators, composers, musicians, and more. Also, with these apps, users can effortlessly turn their recordings into music and can also edit them as well. The working of these tools is simple; all you have to do is choose a reliable audio to sheet music converter and input the file that you want to convert.
After that, the app will check the input and analyze it, such as musical notes, rhythms, and other musical elements. Once the process is done, it will generate the music notation or sheet music. This sheet music app will include multiple information, such as pitch, duration, musical parameters, and more. After you have the necessary information, the tool will offer you some formats which you can check and download the files. This is how all the applications work.
Most people don't know why they need an audio to music sheet converter, but here are the following reasons why you should use these applications.
Musicians or composers can use these applications for Transcribing Audio Recordings
Composers and arrangers may use sheet music converters to get musical ideas
Individuals can use these apps to check their music and find multiple elements in it
These apps can also be used for educational purposes, especially for training the students
Part 2: 5 Useful Tools to Convert Audio to Sheet Music Free
Don't know how to convert audio to sheet music? Don't worry because many tools have been introduced which allow you to make sheet music from audio. Below, we have mentioned the top applications that convert free audio to sheet music online. Let's discuss these sheet music makers from audio programs.
If you want to convert audio to sheet music, then Piano2notes is the ideal application for you. With this software, you can easily transcribe audio (Piano recordings) to sheet music and upload your piano recordings as well. Apart from that, you don't need to register yourself, which means users can enjoy the features for free on all browsers. The app supports different browsers, including Safari, Firefox, and Google Chrome. You can also find the apps on Google PlayStore and App Store. In fact, this app was also introduced in the famous TV show "Höhle der Löwen" (German version of "Shark Tank). The top features of this tool are mentioned below.
Key Features:
Transcribe audio to sheet music with one click
The tool can work on all the browsers and mobile devices, including Android and iPhone
Transcribe Piano Recordings to Sheet Music
Export results in PDF, MusicXML & MIDI
Uses machine learning to extract notes from a piano recording
AudioScore Ultimate 8 is an advanced application that can convert audio to sheet music. It is the advanced version of AudioScore Lite software, which can turn CD tracks, MIDI files, and different other instruments into music. It can be the best option for those who want to generate sheet music from Audio.
Key Features:
Convert Audio into sheet music within seconds
Super fast and has a user-friendly interface
Effortlessly transcribe CDs and MP3s
View, edit, and even play back your music sheet
You can create scores by hand
If you are looking for a program that can convert sheet music to audio and vice versa, then NCH TwelveKeys can be your best bet. It is a specialized software created by NCH Software for personal computers and serves as a powerful sheet music converter. This tool can be used by musicians and different production houses.
Key Features:
Supports a wide range of audio file formats
Can identify and notate individual musical notes
Offers real-time displays of notes, waveform, and notation, as well
Create sheet music from audio
Provides different formats, such as MIDI, MusicXML, PDF, and image
Manually edit sheet music for complex musical passages
With Tunescribers, you can turn any song into Sheet music. You can even generate sheet music from Audio, YouTube videos, SoundCloud, and more. Moreover, you can use the Sheet music arrangements to add or remove the instruments. Also, it allows you to alter the vocal parts and make the song either faster or slower. You can download different templates from their official websites, like Piano and vocal, vocal lead sheets, Piano Solos, drums, and more. This program is used by different performers, musicians, Transcribers, etc.
Key Features:
Generates sheet music from Audio with ease
Offers Custom Transcriptions and has a straightforward UI
Transcribes music for a wide range of instruments, including piano, guitar, violin, and more
Customer and email support is also available
Turn audio into sheet music within minutes using advanced features
The last tool to transcribe audio to sheet music is Melody scan application. With this software, you can automatically transcribe your favorite songs to sheet music. The process of using this app is also easy; just record your instrument, upload MP3 files, and that's it. You can also import the videos from YouTube channels. The top features of this software are mentioned below.
Key Features:
Convert audio into sheet music with one click
Edit scores without any hassle
It supports multiple instruments, including Piano, guitar, flute, violin, and more
Easy to use and has a simple interface
Transcribe audio to sheet music without any hassle
Custom PDF export is also available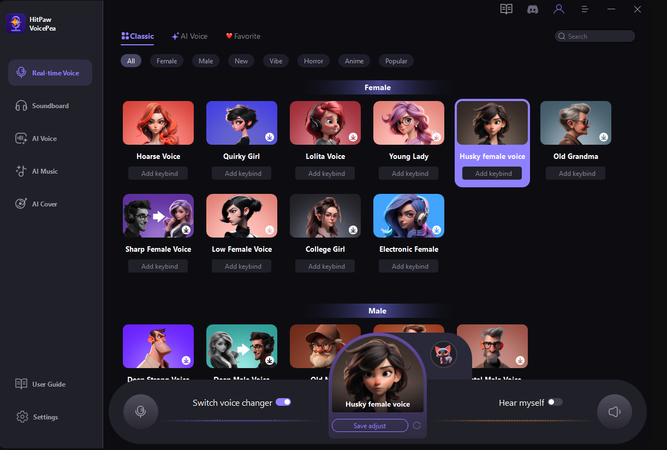 If you have used an app to generate sheet music from Audio and now want to change its voice, then you can rely on HitPaw voice changer. It is a unique and perfect voice changer application for PC users. No matter which voice you want, this software can easily change it with one click. Moreover, this generator can also offer other features, such as customized voice changing, pitch and volume settings, and more.
Key Features:
Change voice within seconds
Offers different filters, such as animation, celebrities, and more
Works with all the apps and famous gaming platforms
Ideal for content creators, voiceovers, YouTubers and more
The interface is intuitive and easy to manage
Available for Mac and Windows users
Live voice changer option is also available
Part 3: FAQs of Audio to Sheet Music
Q1. How do you Transcribe Audio into Sheet Music?
A1. You can download different audio to sheet music generators to transcribe audio into sheet music. Once you have chosen the right app, upload it on the platform, choose the settings, and that's it. Within a few seconds, your audio will be converted into sheet music. Above, we have mentioned some of the top tools that you can use.
Q2. Is Copying Sheet Music Illegal?
A2. Yes, copying sheet music can be illegal. However, you can purchase the sheet music but can't copy it without the permission of the owner. Different countries have different rules, so make sure to check yours regarding the sheet music. Also, using sheet music maker from audio can also be illegal in some countries.
Part 4: Final Thought
In this article, we have mentioned some of the free audio to sheet music converters online that you can download and convert audio into sheet music. You can also use these audio to sheet music software for free and get the sheet music with ease. Also, from audio to sheet music, you can check other settings related to music. Moreover, if you want to try a voice changer tool, you can download HitPaw Voice Changer.