The Easiest Way to Download YouTube to MP3 320 kbps
While searching for the phrase, YouTube to MP3 320 kbps, tons of websites emerge, claiming to be the easiest solution. But not all are credible enough to be used; even your system may be suspected of viruses or malware attacks. To facilitate you, here is the top software to help you download YouTube to MP3 songs at desired bitrate, along with thumbnails & subtitles.
Fast & Easy:

One-Click to Download YouTube to MP3 320 kbps

For people who are looking for a fast and easiest method to download YouTube to MP3 at 320 kbps, HitPaw Video Converter and Downloader proves to be a credible and all-in-one software. It offers a one-click solution to satisfy all your downloading needs. Plus, the quick speed of 120x with lossless processing makes it stand above all other downloaders. Not only from YouTube but also you can download from 10,000+ social sites.

Further to that, it assists you in downloading video/audio files in batches to save effort and time. Also, you will be able to change your audio format if required. Even it is possible to adjust the file settings like sample rate, bit rate, channel, and more. Last but not least, you can access the editing features with ease.
Features
Extract YouTube video to MP3 320kbps directly.
Support YouTube video, YouTube Music video, playlist, or channel.
Edit MP3 audio after downloading: cut, merge, change playback speed, etc.
Convert video and audio to any other foramt and device.
Allow you to process multiple URLs (not only YouTube) simultaneously
120x faster download speed
Let's follow the method to download YouTube to MP3 320 kbps with HitPaw Video Converter:
Step 1. Download the software for free
The first step is to download and launch the software on your system. This program works on both Windows and Mac software.
Step 2. Copy YouTube Video URL
Open YouTube website on a browser, and open an YouTube video, music video, playlist or even a channel. Copy the link from the browser address bar.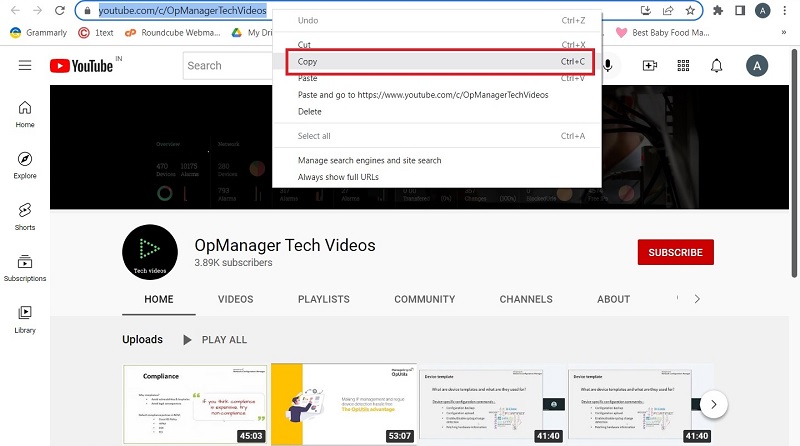 Step 3. Paste the YouTube URL to Analysis
Now, go to the Download tab on HitPaw Video Converter, and paste the link by clicking Paste URL. Click Analysis to start analyzing the URL.
Step 4. Select MP3 320kbps and Download
After analysis, please select MP3 320kbps as the target format and quality. Click the Download button to start downloading YouTube to 320kbps.
Step 5. Converting YouTube to MP3 320kbps
The downloading process is fast. You can access to the MP3 file in the Downloaded tab.
Video Tutorial of Converting YouTube to MP3
Extra Tips: Top YouTube to MP3 320kbps Online Converters in 2023
Besides using the desktop program, there are also online solutiosn to convert YouTube to 320kbps. The online tools are eassy to access and have their own pros and cons.
Pros of YouTube to MP3 320kbps Converters Online
Most of the online tools are free to use
Simple and easy to use
The free converters do not require installation, so they save more space and can be used only cross-devices like PC, Mac and mobile
Some of the online YouTube to MP3 converters support 320kbps
Cons of YouTube to MP3 320kbps Converters Online
Risk of security
High requirement for network speed
Some free online converters are filled with ads and pops
Most online converters do not support batch download and conversion
Some free online converters do not support 320kbps
Reliable Online YouTube to MP3 320kpbs Converters Recommended
Here, I am going to list 9 best online websites for extracting MP3 from YouTube videos. To know more of each of the online YouTube to MP3 converter, click to learn Top 9 YouTube to MP3 320kbps Online Converters in 2023 .
1. Download4.cc
2. YtMP3eu.eu
3. YTMP3.NET
4. YouTubetoMP3
5. YTforMP3
6. MP3Convert.io
7. SaveMP3
8. Y2meta
9. EasyMP3Converter
Conclusion
People always look for ways to convert YouTube videos to MP3 at 320 kbps. But after going through the above write-up, you are now aware of the best and most efficient software. Whether you want to extract music from YouTube videos at the required bitrate or get thumbnails & subtitles easily, HitPaw Video Converter helps you with that.
Besides processing at a superb speed, it brings out high-quality output for better playback. Even you will have access to a wide range of functionalities, including conversion and editing. So what are you waiting for? Let's try it once, and you will need ever!
FAQs

about YouTube to MP3 320 kbps

Q1. How do I convert MP3 to 320kbps?

A1. People often feel confused about how to convert their MP3 tracks to 320 kbps. Don't worry because iTunes can assist you. You need to open iTunes preferences and, from the General category, open Import Settings.
Firstly, choose MP3 Encoder and then Custom under Settings. Once you ensure 320 kbps and 44.1 Hz in Bit Rate and Sample Rate, respectively, hit OK. You are all done!

Q2. Is 320kbps the best audio quality?

A2. It is a general concept that more kbps (kilobits per second) lead to higher sound quality. But when it comes to an ideal range of digital audio, 320 kbps is the standard. Plus, higher bitrates also exist; however, they will be compatible with only limited software and media players. On the other hand, the audio quality for CDs should be 1411kbps since it sounds better in comparison.

Q3. What is the best YouTube to MP3 site?

A3. No doubt, multiple offline and online platforms offer services for YouTube to MP3 320 kbps converter. You can opt for the one that suits your needs. However, the best of all is the HitPaw Video Converter. It is a computer program that offers lossless quality songs in MP3 and at desired bitrate, including 320 kbps.

Q4. What is the maximum bit rate of a YouTube audio file?

A4. The highest and maximum bit rate of a YouTube audio stream is 256 kbps; however, it is not the highest for a general audio file. That's why it is possible to change this bit rate while downloading audio with superb software like HitPaw Video Converter. You can make it up to 320 kbps.

Q5. Can I convert 128 kbps to 320 kbps?

A5. It is possible, undoubtedly but not recommended. The reason is that the 128 kbps audio tracks are much smaller and more compressed than the original file. Therefore, converting it to 320 kbps will not increase the quality but the distortion. It's better to adjust the bit rate while downloading these tracks.