5 Best Youtube to Wav Converter
Just a quick reminder before you start: make sure that the video is not infringing.
Just imagine you are watching a YouTube music video. Now you wish have its audio saved on your phone so you can hear it even if you are offline, driving your car or maybe just going for a walk. Moreover, most people prefer listening to Ted Talks, podcasts, interviews, or music while getting along with their work. YouTube to WAV converter is a fun way to follow your favorite videos while still being productive.
So, the bottom line is it's a win-win situation!
Part 1. What is a WAV file?
WAV stands for Wave Form Audio File Format. Designed by Microsoft specifically for Windows machines, WAV holds the ability to record all kinds of mono or stereo sound information. Although it is quite an older format, WAV is still compatible in most devices and is regarded as the best audio file format.
WAV files exceptionally preserve the quality of the audio resulting in comparatively larger file sizes which cannot be compressed. Owing to its expertise to withhold the audio quality, WAVs are widely used by professionals in the music recording industry.
Users who prefer lossless and uncompressed quality for audio, WAV format is recommended.
Part 2. Why Convert YouTube To WAV Instead Of MP3?
Despite both being audio formats, converting a YouTube video to a WAV file has massive differences compared to an MP3 version. Right now, we will dive right away in the minute details on how both the formats stand opposite to each other and why converting YouTube to WAV file gets higher precedence.
1) Maximum Frequency Limit
Converting YouTube video to WAV file safeguards the video quality to the highest standards. Wondering why? Let's get a bit nerdy.
WAV files are uncompressed and can support up to 22KHz frequency which is more than enough for a normal human range. Comparatively an MP3 file can only go as high as 18Khz. This difference in frequency results in the reduction of sound quality.
2) Seamless Loop
Seamless loops are used in many video game soundtracks. An MP3 does not allow seamless loops whereas, on the other hand, YouTube WAV files make seamless loops possible.
So, if you are designing a new soundtrack and want to minimize the loss of sound, WAV is the way to go.
3) The Sound Master
Trying to use mid-side processing while converting from YouTube to MP3 will be fruitless since the side-sounds will simply be chopped off. YouTube to WAV will produce excellent results since it is lossless.
4) Storage
MP3 files initially gained popularity since they did not take up much space in a device's memory. So far, we have perceived that WAV files preserve quality to the highest degree possible resulting in quite large files. But over the years storage has become less of a hurdle, hence converting YouTube to WAV is highly recommended to make the best out of the audio.
Part 3. How to Download YouTube Free Before Converting YouTube To WAV?
You can use YouTube's free tools to download a video. Many third-party downloaders also provide this service. Follow the steps below to download YouTube videos for free.
Visit download4.cc by clicking on this link https://www.download4.cc/.

Go to YouTube and find the video you want to download.

Copy its URL.

Return to download4.cc and paste the link.
Click on the download button. And you can put your cursor on the format, right click to save the video.
You can use the free tool - HitPaw Video Converter to convert your download video to WAV.
Part 4. 5 Best YouTube to Wav Converter
We tested many websites to convert YouTube to WAV. We have listed 5 best YouTube to WAV converter.
1) YouTube-converter
YouTube-converter is an excellent online tool to convert YouTube to WAV file. Just go to the website and follow the instructions on how to convert YouTube video to WAV file.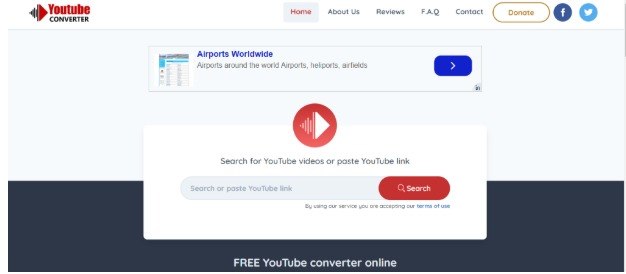 It is 100% free and is only a click away.
It is very simple-to-use. Paste the link in the space provided and click on the conversion button. Your conversion from YouTube video to WAV file will be ready in a few minutes.
It's an all-in-one platform i.e. it can also convert YouTube videos to MP3, FLAC, or MP4.
Advertisements are placed in the top-middle of the page covering some of the content. This can be a bit irritating sometimes.
It is limited to YouTube videos only. Can't access videos on Facebook, Instagram, or any other social networking site.
2) YouTube2Video
An online YouTube video to WAV file converter with a quick guide on how you can convert a YouTube video to WAV.

It is free to use and supports broader formats example WAV, MKV, and many more.
In addition to YouTube, can also download videos from other social media platforms.
The homepage provides clear instructions on how to convert YouTube to WAV file.
The website can sometimes get more traffic then it can handle. This might result in slow performance.
The website's owner hides his identity using paid service. This raises security concerns.
3) Ontiva
Ontiva is a free online platform to convert YouTube to WAV files and many other formats. With a very easy-to-use UI, the homepage also walks you through on how to convert YouTube video to WAV file.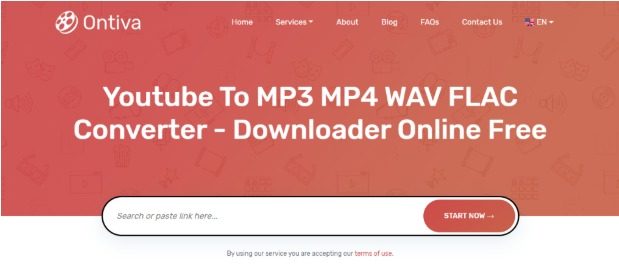 There is no limit to the number of YouTube to WAV file conversions.
It provides anonymous conversions i.e. the moment you leave the website, all your data is deleted from the website's server.
Its ads free.
The download button is only available for a fixed time, after which you have to go through the entire process again.
Can only download videos from YouTube.
Ontiva cannot provide suggestions for related videos.
4) YTBTO
YTBTO is another tough competitor in converting a YouTube video to a WAV file. With clear instructions on its homepage on how to turn a YouTube video into a WAV file, YTBTO is very easy to use.

It can convert videos from almost all social media platforms including YouTube.
In addition to WAV, it also supports many different versions.
It has a less error rate, high download speed, and constant accuracy for conversion.
The homepage contains some broken links.
An ad is displayed right in the middle of the page. This can sometimes be irritating.
The ad can easily be confused with other components of the website.
5) YouTube-WAV
An online, free, and fast converter that allows you to save a YouTube video into a WAV file.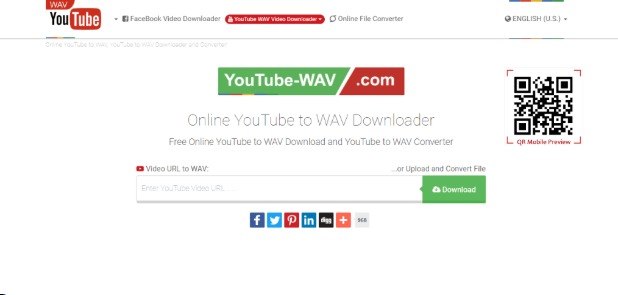 It protects privacy by deleting the submitted YouTube videos and converted WAVs.
Converts YouTube to WAV in high definition.
Converted WAV from YouTube has no watermarks.
There is no way to report a problem on the website in case you get stuck somewhere.
Part 5. Bonus Tips: A YouTube Video Editor-HitPaw Toolkit
HitPaw Toolkit is an easy-to-use video editing tools that opens doors for beginners.
1) Download HitPaw Toolkit
Download the HitPaw Toolkit. Launch it.
2) Select Function and Upload Video
Click on the function you need such as "Cut Video" and upload the video you need to cut.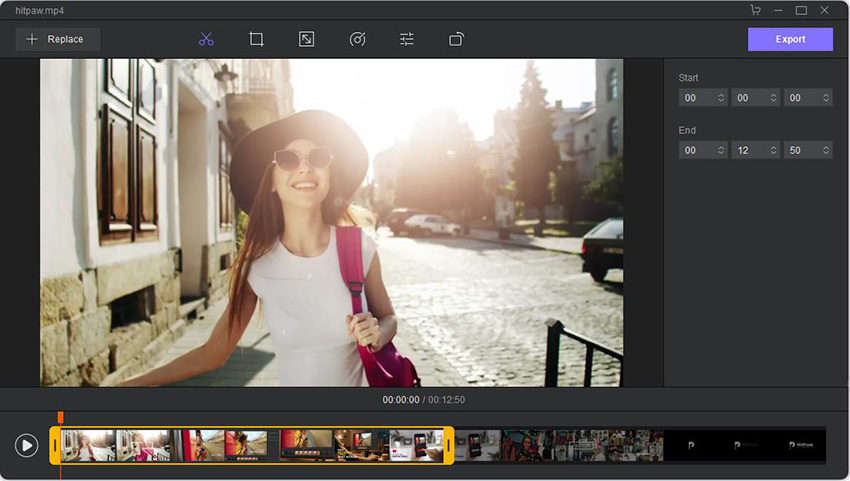 3) Start Editing
Drag the two side at the timeline to find the perfect moments you need and cut it.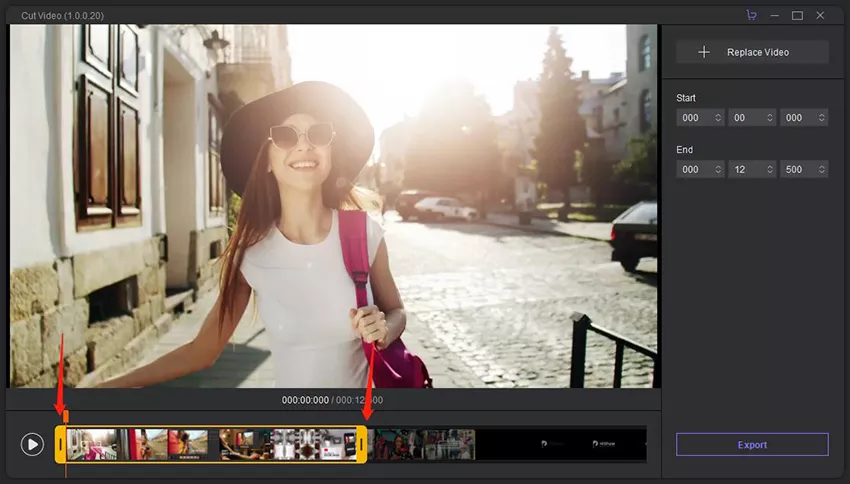 4) Export
Export the video once you finished editing.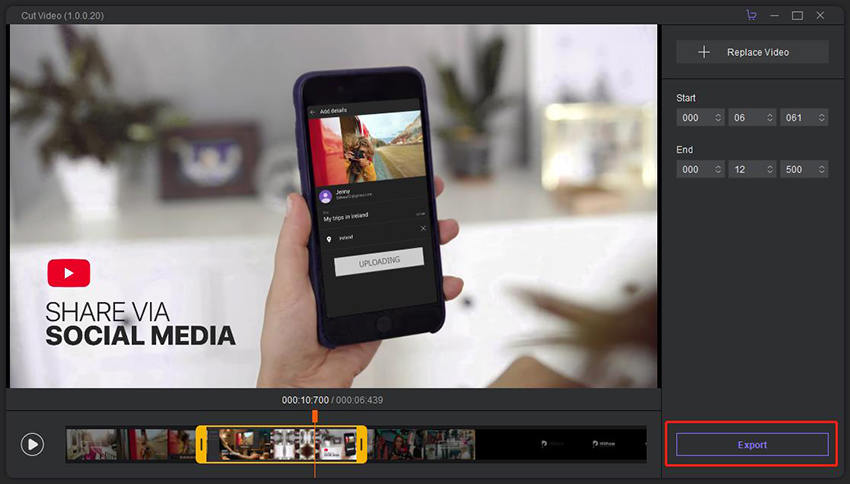 Final Thoughts
Certain features should be considered before selecting a YouTube to WAV converter software. Different versions offer different conversion techniques in their paid and free versions. After conversion, you can make use of HitPaw Toolkit to make all the changes you need.
FAQs about WAV
How do I convert a YouTube video to WAV?
Follow below steps:
Open an online YouTube to WAV converter.
Go to YouTube and search for the video you want to convert.
Copy the YouTube video's link and paste the YouTube link on the online YouTube to WAV converter.
The online converter will do the conversion for you.
Click on the download button to download the converted WAV file.
Is WAV better than MP3?
Yes, WAV is, by all means, better than MP3. Whatever it be seamless looping, frequency limit, or maintaining the quality of sound, WAV always emerges as a winner. Converting a YouTube video to WAV upholds the highest standard of quality. On the other hand converting a YouTube video to MP3 can cause an audio to lose quality.
What Program opens WAV files?
Both Mac and Windows can open a WAV file for you. Windows make use of Windows-Media Player to open a WAV file once you double-click on it. On the other hand MAC opens a WAV file using iTunes or Quicktime. WAV files can also be opened using Android Phones by using a third-party software: Remote Wave Free. IPhones on the other hand can directly open a WAV file without any third-party software.