Top 19 Online and Desktop Video MP4 Compressors
Videos that you record from your smartphone or any other camera can become a headache when uploading them to the sharing sites. More extensive size videos with high resolutions often make us experience issues while downloading or playing the clips. Hence, we all need video compressors!
MP4 video compressors can help us in this regard as they reduce the file size by removing extra details in the data. This article has compiled the best offline and online video compressors that can shrink your big videos' size and help you enjoy them without any trouble.
Top 9 MP4 Compressor for Your Desktop
I believe that you want to get some suggestions about the mp4 compressor, right? now let's start with HitPaw Video Converter first, to have a better understanding of the surprising that one tool can support both Windows and Mac systems.
1. HitPaw Video Converter
HitPaw Video Converter is an all-in-one video solution that supports batch compressing videos up to 90%.
Pros and Cons
Supports 10000+ video formats
Compress MP4 videos in batch
Patened technology to keep the best quality after compression
Neat interface and fast compression speed
In addition to video compressor, but also supports image compression, video converter, video downloader and powerful AI tools.
Supports both Windows and Mac systems
The free version only supports compressing 1/3 length of a video.
The Steps to Batch Compress MP4 on Windows and Mac
1.Free download and install HitPaw Video Converter, and select the Video/Image Compressor feature from the Toolbox.

2.Import MP4 files to compress.

3. Set up the compress level and quality. You can set different compressio level for each MP4 video, or set up a compression level to all files from the left bottom.

4. Now, click the Compress or Compress All button to start compressing MP4 videos without losing quality.
2. Freemake Video Converter
It is one of the best free MP4 video compressors for your desktop. It supports a good sort of output formats, including MP4, MPG, AVI, WMV, ROM, and et al, so you'll always select a format that is suitable together with your device.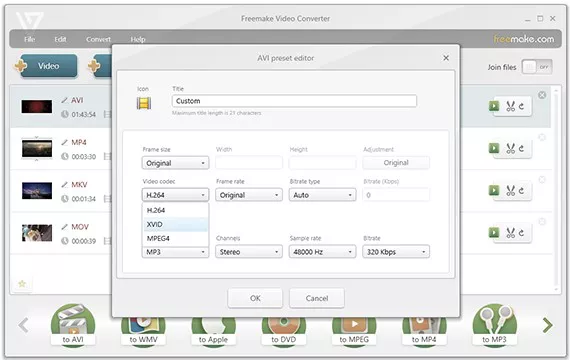 OS: Windows only (including Windows 8, 10).
Pros
Easy to use
You can cut, join and rotate videos
Provides plenty of tools for video compression
No ads
Best for beginners
Cons
Web Pack requires three days to unlock all advanced features
No Mac version yet
3. Any Video Converter
To compress your large clips, Any video converter can also work best. It is an unrestricted video compression system that facilitates a variety of formats like RMVB, MP4, AVI, MOV, MKV and FLV. It is offered in both free and premium variants.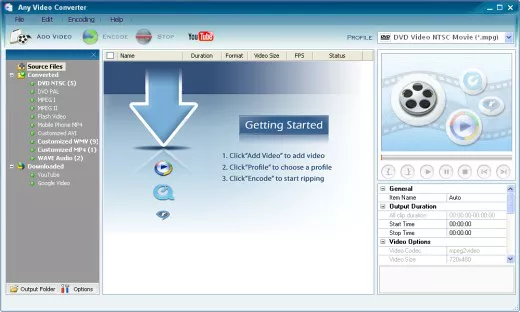 OS: Windows and Mac.
Pros
Works faster
You can edit compressed files
No ads
Cons
Doesn't support Linux
To access more advanced features, you need to upgrade to Ultimate
4. FFMPEG
It is a freemp4 video compressor and open-source video converter for your desktop. FFMPEG supports various video formats, including MP4, AVI, MOV, and several others. You can easily use this compressing tool to record, convert, compress, and capture screen and stream audio and video.
OS: Linux, Mac, and Windows.
Pros
It supports many video formats
Powerful tool with many additional features
Cons
Quality loss may occur during the conversion
Steep learning curve for novices
5. HandBrake
HandBrake is probably the best-known MP4 video compressor. But, more importantly, it can be used as an online platform and as a download. In addition, it allows you to choose between a single file and a batch for queuing multiple encodes when you wish to compress your video files, so it's really a good tool for mp4 compressor online.
OS: available on Windows, Mac, and Linux.
Pros
Include subtitles
Support for CFR and VFR
Cons
Sometimes takes time to generate output
6. Format Factory
It is another open-source video compressing tool with an in-built conversion suite that we highly recommend. MPG, MP4, MP3, AVI, FLV, WAV, and many other file types are supported. The feature collection is solid and includes codec choice, FPS, resolution, and size, even though beginners who don't want granular customization can pick up Format Factory and use it easily.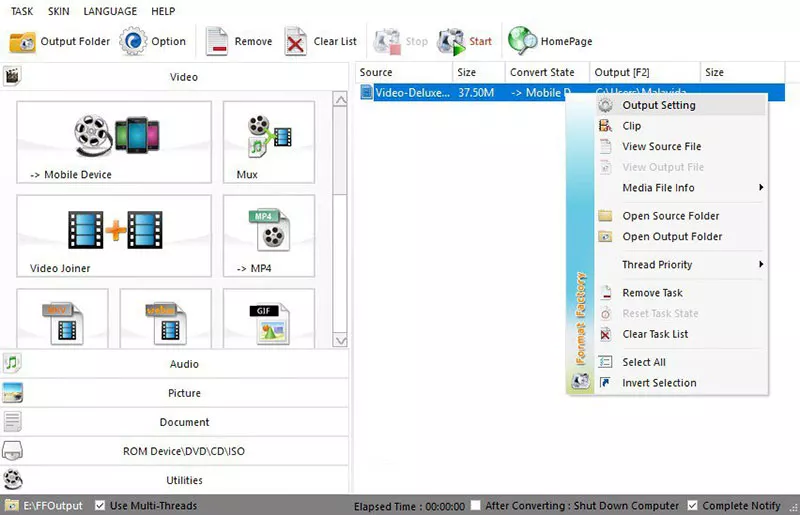 OS: Windows, Mac, Linux.
Pros
Brilliant format support
Easy for beginners
Cons
Unfortunate product placement installations
7. Avidemux
Avidemux is a phenomenal all-rounder MP4 video compressor that is incredible for fast cuts and changing over. The free help intends to cut and encode the video, so support for designs is extensive. However, probably the best component is the capacity to computerize undertakings and queue projects.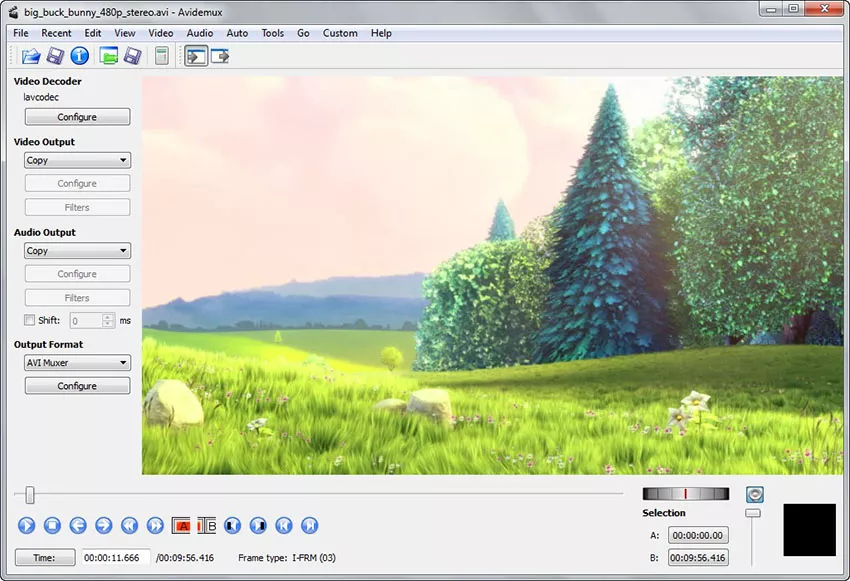 OS: Windows, Mac, Linux.
Pros
Video Filters
Audio Filters
Custom Scripts
Supports Common Video Formats
Cons
Unavailability of batch process
8. VLC
VLC is a free mp4 video compressor. It is most likely extraordinary compared to other open-source media players as it upholds all video formats. Other than video playback capacities, VLC further offers various video creating and editing features that can help you eliminate undesirable pieces of video cuts or apply effects and filters.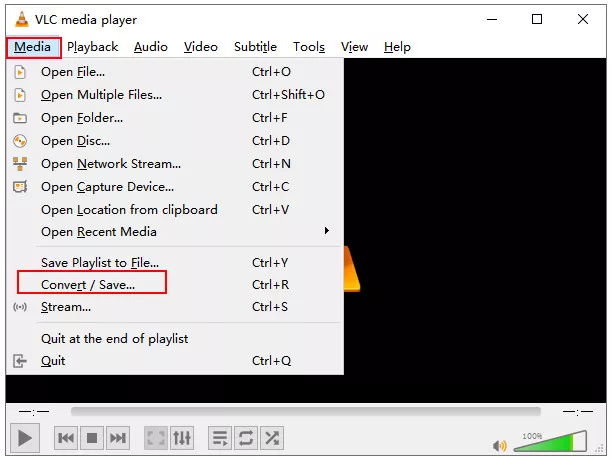 Pros
You can handle VLC utilising shortcut keys
You do not need to install any codecs to read audio or video files
Cons
It isn't easy to find songs in your library
No customization in the program's interface
9. YouCompress
It is a cloud-based and free MP4 video compressor. Further, YouCompress uses an HTTPS connection for securely uploading any file to convert in your required format.
OS: Mac, Windows, iOS, Linux, and Android.
Pros
MOV and MP4 video file formats are supported
No registration required
You can compress unlimited files
Cons
It is impossible to select the output file format
The settings of video compression are automatic
10 Best Online MP4 File Compressors
1. HitPaw Online Video Editing
HitPaw Onilne Video Editing is a simple and easy-to-handle tool for compressing any video or audio. This file compressor MP4/MP3 maintains the quality of the original clip while compressing and generates remarkable output.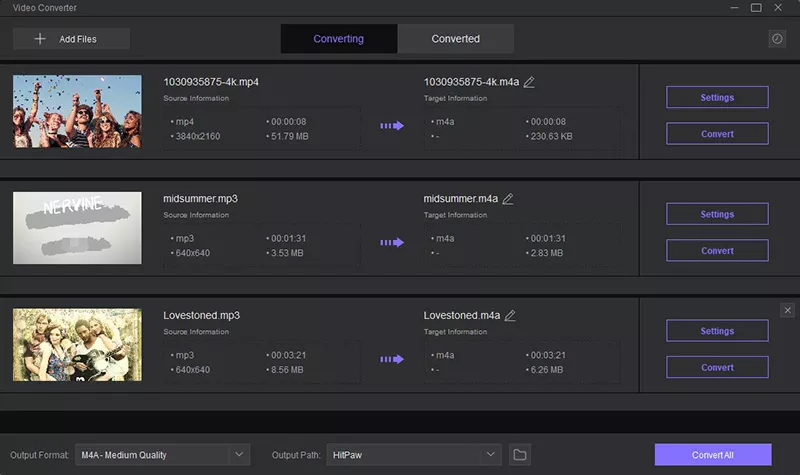 Pros
You can download the converted video to MP4 and MP3
You are allowed to record and compress the live video streams
It effectively supports many video sites
No ads
Cons
2. Videosmaller
VideoSmaller is a free online MP4 file compressor service that can reduce video file size without losing quality. It also limits the size of video uploads to 500 MB.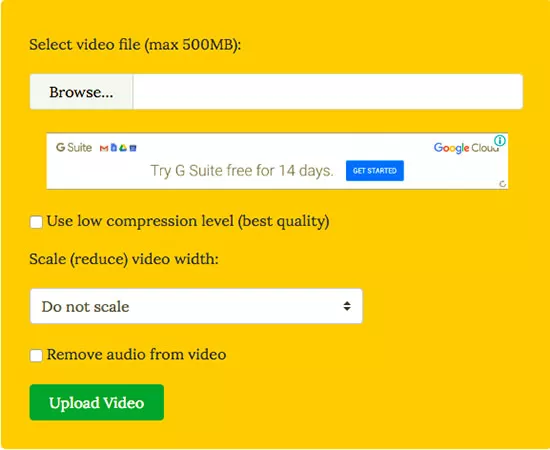 Pros
There are no difficult aspects to understand
Free to use
Cons
There are no advanced and unique features
It does not support a wide range of media players
No support given when something goes wrong
3. Zamzar
Zamzar is an online for free MP4 file converter and compressor that operates on any pc computer connected to the internet.

Pros
If your file type isn't compatible, you can email the staff for assistance
A variety of file formats support
It can convert and compress multiple files simultaneously
Cons
You're limited to two files per twenty four hours with the free edition
If you have files bigger than 400 Megabytes, you must sign up for the Business plan
4. PS2PDF Online MP4 Video Compressor
As the name indicates, it only creates output video files in MP4 file format. Therefore, it is a perfect online MP4 compressor.
Pros
No video file size limitations
Offers different compression options
Allows the user to select the size of the output video
Cons
Supports just MP4 output file format
No file sharing options
5. Online Convertor
If you're seeking for a video compressor this is both effective and quick to use, Online Conversion is the way to go. This file compressor MP4 program supports other formats as well. Such as MOV, WMV, and other file formats from a URL or desktop.
Pros
Accepts a broad variety of video file formats
Smooth upload and procedure
Cons
No support provided for encrypted video files
File size limits to 200MB
6. YouCompress
This is a simple and efficient free MP4 compressor that allows you to minimize the size of audio, video, and image files. You can also use YouCompress to reduce an unlimited amount of MP4, MP3, JPEG, or GIF files.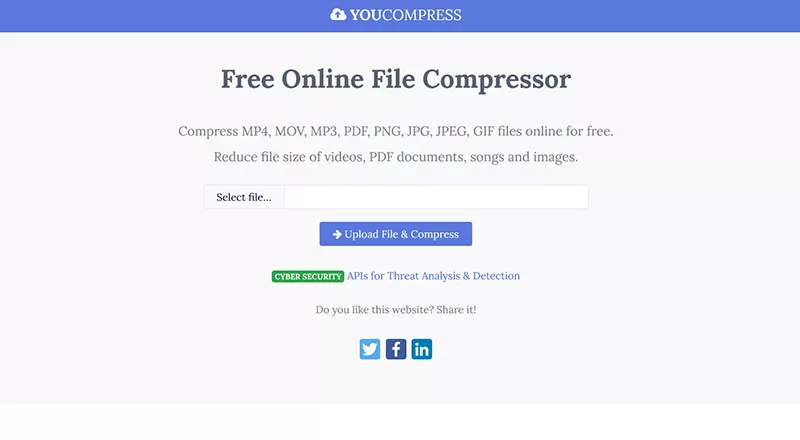 Pros
The straightforward file size compression
Compressed videos are never watermarked
Cons
Video compression settings are automatic
No file-sharing capabilities
7. Clipchamp
Clipchamp transforms, captures, and compresses video files in addition to making the video editing process more accessible. This free MP4 compressor allows to reduce the size of all videos saved in MP4, MOV, or AVI file formats without sacrificing quality.
Pros
Great batch conversion options are available
It offers a massive selection of templates and designs
Easy video upload
Cons
Modest video compression features
A restricted number of video file types for output
8. Online Video Converter
Online Video Converter is a free online tool. You're just a few clicks away when you have to convert and compress videos, and it also provides support for a wide range of formats.
Pros
It's free to use
No need to download the software
It supports 40 media formats
Cons
Need Internet connection as you can't use offline
9. Gilisoft Video Converter
This program enables you to compress or convert videos without losing their quality. This application helps you to enhance and modify your video clips with no or minimal effort. It supports over 160 video formats, including AVI, FLV, MP4, and others.
Pros
Add subtitles
You can transform SWF files to video or audio
Cons
It consumes a lot of resources when converting
10. Cloudconvert
It has a user interface that allows you to upload files and get a high-quality output quickly. This MP4 file compressor is compatible with 200 formats.

Pros
It offers an API that can be integrated with your app
Cons
It may not be clear to novices
FAQs About Video Compressor Mp4
Q1. What video compression does discord use?
A1. When you select "Standard", uploaded videos will be compressed to 480p (up to 720p for Nitro users). This is the default setting for video uploads. It is also the setting that Discord recommends for balancing performance and data usage. So just go to have a try at discord mp4 compressor.
Q2. What is the free tool to compress MP4 files?
A2. Freemake Video Converter. Windows VLC. Windows, Mac, Linux, Android. VSDC Video Converter. Windows. FFmpeg. Windows, Mac, Linux. HandBrake. Windows, Mac, Linux.
Q3. What is the best 8MB compressor?
A3. DVDFab Video Converter is the best 8MB file compressor tool that you can use to upload the files on Discord in 2022. Not only does it have the ability to compress files, but it can also convert video into different formats.
Conclusion
Video compression is a fundamental part when recording and saving surveillance camera footage since it packs the extra data into the smallest configuration. Thus, we have mentioned the best MP4 video compressors for desktop as well as top online MP4 compressors. The online tools are easy to access and free to use, if you can bear some of the drawbacks like full of ads, quality loss, no batch support, slow compression speed. On the other hand, desktop software like HitPaw Video Converter supports batch comrpessing MP4 without losing quality. If you have many videos to compress, the desktop solution is the best consideration.