Top 6 AI Image Editors to Perfectly Adjust Your Photos
The hype around AI image generators is immense, as AI image generators often go under the radar. Since everyone intends to make the clicked photos look perfect, looking at a reliable AI image editor is necessary.
We have reviewed some of the most exciting AI image editors; you'll learn about them in this post.
Part 1: Top 6 Free & Paid AI Image Editors for Your Window/Mac Devices
You must have been aiming for an image editor AI that doesn't affect the quality of your photos.
Brace yourself to get the 6 mesmerizing AI image generators on board.
1. HitPaw Photo AI
Whenever the talk of an AI image editor pops up, HitPaw Photo AI is the first tool to appear. It has everything you want to see in a free AI image editor.
From allowing you to colorize black and white photos and removing the blur from a photo to helping you to adjust the size of the video, HitPaw Photo AI has all the basics covered. The quality of the best ai image editor is that it doesn't affect even the slightest resolution, and editing multiple photos simultaneously has also been simple by HitPaw Photo AI.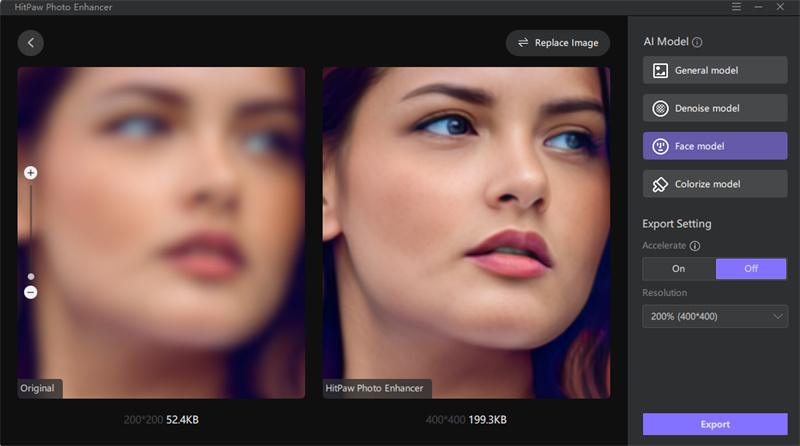 Pros
Enhance the images with one click
Allows you to edit multiple images simultaneously
Helps you to customize the photo size appropriately
Supports the Mac and Windows
Explore AI-powered technology
2. Adobe Photoshop
Adobe Photoshop is a familiar tool for editing photos, as it has been serving you for 3 decades. The AI features in this image AI editor could save much of your time by offering AI photo editing features. Although many users often complain about the difficulty of using Photoshop, you shouldn't ignore it; try it at least once.
Features
Offers the highly professional features
Comes up with the multiple photo editing techniques
Doesn't cause the image quality loss
Pros
One of the best AI-powered photo editors
Control the photo editing
Cons
Pricing: $19.99/ month
3. Luminar Neo
With features like AI sky replacement, and AI-powered enhancement, Luminar NEO also becomes a reliable AI image editor. Luminar tends to detect the fault in your photos and asks you to edit it with one click.
Features
AI skin and face adjustments
Remove the blur from photos
Change the resolution of photos
Pros
Powered with AI technology
Gives you complete control over photo editing
Cons
Pricing: $9.95/ Month
4. Canva
With introducing various mind-blowing and mesmerizing photo editing features, Canva has become one of the best ways to edit the photo.
Besides offering remarkable photo design templates, the AI image editor brings commendable photo editing filters. On top of that, Canva also enables you to share edited photos on various social media platforms, making it simple to upload the images magnificently.
Features
Helps you to transform the text into speech
Allows you to eliminate unwanted objects from the photos
Replace the elements of your photos quickly
Pros
Easy to use
Variety of photo editing features
Cons
Sometimes, it doesn't edit the photo how you intend it to be
Pricing: $12.99/Month
5. Pixlr
You won't find many reliable options when looking for a free AI image editor. However, Pixlr surely has other ideas offering mesmerizing photo editing features. Regardless of how you would like to edit the photo, Pixlr will find a way to serve your purpose.
Features
Helps you to customize the photos quickly
Adjust the size of photos brilliantly
Remove the background from the photo quickly
Helps you to edit multiple photos simultaneously
Pros
Comes up with the affordable premium version
Easy to use
Resize the images quickly
Cons
Pricing: $7.99/Month
6. Lensa
Lensa is well known for the Magic Avatar feature impressing thousands of people around the globe. The photo editing features this AI image editor comes up with are more than enough. Amazingly, it uses the Magic Retouch feature that assists it in identifying the portraits and editing the images afterward automatically.
For instance, if your make-up goes weird in the photo, the AI image editor won't take any time before customizing the photos appropriately.
Features
Offers the commendable AI eraser
Helps you adjust the size of photos
Crop the photos appropriately
Comes up with the free trial version
Explore the various sensational photo editing filters
Pros
Handles selfies and portraits amazingly
You can save one edited photo for free in a day
Cons
Editing the images on a mobile device isn't as effective as editing on the desktop is
Pricing: $4.99/Month
Part 2: 2023 Best AI One-Click Image Editor for Your Mobile Devices
Everyone seems to talk about the AI image editor for Mac or Windows, but did you ever think of editing the photos on your mobile? HitPaw Photo AI App comes out all guns blazing, offering mind-blowing photo editing techniques you won't find in any other app.
It comes up with different categories of editing operations that allow you to modify the image automatically. On top of that, the image editor AI pays huge attention to maintaining the original quality of photos. Moreover, you can also share the photos on multiple social media platforms.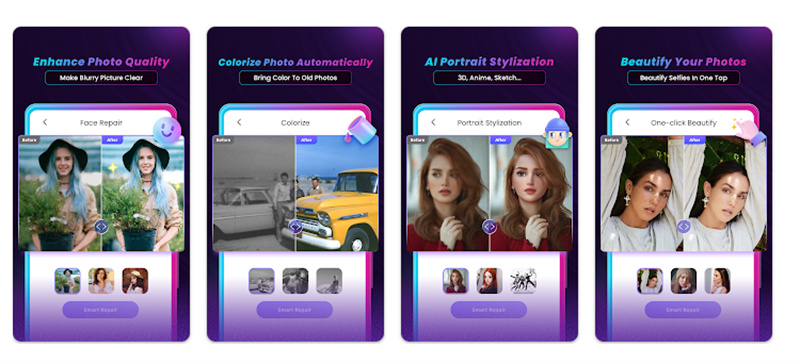 Pros
Beautify your face with one click
Colorize your black-and-white photos
Turn the photos into the 3D style with ease
Explore the mind-blowing Japanese anime style
Doesn't prompt the image quality loss
Conclusion
Aiming for the best AI image editor is what most content creators pay attention to. We have made your job easier by exploring the 6 enjoyable and reliable AI photo editors. You can try all the listed tools, and you'd surely be satisfied with all these tools. HitPaw Photo AI is the ultimate winner when compared to the other tools.
With offerings, a simple user interface, and AI-powered technology, HitPaw Photo AI changes photos' dimensions, making them look perfect.