Top 10 BEST & FREE Fanfiction Websites Available in 2023
Fanfiction websites have become virtual havens for writers and readers alike, providing platforms to share and indulge in the limitless possibilities of fiction.
In this article, we have listed the best 10 fanfiction websites that have left an indelible mark on the literary landscape. These websites have not only given birth to countless tales spun by passionate fans but have also fostered supportive communities, encouraging writers to hone their skills and connect with like-minded individuals from across the globe.
Part 1. What is Fanfiction?
Fanfiction is a form of creative writing that revolves around established TV shows, books, comics, films, plays, anime, games, and cartoons.
It serves as a platform for dedicated fans to delve deeper into the realms of beloved characters, settings, and storylines. Fanfiction enthusiasts express their passion by crafting new narratives that build upon existing works, allowing them to explore the lives of cherished characters and the intricate worlds they inhabit.
Part 2. Best 10 Fanfiction Websites Available in 2023
When it comes to exploring fanfiction, there is an abundance of options available. However, determining the best fanfiction site involves considering several crucial factors. To make it easier for you - here is a list of top 10 websites for fanfiction.
1.Webnovel
Webnovel stands as the world's largest online community dedicated to web novels. As a global platform, it offers a captivating assortment of novels, comics, and fanfictions.
With an extensive collection exceeding 10 million digital works, the site serves as a creative hub for over 3 million writers across a diverse range of 200 content categories. Notably, this fanfiction website boasts a meticulously crafted design that enhances the overall reading experience, ensuring a delightful journey for its users.
2.AdultFanFiction.org
AdultFanFiction.org stands as the foremost archive for all types of original adult fan fiction on the internet. With a commitment to a no-censorship policy, the site provides a safe space for adults to freely express themselves through both adult and non-adult-themed writing. Sporting a clean and user-friendly interface, navigating the website is a breeze, allowing users to effortlessly find their desired stories.
This fanfiction websites free ensures a convenient and hassle-free experience for readers seeking their preferred content.
3.Asianfanfics.com
Asianfanfics.com serves as an automated fanfiction archive site catering to individuals who have a keen interest in reading, writing, and sharing their beloved stories and news related to entertainment, music, and pop culture.
As the name implies, the site revolves around Asian fanfiction, featuring stories inspired by Asian books, television series, films, video games, dramas, and bands. Notably, a significant portion of the fanfiction content focuses on K-pop singers, a popular Korean music genre.
This website fanfiction provides a dedicated space for fans to immerse themselves in the world of Asian-inspired narratives and indulge in their passion for Asian entertainment and pop culture.
4.DeviantArt
DeviantArt, the renowned online art community, serves as a vibrant hub for showcasing artwork, videography, and photography. It has garnered acclaim for its exceptional fan art and illustration community.
The platform hosts a diverse array of creative content, including fanfiction, fan art, fan comics, and much more. Notably, DeviantArt stands out as one of the most enjoyable, visually appealing, and impeccably designed websites.
Providing a plethora of tools, it empowers users to personalize their posts, enhance them with images, and explore various styling options. DeviantArt offers an immersive experience for artists and art enthusiasts alike, fostering a rich and dynamic environment for creative expression.
5.Tumblr
Tumblr, recognized primarily as a microblogging and social networking platform, also offers a haven for indulging in a wide range of fanfictions. Serving as an ideal gateway to connect with various fandoms, the site enables users to explore an abundance of memes, fan art, and fanfiction effortlessly through its comprehensive search functionality.
Moreover, Tumblr provides an excellent platform for creators to promote their fanfictions, attracting traffic and garnering greater attention for their work. With its robust community features and a diverse readership spanning across numerous fandoms, Tumblr proves to be an ideal destination for both creators and enthusiasts seeking an engaged and passionate audience for their fanfiction endeavors.
6.Quotev
Quotev, a creative platform embraced by millions, stands as a bustling hub of passionate fans. With its robust chat system and forum features, the site fosters an interactive and engaging community. In addition to hosting fanfictions, Quotev offers an extensive collection of quizzes and encompasses a wide variety of subjects, including original works.
This multifaceted website caters to diverse interests, allowing users to immerse themselves in various forms of creative expression and engage with like-minded individuals. Quotev provides a rich and versatile platform for writers, readers, and quiz enthusiasts to come together, share their creations, and explore a myriad of captivating subjects.
7.Commaful
Commaful, the world's largest multimedia fiction site, grants you access to a vast collection of thousands of free stories. The website captivates with its stunning visuals and meticulously crafted layouts.
Additionally, Commaful boasts the best chat system, facilitating seamless interaction among its users. Although Commaful may have a relatively smaller library of works compared to other platforms, its stories have an extraordinary reach, captivating millions of readers from around the globe.
8.Fanfiction.net
Fanfiction.net holds the distinction of being the world's largest archive and forum for fanfiction. Organized into ten primary categories encompassing anime/manga, books, cartoons, miscellaneous, games, comics, movies, plays/musicals, TV shows, and crossover content, the site caters to a diverse range of fandoms. Notably, Fanfiction.net boasts a significant following for OC-oriented stories, where original characters created by the authors take center stage.
9.Archive of Our Own
Archive of Our Own (commonly referred to as AO3) stands as a fan-driven, nonprofit, and noncommercial archive dedicated to transformative fanworks, including fanfiction, fanart, fan videos, and podfic. Notably, AO3 prides itself on its commitment to a censorship-free environment, providing creators with a platform to freely express their creative endeavors.
The site boasts an exceptional search engine, ensuring that users can easily discover and explore a vast collection of high-quality fictions. AO3 is renowned for its abundance of well-written works, many of which exhibit professional-level writing skills, captivating plots, and minimal grammar errors.
10. Wattpad
When considering the top fanfiction websites, one cannot overlook the prominence of Wattpad. Positioned as a platform for writers of all levels, from aspiring amateurs to established authors, Wattpad provides an avenue to publish stories.
Undoubtedly, it stands as one of the most renowned fanfiction websites and the most popular writing community in existence. While Wattpad boasts a vast repository of content, encompassing both original works and fanfiction, it is worth noting that a significant portion of the writing may exhibit subpar quality.
You can use these fanfiction websites not blocked to read into everything you want. So, go grab a device and a cup of coffee and go reading.
Part 3. Use a Voice Changer to Read While Playing Different Roles in Fanfiction
Actually, here we got the best solution of voice changers, which easily changes the voiceovers to another funny sound and works well when you reading the fanfiction. With the arrival of HitPaw Voice Changer, applying voice filters to the audio has become simple. Luckily, HitPaw Voice Changer doesn't distort sound quality, offering a high-quality changed voice for your speech, chat or streaming.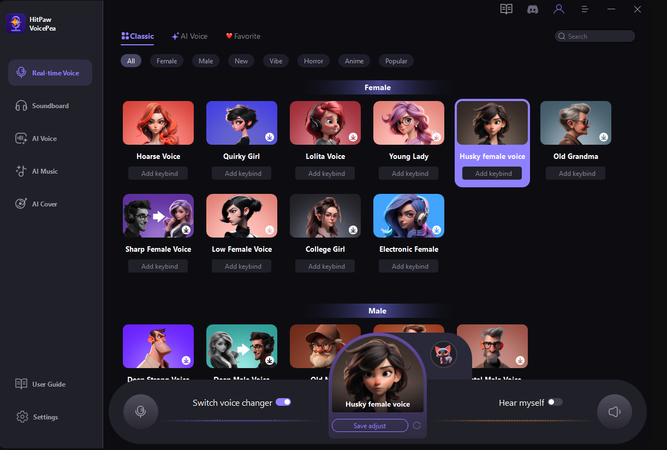 Helps you to produce the most realistic human voices
Offers the intuitive user interface
Integrated with the multiple online streaming platforms
Make your voice sound like the celebrities
Here're easy steps that how you can use HitPaw Voice Changer.
1.Go to "Settings", and click the drop-down button to select the input and output you are using. Then adjust to the volume you prefer.

2.Choose the effects you prefer and try speak into the microphone to listen to the transformed sound of your voice.

3.Adjust the sound effect in the sound settings,you can adjust volume, pitch, timbre of the sound. Then Turn on the "Voice Changer", "Hear myself" and "Noise Reduction" on the buttom.

4.After choosing the effect, simply click the "connect" to changer your voice on other platforms like Twitch, Discord, Steam, etc.
Conclusion
These top 10 fanfiction websites stand out for their unique features, content quality, user-friendly interfaces, and dedicated communities. Whether you're seeking to immerse yourself in the lives of beloved characters, explore imaginative narratives, or connect with like-minded fans, these platforms provide a wealth of opportunities to indulge in the world of fanfiction. And of course, you can use HitPaw Voice Changer for a try.