8 Great Boy Voice Changers for PC, Mobile and Online
If you are a girl gamer and want to play multiplayer games like Fortnite, Call of Duty, Valorant and Apex Legends. In these games, you will have to communicate with your teammates to survive, but many girls don't like to chat with others in their natural voice.
There is good news for girls: Now they can customize their tone and change it to a boy using a boy voice changer. This article will tell you about the top 8 boy voice changers available online.
4 Useful Boy Voice Changers for PC
Here is the list of the top 4 voice changer, girl to boy, that will allow you to modify your voice in real-time in seconds.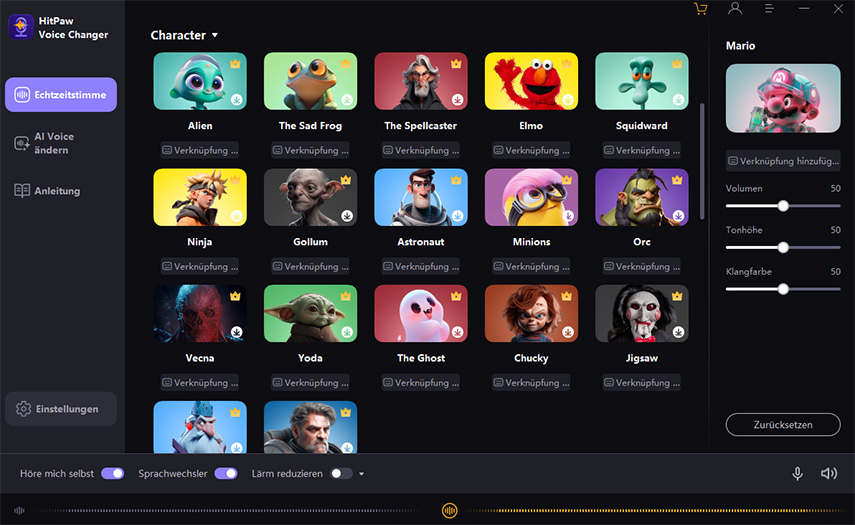 When it comes to boy voice changers, HitPaw is the first option that comes to mind. This program has the best boy voice filters to allow you to change your voice. This program's most famous voice effects are boy, male, female, robot, monster, angry man and more.
HitPaw can easily integrate with over 300+ PC programs and games, including games like COD, GTA, Valorant, Fortnite, and Apex Legends and programs like Discord, Twitch, Zoom, Skype and more.
With the help of the noise reduction feature, users can remove any unwanted background sounds. It is user-friendly and allows users to navigate through settings easily.
Pros
It has the most voice filters as compared to others
Compatible with Windows and macOS
Noise reduction feature to produce high-quality sounds
User-friendly interface
Uses the AI to alter your voice in real time
It offers a huge library of boy voice effects and filters
Here're easy steps that how you can use HitPaw Voice Changer.
1.Go to "Settings", and click the drop-down button to select the input and output you are using.

2.Choose the effects you prefer and click to apply it.

3.Turn on the "Voice Changer", "Hear myself" and try to speak to your microphone to listen how your voice sound like. If the surrounding environment is noisy, you can manually activate noise reduction. Please don't set the noise reduction level too high, as it may filter out some sounds.

4.After selecting the desired sound effects and previewing them, you can adjust the volume according to your preferences.

5.Change Voice on Discord:Open "Discord", Click your "User settings" and go to "Voice & Video, Then select "HitPaw Vitrual Audio Input" from the drop-down list of input device.
2. Voicemod ( Win & Mac)
If you are looking for a girl-to-boy or boy-to-girl voice changer, then Voicemod is your best option. With the help of this tool, you can modify your voice in any character, including boy, female, alien, chipmunk, monster and more. All voice effects available on this program are realistic. The best part of this program is that it collaborates with all live streaming and gaming apps available on PC.
With its Voicelab feature, you can create voice effects and adjust them according to your needs. Because of its customization feature, this program is very popular among live streamers and gamers.
Pros
Allows you to change your voice from girl to boy
Voicelab feature to customize sound effects
Offers voices like boy, girl, angry man and more
Best for gamers and live streamers
Alter voices in real time without any delay or glitch
Cons
For some users, the Voicemod interface is a bit hard
Pricing: $36.00
3. Clownfish Voice Changer (Win)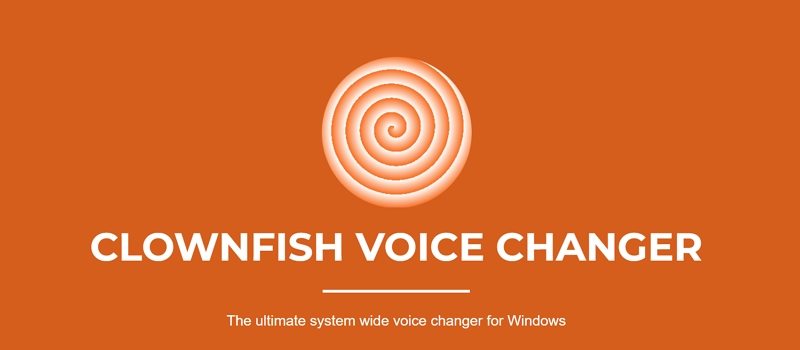 Clownfish is a free-boy voice changer. All the voice effects available on this platform are free to use. This program collaborates with all the major apps for gaming and live streaming.
With the help of this tool, you can edit your recordings as per your needs. Clownfish offers more than 15 voice effects, including boy, female, robot, helium, alien, etc. This program offers a built-in music player to test the altered voices before using it on any platform.
Pros
Offers over 15 voice effects, including boy, alien and more
Built-in Music Player
Allows you to download audio clips in popular formats such as MP3
Supports almost all Live streaming platforms like Discord, Twitch
Offers free voice effects
Cons
Clownfish has fewer voice effects as compared to its competitor
Pricing: Free
4. NCH Voxal Voice Changer (Win & Mac)
Voxal Voice Changer is another voice alteration program that converts your real voice into another one. It offers a wide range of boy voices, allowing girls to alter their voice into a boy while playing games and live streaming.
This program uses the same technology as a professional studio. With the help of this program, you can create realistic and unique voices, which you can use to prank others. Voxal has some amazing features, such as Pitch shift, echo effects, sound effects, a recorder, a Volume controller and more. This software has a straightforward interface requiring no special skills or knowledge to use effectively.
Pros
This program changes your voice in real-time
Offers over 50+ voice effects
Allows you to use special effects on your voice, such as pitch shift
Options to download and share recordings
Pricing: $39.95
2 Nice Boy Voice Changer Mobile
Below is the top-rated voice changer boy that will allow you to alter your voice on your Smartphone.
1. Voice Changer with Effects
Looking for a man voice changer for an Android device? Then don't look further because Voice changer with effects is the best option for Android devices. This simple and easy-to-use application allows you to record your voice and alter it with multiple sound effects.
Voice changer with effects provides many different voices, such as Male, Female, Monsters and more. The best thing about this program is that all the voice effects available are realistic and of high quality.
Pros
Simple to use interface
Provides high-quality sound effects
Best voice changer for Android device
Offers a simple record and edit feature
Pricing: Free
2. Voice Changer Plus
Voice Changer Plus is one of the best anime boy voice changers on iOS devices. With the help of this program, you can alter your voice into any character, including Anime Boys, Bane, Echo, Robot, Helium and more.
This program gives you an option to edit your voice recording as well. It has a clean and straight interface, best for newcomers with no tech knowledge.
Pros
Provides iOS users with a save and share option
With this program you can trim your voice recordings
It offers excellent voice effects
Straightforward interface
Pricing: Free
2 Best Voice Changer Online
Here are a few great voice changer boys that will convert your voices and add effects online.
1. Voicechanger.io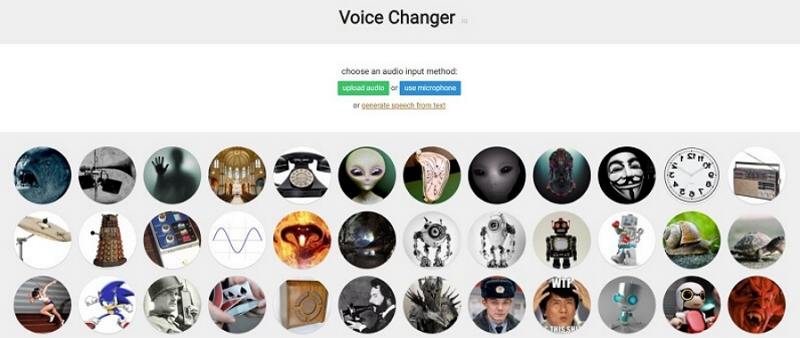 Voicechanger.io is an online web-based program allowing you to alter your voice in real time without downloading and registering. It is a free-to-use program with 100+ voice effects. It offers high-quality voice effects, including boy voices, girl voices, robots, and aliens.
The voice-changing process is so simple that a child can alter their voice for fun. Open the program, click on upload a file or recording option and in the end, select the voice effect, and that's it. Your voice will be modified.
Pros
Offers high-quality voice effects like alien, robot, monster and more
Online program means no installation
Free to use
Easy to alter voice recordings
2. LingoJam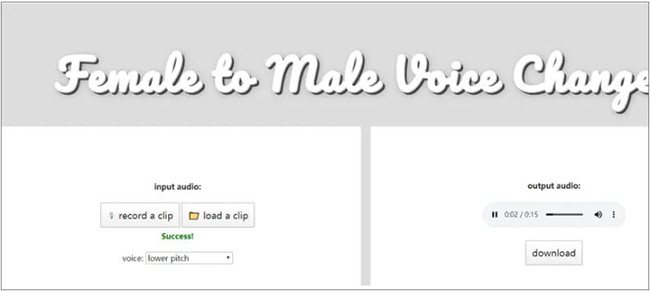 LingoJam is another online anime boy voice changer. This program has the best TTS program available on our list. With the help of this program, you can create speeches in your favourite voices using text.
This program is 100% free and offers a wide range of voice effects.
Pros
Best for making deep fake sounds
Web-based program
Offers options to upload and edit prerecorded audio files
100% free to use with no registration
Cons
Not for live streamers and gamers
FAQs of Boy Voice Changer
Q1. How can I change my voice to a boy?
A1. To change your voice into a boy, choose the HitPaw voice changer and launch the program. Now select the input and output device, select any boy filter and click on it to apply.
Q2. Are voice changers illegal?
A2. It is not illegal to use voice changers on live streaming and gaming.
Final Thought
This is the end; in this guide, we have mentioned the best boy voice changers available. Each voice changer has unique voice effects and features. If you want a voice changer with amazing voice effects and editing features, choose the HitPaw Voice Changer.