A Comprehensive Guide on How to Create Voice Over Script
Creating a voice over script can be challenging if you don't know the right techniques. You have to think of ideas, create outlines, add high-quality voices, and more. But due to the popularity of AI, now it is easier to create voice over scripts using different AI voice generators. If you are planning to create an engaging voiceover script, you are in the right place. Here, we will tell you how to write a voiceover script using different voice generators. Also, we will tell you some of the tested techniques to create voice-over script. Let's discuss everything in this article.
Part 1 What is Voice Over Script?
A voice-over script is a process where you need a voice actor who will read the provided script and create a voiceover for you. These voice over scripts can be used for different projects, commercials, educational purposes, such as e-learning, and different audiobooks. Apart from that, the script also provides you with voice actor directions on how you should speak the lines, set the tone, and record the audio. However, everything is done by voiceovers and writers. It is a straightforward process and requires professional writers and voiceovers. But what if you don't have the experience and want to generate a voiceover script?
Most people spend years on voice over script practice but still can't create attractive scripts, but don't worry because you can now use AI to write scripts. Yes, that is right. Different tools have been created that allow you to write the scripts in one go, and you can also add your voice to make a perfect voiceover script. Before we discuss these tools, let's first discuss how you write a voiceover script in 2023.
Part 2: How to Write a high-quality Voiceover Script?
How do you write a voiceover script? Writing a voiceover script can be a time-consuming process and always requires professional expertise. If you are a beginner and looking for a method to write a voiceover script, then you are in the right place. In this section, we will share some of the top ways that you can use to write a killer voiceover script within minutes. Make sure to read the guidelines properly so you can become a pro in writing the voiceover scripts.
1. Define your Purpose of Script and Audience
This is the most important step that you should follow while writing the script. Start your voiceover script by defining the purpose of it. For example, are you writing the voiceover script for entertaining, educating, or podcasting? Make sure you know your audience very well before writing the script. Moreover, it is important to prepare a storyboard.
2. Create a Precise Outline
In the next step, you have to write a clear and structured outline with the help of some key points. We are sure that you have brainstormed the ideas and topic. So, it is important to organize your content and divide it into different sections and topics. The outline is very crucial as it will serve as the foundation for your script. There are different techniques that you can use to create the outline, such as:
Keep the sentences short and to the point
Use different transition words like however, but, meanwhile, etc
Make sure you don't have any fluff in the outline, as repeating the words will create issues for you
Use more active words and avoid adjectives and adverbs
Use only one voice, either its first, second, or third person
3. Write in a Conversational Tone
Make sure your script is in a conversational and friendly tone. As mentioned above, use simple language, avoid jargon, and write from the heart. It is important to write the script in a way that you are speaking directly to the listener. Keep your writing clear and engaging. The friendly tone will definitely work for you, as it is the best way to get a perfect script.
4. Keep it Short
While writing the voiceover scripts, you should definitely keep it short. The length of your voiceover script should be around 150 words if it is for 60 seconds. You can also write long scripts, but it totally depends on the audience that you are targeting. If it is promotional, then 150 words would be enough.
5. Format the Script
Once your outline is ready, format your script as soon as possible. Your voice over won't accept the script if it is not arranged. You can prepare it in an editable and templated format. You can search how to write a voice over script example and get the formatting ideas.
6. Add a Call to Action
After preparing everything, end your voice-over script with a call to action. You can add an engaging message in the end, add email, or any other text. In this way, you can attract a larger audience.
Part 3: Some AI Voice Generators You Can Try to Create Audio from Voiceover Script
If your script is ready and you don't have any voiceover available, don't worry because here are two different tools that you can use to create audio from Voiceover script. Let's discuss these tools one by one.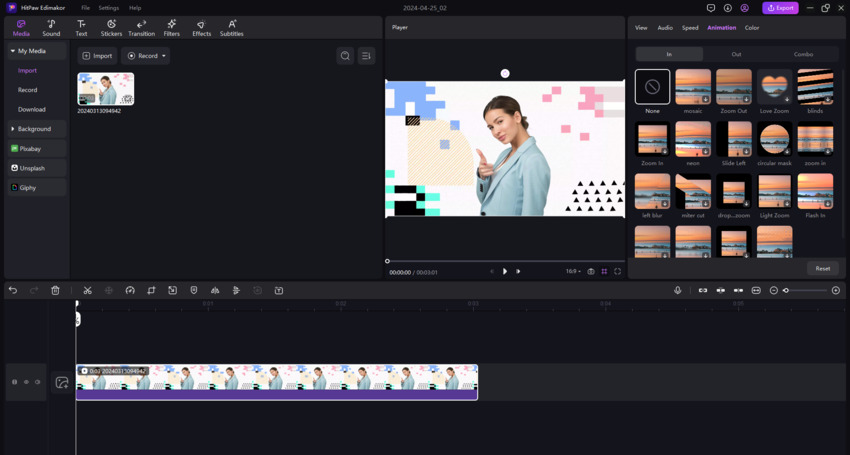 If you want to add voice to your voiceover script, then HitPaw voice changer is the best choice for you. This application can provide different voiceover effects, sound filters, and different other options. With the help of this app, you can easily adjust the tone of your voiceover script and cancel background noise as well. The common features of this app include.
It has a unique and straightforward dashboard
It is the best script writing voice over program
Users can adjust the settings, such as pitch, volume, and more with one click
You can add different sound effects and filters
It offers a real-time voice changing option
The tool works with different third-party applications, such as Discord, WhatsApp, and more
It is the best option for voice over script writers, content creators, vloggers, and more
Those who want to do voice over script practice should definitely use this application
2. Speechify
The second AI script write application in our list is Speechify. The app works for almost all devices, such as Chrome, iOS, Android, Mac, and Edge as well. Within minutes, you can create scripts by adding the text and get voiceovers as well. The tool is ideal for beginners, voiceovers, content creators, and more. Want to know more about this app? Check out the features below.
It has around 60+ Natural Sounding Voice
Users can adjust the pronunciation, pauses, pitch, etc
It is available in 20 different languages and accents
You can generate around 50 hours of voiceovers per year
It contains 8000+ licensed soundtracks
Speechify has 24x7 phone support, including chat and email
These are some of the best AI voice generators that you can use to create engaging voiceover scripts.
Part 4: FAQs of Voice over Script
Q1. How do you Script a Voice-Over?
A1. In order to script a voiceover, you need an interesting script and a voiceover. To write an attractive script, you can hire a writer or use different AI tools that convert your text into voiceover script. Also, if you need help writing a script, you can check the above information from where you can get ideas about the scripts and how to write them.
Q2. How Long Should a Voice-Over Script Be?
A2. It shouldn't be too long, but the script totally depends on your target audience. If you want a script for an advertisement, then it should be around 150 words.
Part 5: Final Thought
That's it, folks. In this article, we have mentioned how to write a voiceover in a script. Also, we have discussed different tools that you can use to create audio from voiceover scripts. If you are looking for a reliable tool, you can download HitPaw Voice Over, which is the best application for creating audio from text to speech in multiple languages.