(100% Working) How to Convert PDF to HEIC and Vice Versa
A HEIC or a High-Efficiency Image Codec is a variant of HEIF. This variant was that adopted by Apple in 2017 and is known for offering better file quality while consuming less space. This is the reason many users often look forward to converting their PDF to HEIC, and if you are also one of these users, then this article is for you.
1.

Top 5 Online Converter to Help You Convert PDF to HEIC

File conversion might seem an overwhelming job if you are new to the space. However if you have been wondering how to convert PDF to HEIC, we have information that will dramatically simplify the task for you. Here we have a list to the top 5 online converters that will help you convert PDF files to HEIC files.
Convertio
Convertio is a comprehensive web-based converter tool compatible with numerous system interfaces. It functions in multiple formats and works with videos, archives, images, and vectors.
It permits the user to convert any file they wish with the comfort of online working. The tool does not have a platform restriction. It operates effortlessly on Windows, iOS, Android, Mac, Linus, and many other platforms. It is a good choice if you are looking forward to convert PDF to HEIC.
Pros:
It has a built-in OCR tool
It assists with swift batch processing
Cons:
The Convertio free version has a data limit of 100 MB per file
It has file size and conversion limits
Cloudconvert
Cloudconvert is an online file converter that can help you convert a PDF file to HEIC. The tool can convert files in over 200 formats and is compatible with documents, images and ebooks.
It delivers excellent data security and high-quality file conversion. Cloudconvert is also great for optimizing files and capturing websites.
Pros:
It allows storing all your files directly on the drive
It permits developers to incorporate the Cloudconvert extension into their websites or apps with Cloudconvert's API
Cons:
It has 25 conversions per day limit
It has file size and conversion limits
IDR
IDR Solutions is a free tool that helps convert PDF files to HEIC files. It offers quick conversions, and in order to prevent phishing, it does not support hyperlinks. It helps convert PDF to a variety of formats and provides a user-friendly interface.
Pros:
It is free to use
It stores the converted file on the server for up to one hour
Cons:
It has a conversion limit of 5 files per day
It has a file size limit of 100 MB
Freeconvert
Freeconvert offers different conversion tools, including tools for PDF to HEIC conversions. It is a free cloud application that works on all browsers and offers file protection with 256-bit SSL encryption.
The application uses open-source custom software and offers high-quality conversions. The application also provides smooth batch conversions.
Pros:
It guarantees file security and privacy
It works on all browser interfaces with ease
Cons:
The conversion speed is slow compared to other applications
Many users face issues with downloading and storing the converted files
Online2PDF
Online2PDF converter is another free online converter that helps with quick and easy file conversions. It also offers PDF protection for copying, printing, and editing files automatically. It provides a variety of editing features for the user before they convert their original document.
Pros:
Offers high-quality conversions
The users can edit, rotate and do much more with their PDFs before converting them
Cons:
Users have to deal with passwords for reading protected files
It has a maximum file limit of 100 MB
2.

Easiest and Fastest Way for You to Convert PDF and HEIC and Vice Versa

Instead of trying and testing out the tools mentioned above, you can directly head to the best in business!

HitPaw Video Converter helps you achieve the required results within seconds as it converts your PDF to HEIC and vice versa as per your needs. It also offers video and audio conversion and downloading with over 1000 different formats.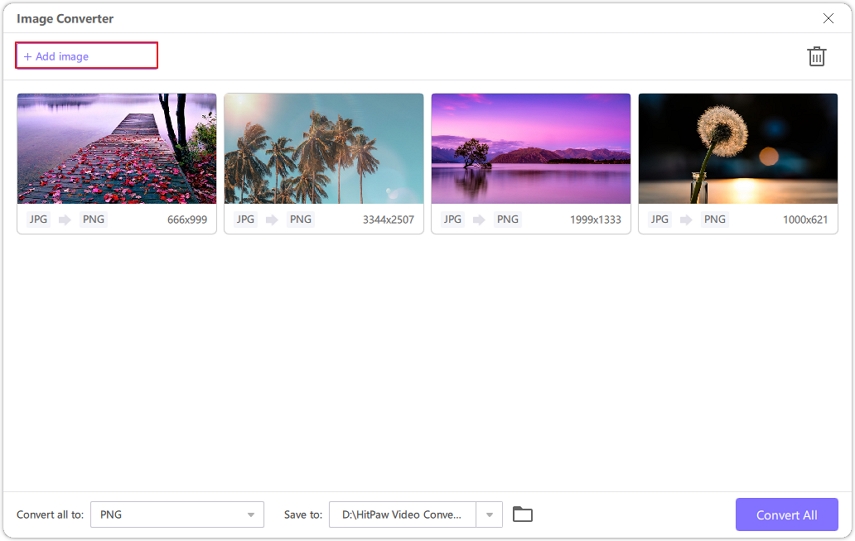 It converts videos, audio, and other files at a 120x faster speed
It offers batch conversions and comes with built-in editing tools
It offers high-quality conversions
It provides extensive support for diverse system interfaces
Conversions with HitPaw are super easy even for beginners. Here are the steps to convert HEIC and other image files with HitPaw:
Step 1.Download and install the HitPaw Video Converter by clicking the button below.

Step 2.On the main interface of the application head to Toolbox and select Image converter.

Step 3.

Add the images you wish to convert and select the desired output format.

Step 4.Click on the Convert button for high-speed conversions and download the final file.
3.

FAQ of Converting PDF to HEIC or HEIC to PDF

Q1. How do I create a HEIC File?

A1. To create a HEIC file, you can use tools like HitPaw and convert your standard formats or any available format to HEIC. It is a very easy process and hardly takes a few minutes.

Q2. Is HEIC Apple only?

A2. HEIC is most compatible with the Apple ecosystem however you can access it on other devices and interfaces depending on their versions. It does not have native support on other interfaces.

Q3. What is the difference between HEIC and JPG?

A3. JPG file format is known for supporting all operating systems, like Android, UNIX, Mac, Windows, and iOS. On the other hand, the HEIC image file format can be opened only on the iDevices running iOS 11 and Mac.
Conclusion
Converting your files from PDF to HEIC is not rocket science; all it needs is the right tool to assist you through the process. With tools like HitPaw Video Converter, this assistance comes in a super smooth and convenient fashion. All you need is to upload your file and select the right format, and within a few clicks, you will have your perfectly converted file ready!