What is the Best MP4 Player
MP4 is one of the most common video formats, and most video players support playing MP4 files. However, what is the best MP4 player? How to choose between these MP4 players? If you are having the same questions, you have come to the right place. This article will show you what you need.
Part 1. Best Free MP4 Player
In this part, we will be listing the top 5 MP4 players, and also summarize the upsides and downsides of each one, so that you will be able to make a decision.
1. VLC Media Player - Best MP4 Video Player
VLC Media Player is a free MP4 player, which is a open-source software across various platforms, including Windows. macOS, Linux, Android, and iOS. So you can play all your MP4 files cross different devices.
It is an open source video player that allows you to customize your program and settings.
It supports plenty of audio and video formats.
It takes up little space while installing, which is very lightweight to use.
It is available on most common operating systems.
It features basic video editing features.
The user interface looks old-stylish.
It becomes lagging interacting with the video editing features.
You can not speed up playing videos in 2.0x or 3.0x or so.
Overall. It is a great software if you take VLS as a video player (or MP4 media player), and it would basically meet your needs. But if you want more from it, it may disappoint you sometimes.
2. PotPlayer
PotPlayer supports multimedia video playing, and it is designed for Windows operating system (Windows 10, 8.1, 7, XP, and Vista). it can offer you a smooth and flawless video play experience, while the hardware acceleration guarantees you the best out of what you have.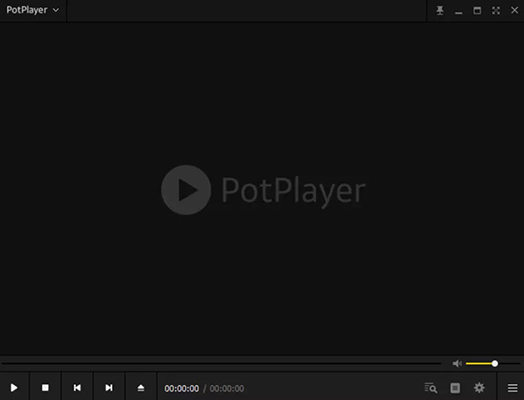 PotPlayer is free to use
PotPlayer allows you to watch your videos with any types of 3D glasses
It supports various video formats, MP4 included
It has lots of subtitle formats, so you can choose whatever subtitles you feel the most comfortable with
It supports video files from local disks, FTP servers, URLs, DVDs, and Blurays
It is only available for Windows users
It eats up high processor usage
The menu bar isn't working sometimes
A number of quantity of settings makes it a pain and confusing
3. GOM Player
GOM player is an extraordinary excellent video player that is developed by a Korean company. GOM player is famous with its user-friendly user interface and the ability to play broken files and find the missing codecs. So without any doubts, it is one of the best MP4 players.
GOM player is a free video player supporting AVI, MP4, MKV, FLV, WMV, MOV, DVD and Audio CD.
360 VR playback allows you to enjoy a great experience for 360-degree videos.
GOM Player is super easy to use as it has an intuitive UI.
You can play broken files with GOM Player and it will find missing codecs for your videos.
It is free.
The installation file contains unwanted programs.
GOM Plus is a paid software that comes with ads-free version and better performance.
4. 5KPlayer
5KPlayer is an all-in-one media player that supports almost all file formats, whose main functions are music player, free UHD video player, AirPlay, DLNA streamer, and online downloader. That is to say, you can not only play MP4 files using 5KPlayer, but also do lots of such as downloading videos online using this software.
It covers lots of features in one software, so it saves your time and patience to install other programs to use these features.
5KPlayer can download videos online with its URL, and convert online video soundtrack to MP3.
It provides with many playback options.
It is available on Windows and macOS
It can stream video via AirPlay and DLNA flawlessly.
Many people find it difficult to uninstall the program.
The software is sluggish to run and click the buttons.
5KPlayer can cause PC freezing sometimes.
5. KMPlayer
KMPlayer is a media player since 2002, with a large user base around the world. KMPlayer is a perfect HD video player, with which you can play high quality videos including 4K, 8K, and UHD.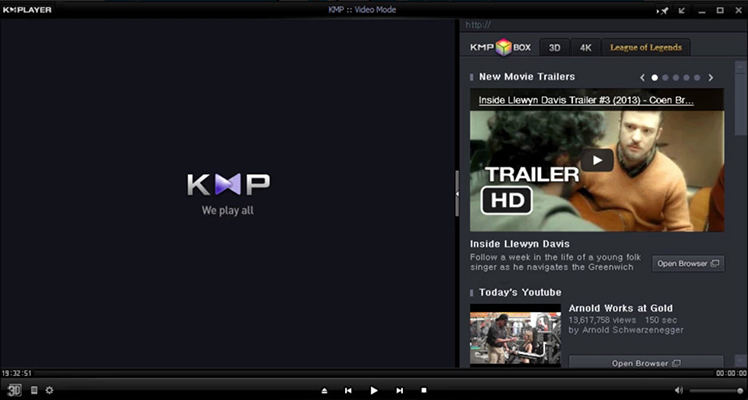 It is a free software
KMPlayer allows you to add external codecs to the program, so it can decode various video formats
You can choose a filter from a variety of filter templates when playing videos.
You can download videos from Facebook, Twitter, and YouTube with KMPLayer.
The program is not that friendly to beginners as it contains lots of features that are difficult to figure out
There is no English manual, so it would be hard to start using the program.
Part 2. Bonus Tips: A Video Recorder You May Need When Playing Videos
In addition to the professional media players, video editing software is another way to play MP4 videos. What's more, you can even record your video while playing using a video recorder like ApowerEdit.
ApowerEdit is one of the best video recorder services and video editors. It enables you to record videos from your screen and webcam, and also edit your recorded videos to whatever you like. All in all, ApowerEdit a one-stop software for video recording and video editing that you can't miss!
How to record videos when playing using ApowerEdit:
Download ApowerEdit in your computer, install, and launch it.

Click the Media tab from the left, where you will see a Record button.

Click Record, and you will see three options: Record PC screen, Record phone screen, and Record camera.

Since you are recording video that is playing, you should choose Record PC screen.
Then it will download the ApowerEdit screen recorder for you. And follow the on-screen instructions to start recording.
Then start playing the video you would like to record, and the program will record it for you
Once finished, click Stop button to stop recording.
There you go. Now you can check your video that is recorded by ApowerEdit by navigating to the path you set.
Bottom Line
There you have it - the five best MP4 players: VLC Media Player, PotPlayer, GOM Player, 5KPlayer, and KMPlayer. In the end, we have introduced the amazing video recorder and video editing software - ApowerEdit, which allows you to record your video while playing it.
People Also Ask
Which mp4 player is best
There are lots of MP4 players out there. If you want to know the best MP4 players and understand further of each one, this article will tell you the 5 best MP4 players and how to choose between them: VLC Media Player, PotPlayer, GOM Player, 5KPlayer, and KMPlayer.
What player can play mp4?
Basically, almost all the the media players can play MP4, as MP4 is the most common video format. So, video players like VLC Media Player, PotPlayer, GOM Player, 5KPlayer, and KMPlayer will definitely play MP4.
What is the best mp4 player for Windows 10?
There is a media player that is built-in Windows operating system: Windows Media Player, and this can be taken as one of the best MP4 players for Windows 10. if you want to try another software, then VLC Media Player, PotPlayer, GOM Player, 5KPlayer, and KMPlayer will be a good choice.