How to Convert Higher Bitrate Songs without Any Hassle?
Below are the two best methods to convert higher bitrate songs to 128kbps. Since it's better to go through the reasons behind this conversion, let's take a plunge into the topic details!
Why

Need to Convert Higher Bitrate Songs?

When it comes to convert higher bitrate songs, it is all about compressing the audio file. But the question is why people want to convert. The main reason behind compression is to reduce the size since a high bitrate brings about a large file size. This way, you can store a wide playlist on your smartphone or other devices.

Furthermore, you may need to lower the bitrate for improved sound quality in some situations, like in the case of listening to podcasts. Also, you may want to enjoy music on a device that doesn't work correctly on the high bitrate. So it becomes crucial to go for lowering the bitrate.
iTunes:

Step-by-Step Guide to Convert Higher Bitrate Songs

iTunes is a default app on macOS; however, it can also be operated on Windows. It lets you convert higher bitrate songs on your Apple products to 128 kbps. Even it is suitable for Apple users to compress this way to save disc space. Though many people who never want to compromise on quality have an opinion that reducing bitrate will lower the quality of music.

And iTunes provides you with the best quality so that 256 kbps and 192 kbps AAC files bring the same auditory results. Regarding speed, it depends upon the length of the music file you will process. Before iTunes 10.6 was introduced, users only had one choice to convert bitrate to 128 kbps; however, you can also select 196 kbps and 256 kbps now if required.
Step 1. First of all, connect your device, like iPod, iPhone, or iPad, to your laptop and open iTunes on that system. You need to select the iOS device and click the "Summary" tab under the "Settings" section from the left-hand column.

Step 2.From the following interface, scroll down till the end and stop where you see the "Options" section. One of the available options is to "Convert higher bit rate songs to AAC."

Step 3.In the last step, you have to checkmark the option which will allow you to select the desired bitrate, including 128 kbps, 192 kbps, and 256 kbps. Once chosen, press the "Done" tab. You are all done!
Too Complex?

Try This Way to Convert Higher Bitrate Songs in a Blink!

Once you have observed the above procedure to convert higher bitrate songs with iTunes, you may find it challenging to implement. For those people, HitPaw Video Converter comes in handy. Since it supports an extensive range of audio formats, you won't have to worry about file formats. Along with changing bitrate, you can also set the desired format and channel over conversion.

More so, it is possible to enable ultra-high-speed conversion for quick processing. Even you can go for batch conversion to save time. Also, it allows you to download a song from YouTube or other social sites and change its bitrate. You can choose a preset and adjust the quality of the output file. Lastly, adjusting the playback speed and editing other file properties is easier than ever.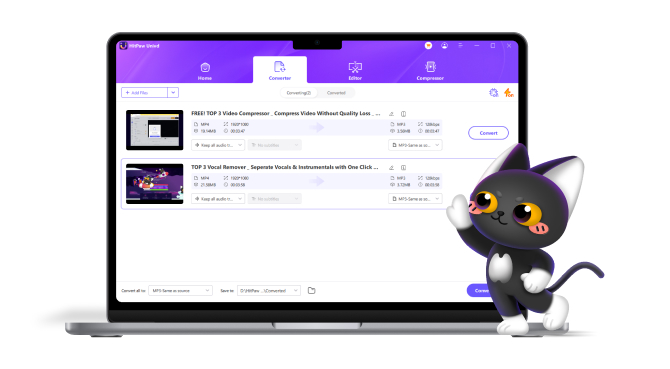 Features
Offer simple and 120x faster speed to convert higher bitrate songs
Convert your video/audio files to 1000+ formats during higher bitrate songs conversion
Let you connect iTunes Music to access the library by removing DRM
Intuitive interface allows you to drag or upload higher bitrate songs in a blink
Help you cut, merge, and change the track speed after conversion
Fast & Easy: Covert Higher Bitrate Songs with HitPaw
Step 1. The first step is to download and launch the software on your system. Now, head to the "Convert" and then the "Converting" tab to open the "Add Files" drop-down menu. Next, click "Add Audio" to browse and import the audio file with a higher bitrate.

Step 2.Secondly, you need to open the "Convert all to" menu, select "Audio," desired format, and press the small "Edit" button in front of the required quality.

Step 3.Lastly, it's time to change the bitrate to 128kbps and other file aspects like encoder, channel, etc, from the "Preferences" window. Once done, hit the "Create" and then the "Convert" button. That's all!
Final Thoughts
There are times when you want to convert higher bitrate songs like 256kbps AAC files to 128kbps. In this scenario, you must use the super-efficient method to convert without losing file data. So iTunes offer a default method to lower bitrate without compromising audio quality.
However, people often find its method too complex. If so, HitPaw Video Converter is the best choice to make. It provides you with superb audio quality over easy & quick conversion. Even you can benefit yourself from multiple other functionalities. So why not try it once and ever?
FAQs

about Converting Higher Bitrate Songs

Q1. What does converting higher bitrate songs mean?

A1. The title of higher bitrate songs is assigned to the ones that are either in Apple Lossless format or AAC with 256 kbps. Since these songs will take more storage space, people prefer converting them to low bitrates but at the expense of quality. However, if you use a low-quality mobile phone or headphones, you must compress the songs to save disc space.

Q2. Do higher bitrate songs sound better?

A2. Bitrate is a music jargon used to signify the data transferred to the audio per second. And the higher amount of data leads to higher quality. So higher bitrate shows high quality and high storage consumption. However, higher isn't always the best; it's always about the correct bitrate.

Q3. Which bitrate is good for music?

A3. Regarding music, people often consider it good to have 64 kbps in AAC and 96 kbps in MP3 format. It is a general setting that feels good to most of the regular listeners. Even it is considered the standard bitrate for podcasts. It sounds excellent listening to songs with this bitrate, whether you use mobile phones or smart speakers.