Dream by WOMBO Reviews and Alternatives
In 2023, the realm of AI art generation is ablaze with innovation, and the WOMBO AI Art Generator is at the forefront. This ingenious tool breathes life into artistic visions penned as text. Just describe your dream art and watch as WOMBO turns words into stunning visuals.
It's more than an AI art generator; it's an imaginative partner, sparking creativity and refining ideas. By harnessing the power of WOMBO AI, artists can transcend the ordinary, producing flawless artworks.
In a world where technology collaborates with imagination, WOMBO stands at the pinnacle, fanning the flames of artistic expression with its remarkable dream art generator capabilities.
Part 1. What is WOMBO Dream - AI Art Generator
Developed in Canada and launched in February 2021, WOMBO Dream is the brainchild of CEO Ben-Zion Benkhin, who envisioned this artistic marvel in August 2020. This cutting-edge app is available on Android 7.1 and later, iOS 14.0 and later, and any modern browser, ensuring easy access for all.
WOMBO Dream stands out with 42 diverse art-style choices, ranging from flora to memes, realism to HDR. You can skip uploading input images, as they serve as references for your final artwork. Six prompt text options, including "sunset clips" and "groovy time," further fuel your creativity. Not to mention, you can craft personalized prompts for truly unique creations.
The app's home page offers a striking "sun & moon" feature, toggling between black and white backgrounds for enhanced viewing. Importantly, WOMBO Dream guarantees originality, as it never duplicates designs. While the base version is free, premium subscription plans are available for deeper experiences.
Get the Premium Monthly plan for $9.99 or the Premium Yearly plan for $89.99. With a download size of 25,148.00 KB, WOMBO Dream's current version, 4.0.3, continues to redefine AI-generated art.
Part 2. How to Use WOMBO AI Art Generator
Using the WOMBO AI Art Generator, known as "Dream by WOMBO," is easy and fun. To truly understand its magic, let's dive in!
1.Open Dream by WOMBO and tap "Create".

2.Inside the Dream by WOMBO workspace, type in the ideas for your artwork. You can also pick a style you love to add that extra touch to your creation.

3.

The free version only creates 1 image. Nevertheless, you can click the Make variations to create another version, or reenter the prompt to generate a new one until you get a satisfied AI work. Then, click the Finalize button to download the photo to computer.
Trying it out is the best way to grasp Dream by WOMBO's charm. So, don't hesitate to explore and experiment. Your journey into the world of AI-generated art is just a few clicks away.
Part 3. Is Wombo AI Art Generator Safe?
Wombo AI Art Generator keeps your information safe. It uses both technical and organizational methods to process data securely. This stops unauthorized or unlawful use of data and protects against accidental loss or damage. You can enjoy making art with Wombo, knowing your information is handled carefully and carefully.
Part 4. Apps like WOMBO Dream
Introducing two apps akin to WOMBO Dream that spark creativity in unique ways:
1. Starryai - AI Art Generator
StarryAI offers a virtual canvas for your creative aspirations. This app converts your ideas into tangible art pieces through the prowess of artificial intelligence. A range of artistic styles and genres is at your fingertips.
Whether you fancy a classic Renaissance or a contemporary abstract, this app can manifest your vision into reality. It transforms your prompts and even photographs into stunning visuals. The app is free and available on iOS and Android platforms. However, some premium services require payment.
2. Lensa
Lensa is a revolutionary tool that breathes life into avatars. Harnessing the might of AI, this app crafts avatars with uncanny realism using your existing photos. Powered by the innovative Stable Diffusion deep-learning model, it's as simple as sharing your selfies.
Lensa then collaborates with the CLIP image database to interpret your images, creating a diverse gallery of art-inspired portraits. Moreover, it boasts an AI Portrait Generator that crafts whimsical selfies swiftly.
While it's proficient in generating avatars, the app's dependency on pre-existing images can be seen as a limitation. But the user-friendly interface and its knack for producing lifelike avatars outweigh this drawback.
Part 5. Websites Like WOMBO Dream
Looking for alternatives to WOMBO Dream? Here are three online AI art generator websites that you might find appealing:
1. Fotor
Fotor is a versatile online platform offering an array of photo editing tools and the ability to transform text into captivating art. With an assortment of styles, users can choose from various creative options.
This innovative feature employs advanced machine learning algorithms, translating text inputs into high-quality images. While it's a time-efficient choice with plenty of customization options, there's no free trial available.
2. Hotpot.AI
Hotpot.AI is an online art generator powered by AI and machine learning. It interprets textual descriptions and crafts impressive images, fueling your creativity and imagination. Its user-friendly interface ensures a hassle-free experience.
However, its free functions are limited. Despite this, Hotpot.AI remains an efficient tool for producing quality art swiftly.
3. NightCafe
NightCafe offers an easy-to-use online art generation experience. Delivering satisfying results, this platform grants users a host of customization options for their outputs. Generating high-quality images, NightCafe allows one free image creation per user.
Although some features come at a cost, NightCafe's user-friendly interface and quality outputs make it a compelling choice for art enthusiasts.
Part 6. AI Art Generator for Windows and Mac
If you are looking for a desktop AI Art Generator software, we recommend HitPaw Video Converter. This all-in-one multimedia tool supports converting text into image with the most cutting-edge AI technology.
It offers hundreds of different art styles to bring your imagination to life. Just enter a few simple prompts, and you can create amazing works without complicated artistic background.
Step 1: Choose AI Art Generator
Launch the HitPaw Video Converter program on your Windows or Mac system to embark on your artistic journey. Once inside, navigate to the Toolbox menu and select the 'AI Art Generator' option. A world of creative possibilities is just a click away!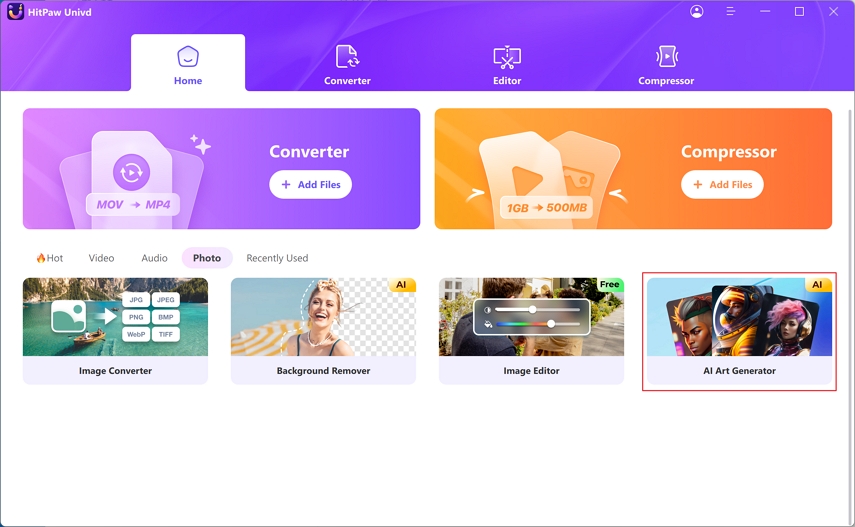 Step 2: Enter Your Prompt
With the stage set, you need to feed the AI with your creative vision. Describe your idea in the provided text prompt box. We've even included some sample prompts for inspiration. Feel free to click 'Replace prompt' to experiment with different ideas.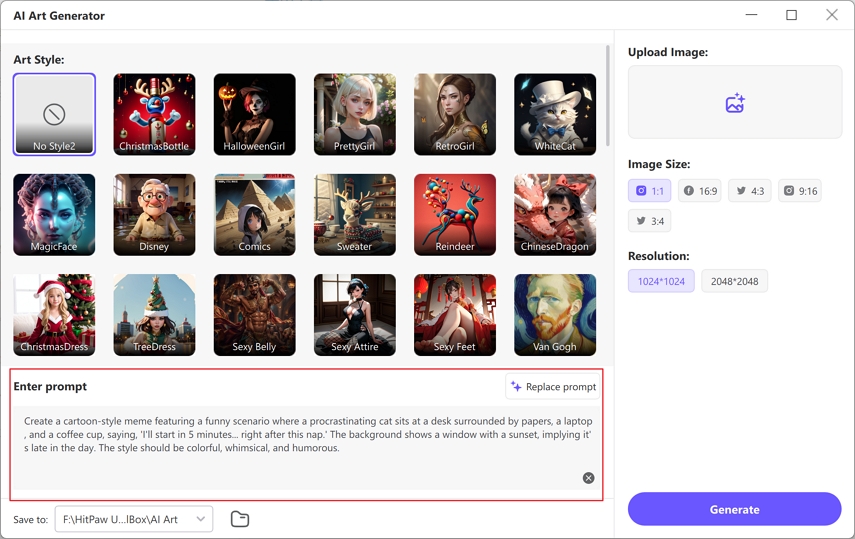 On the right-hand panel, you can upload an image from your computer that will be the basis for generating the AI artwork. The software will work magic, generating captivating AI photos based on your prompts.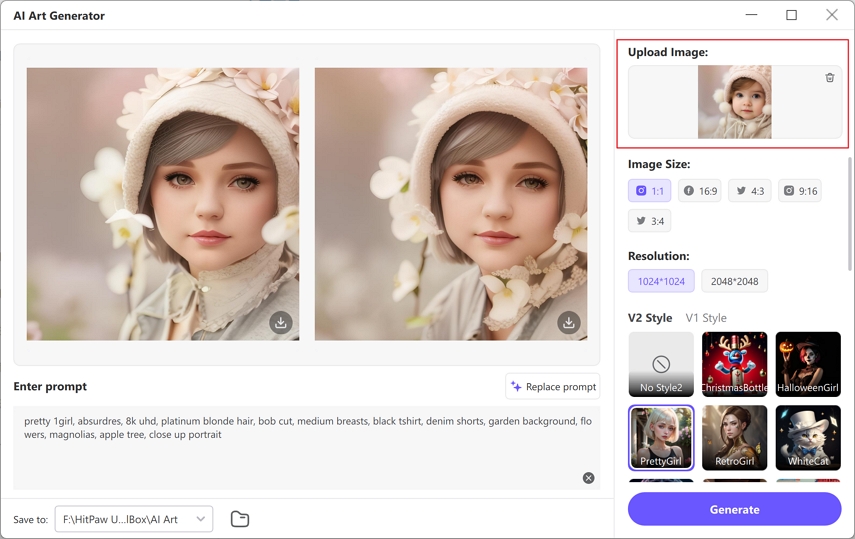 Step 3: Generate Your AI Art
With your prompt and image settings in place, it's time to bring your vision to life. Click the 'Generate' button to set the AI into motion. Watch as your text and image are woven into a breathtaking AI-generated artwork.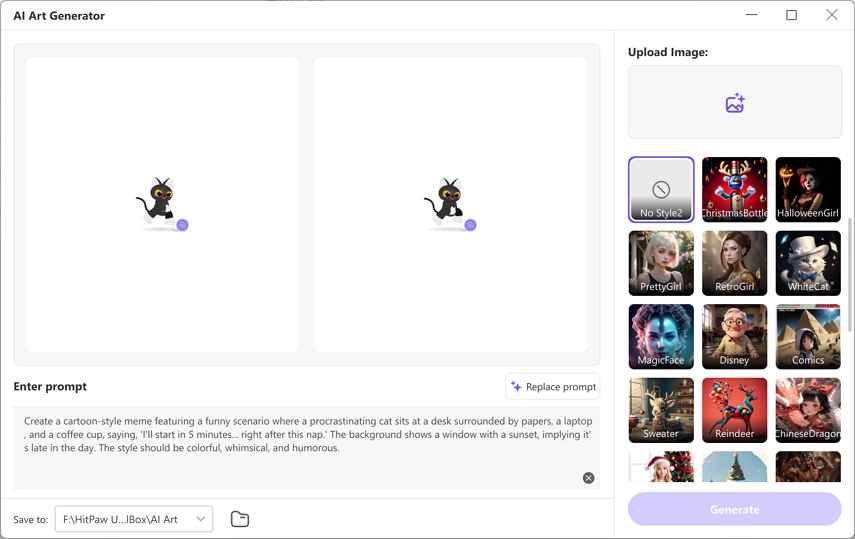 Step 4: Preview and Download
The AI magic has been cast! HitPaw Video Converter will present two images, each reflecting the chosen art style. The speed of the artwork generation depends on the image size and server processing
Double-clicking on an image will grant you a sneak peek into its artistic splendor. And when you've found the one that resonates with you, click the download icon to make it a part of your digital collection.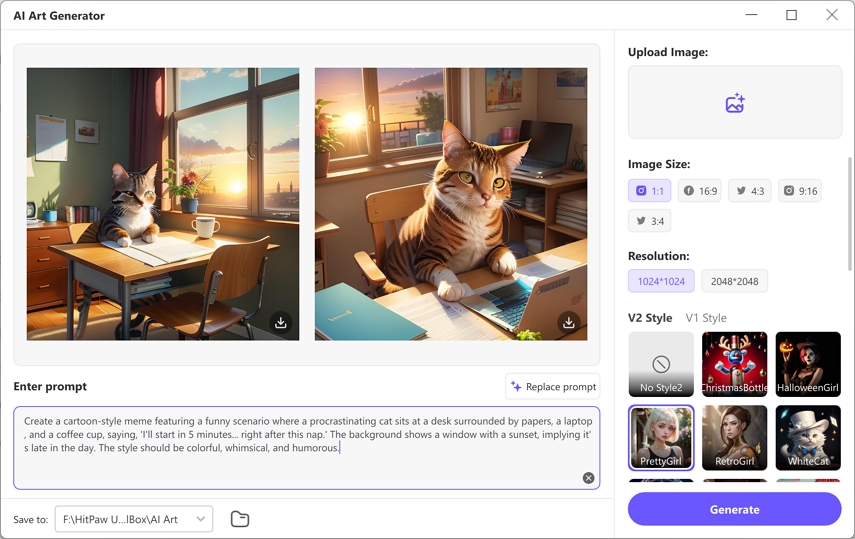 In a few simple steps, you've harnessed the power of AI to transform mere text and images into captivating artworks.
The Bottom Line
If you're searching for ways to fuel your imagination, Dream by WOMBO and its alternatives are the ideal stops. These tools offer a range of features to cater to your needs. Whether you're yearning for a burst of creativity from an artistic picture or seeking a ready-made template for your masterpiece, these options have covered you.
In the meantime, if you are wondering whether there are similar apps like WOMBO AI Art Generator, we also recommend the apps, online sites as well as a desktop AI art generator software – HitPaw Video Converter. Get ready to turn your imagination into pixels of creativity with these best AI art generators.