6 Best Burger King AI Voice Generators in 2023
Burger King is the second-largest burger chain in the world. Burger King is known for their Whopper, but this fast-food chain has also become popular due to its rap jingles.
In the Burger King Advertisement, a fictional character known as "The King" promotes the restaurant's menu in jingles.
Suppose you want to incorporate the iconic character's voice. In that case, this article is best for you because, in this article, we will explore the top 6 Burger King AI Voice generators that will allow you to clone the voice of the iconic character and use that voice in your projects.
Basic Info of Burger King
Burger King was founded in 1954 and is now the world's second-largest hamburger chain. Burger King has about 1400 stores in 100 countries, and the Headquarters are in Miami, Florida.
According to the company, the real owner of this food chain is James W McLamore and David Edgerton. However, other sources trace that Burger King was first founded in 1953 in Jacksonville, Florida, by Keith Kramer and Matthew Burns.
However, this franchise has the tastiest burgers and the best TV commercials. The songs in Burger King Advertisement have been performed by famous artists such as Mary J. B, Justin Timberlake and Snoop Dogg.
If you want to create songs in Burger King AI Voice, read this guide until the end to find out the best Burger King AI Voice Generator.
6 Useful Tools to Get Burger King AI Voice
Here are the top 6 voice generators that will allow you to quickly get Burger King Voice AI.
1. HitPawVoice Changer (Win & Mac)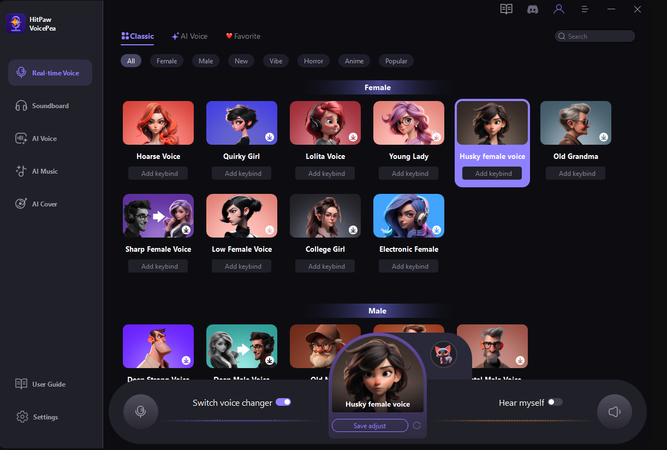 HitPaw Voice Changer is the best program for those users who want to create projects in Burger King Guy AI voice. This program offers a vast library of voice effects and filters, including Burger King Voice, Snoop Dogg, Alien, Monster, Chipmunks and more.
HitPaw is an amazing voice changer for gamers because it seamlessly integrates with popular gaming and streaming platforms like Call of Duty, Fortnite, CS: GO and League of Legends.
It automatically enhances your audio by removing the background noises with the help of a noise reduction feature. Simply click the upload files option to change your audio in various voices.
Pros
Alter your voice in real-time with various voice-changing effects
Supports almost all audio and video formats
One of the best voice changers for gamers, streamers, and Vtuber
Offers features like noise reduction, voice cloning and more
Integrate with popular gaming platforms like COD, Fortnite and CS: GO
Offers an Easy Setup process
Cons
The free version has limited voice effects and features
Price: $15.95 Per Month
How to use hitpaw voice changer to change voice
Step 1:Go to "Settings", and click the drop-down button to select the input and output you are using.

Step 2:Choose the effects you prefer and click to apply it.

Step 3:Turn on the "Voice Changer", "Hear myself" and try to speak to your microphone to listen how your voice sound like. If the surrounding environment is noisy, you can manually activate noise reduction. Please don't set the noise reduction level too high, as it may filter out some sounds.

Step 4:After selecting the desired sound effects and previewing them, you can adjust the volume according to your preferences.

Step 5:Change Voice on Discord:Open "Discord", Click your "User settings" and go to "Voice & Video, Then select "HitPaw Vitrual Audio Input" from the drop-down list of input device.
2. VoiceMod (Win & Mac)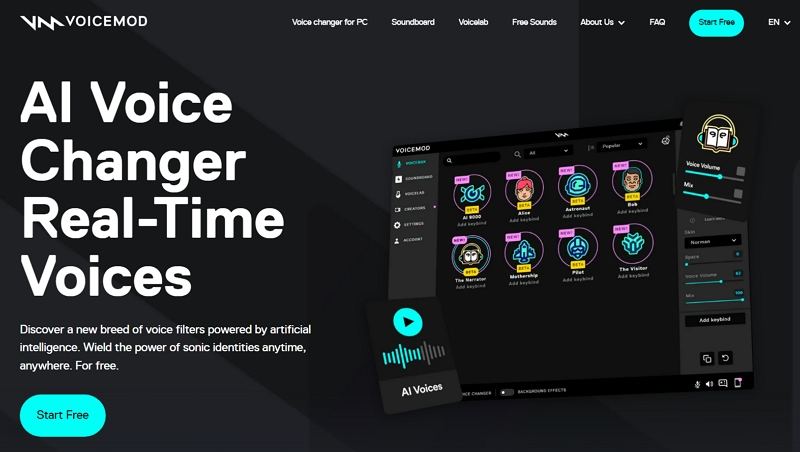 If you want to create projects in Burger King Voice Over, go for VoiceMod. VoiceMod is an AI tool that alters your voice in real time. It has many voice effects, like Monsters, Aliens, Boys, Girls, Old Men and many more.
With its VoiceLab tool, users can easily create their voice effects.
Moreover, this program also offers soundboard options, so you don't have to download soundboards.
Pros
Alter your natural voice into AI Voice Burger King
With the help of this program, you transform your voice into a male, woman and anime voice
Comes with a High-quality microphone
Output voice is pretty clear when you speak on the microphone
Easy-to-use interface
Cons
Many voice effects available on VoiceMod doesn't sound realistic
Price: Free
3. Clownfish Voice Changer (Win)
Clownfish is a free Burger King text-to-speech voice changer that will convert your voice into any character in real-time. This tool is one of the easiest and most user-friendly voice changers available.
This tool offers 14 voices, such as Alien, Clone, Fast Mutation, Slow Mutation, Radio and more. Streamers and gamers widely use this program to alter their voice in real-time on games like Call of Duty, Fortnite, League of Legends and more.
Pros
All the voice effects available on this platform are free
It has a User-Friendly interface
Widely used by gamers and streamers
Alter your voice into any character in real-time
Supports the VST Plug-in
It can be used as a background music player
Cons
Only 14 voice effects to choose from
Price: Free
4. Voice. AI (Win)
Voice.AI is an advanced AI-based Burger King Guy Text-to-Speech voice changer that allows voice transformation. Users can fully alter their voices into any character to create unique vocal tones.
Voice.AI offer custom voice cloning, which means that with this program, you can create custom voice effects in your voice. Further, this tool has a user-friendly interface that allows content creators, gamers, and live streamers to use this program without difficulties.
Pros
Uses the AI technology for Real-Time voice changing
Provides AI text-to-song feature to create songs by just text
Best for Content creators, gamers and live streamers
Offer simple setup and User-Friendly interface
Voice cloning feature to create custom voice effects
Cons
Lags while creating voiceovers
Price: Free
5. Uberduck.ai (Online)
UberDuck AI is a TTS program that uses AI technology to transform written texts into lifelike voices. It offers a diverse range of voice options for users to choose from, with over 5000 AI-generated voices.
It includes voices like Burger King Ad AI voices, Real People voices, Animal voices, Anime voices and many more.
Pros
A vast collection of voices to choose from
It has a User-Friendly interface
Personalized Voice cloning feature
User Friendly interface
Offers a unique feature of pitch adjustment and amplitude modification
Cons
Sometimes, AI may produce errors.
Price: $10.00 Per Month
6. Fakeyou (Online)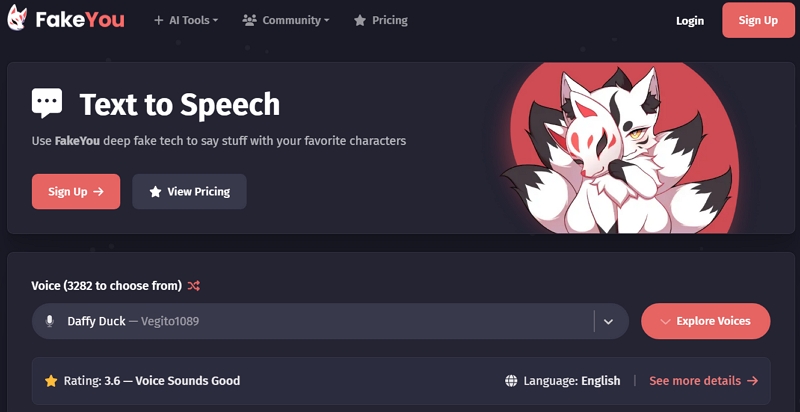 The last Burger King Guy voice AI generator on your list is FakeYou. FakeYou is a TTS program that allows users to generate speeches from text quickly in any AI voice.
This program offers over 2400 AI voice effects, including voices like Alien, Monster, Boy, Girl, and many more. In addition, users can easily download their content in a popular format such as MP3 to use later.
Pros
Online platforms make it simple and easy to use
Compatible with any device that supports web browser
TTS program to create speech from just text
Daily updates and new voice effects were added daily
Cons
TTS feature takes longer and relies on internet speed
Price: $7.00 Per Month
Choose the Most Suitable Tools for You Quickly
Are you struggling to choose the best Burger King AD voice AI generator? Then don't worry; the table below will help you decide which is the best.
| Voice Changer | Price | Supported OS | Best For |
| --- | --- | --- | --- |
| HitPaw | $15.95 | Win & Mac | Content creators, gamers and Vtubers |
| VoiceMod | Free | Win & Mac | Professionals Voice Artist |
| Voice.AI | Free | Windows | Gamers and bloggers |
| Uberduck.AI | $10.00 | Online | Content Creators |
| ClownFish | Free | Windows | Gamers and Streamers |
| FakeYou | $7.00 | Online | TTS Users |
FAQs of Burger King AI Voice Generator
Q1. What is the Burger King rapper voice AI?
A1. The Burger King Commercial AI Voice Rapper is not a real person. The voice of the Burger King Rapper is AI-generated. You can also generate the icon character voice with the help of the AI Burger King Voice Changer.
Q2. How do I get AI-generated voices?
A2. To get AI-generated voices, select the AI voice generator and then the output and input devices. Then select the AI voice you want generated and click the Apply button.
Final Thought
In this guide, we have introduced the top 6 Burger King Voice Changers that will alter your voice into The King's voice in real time. All these voice changers have unique features that will help you create realistic voice effects.
If you are looking for the best one, we suggest you choose the HitPaw voice changer because it has all the advanced features to help you create realistic voice effects.