6 Methods To Fix Voicemod Not Working On Discord In 2023
Discord, being a perfect communication app, offers users a great platform to modify their voice in online conversation using Voicemod and enjoy creative talk. However, as a software, there is a high likelihood that you may encounter the problem of voicemod on Discord not working, thereby depriving you of its benefits.
But there is nothing to worry about because there are several solutions that you can follow to figure out the problem of voicemod sounds not working on Discord. The solutions we are about to discuss are as follows.
Part 1: Why Is Your Voicemod Not Working On Discord?
If you are also wondering why is voicemod not working on Discord, then there are several reasons behind it. Some of them are given below.
Incorrect Input & Output Info: Voicemod may also not work on Discord if incorrect input and output information is entered in voicemod settings.
Microphone Problem: Microphone problems may also affect the voicemod as if it is broken, damaged, muted, or has a low volume which can be heard easily.
Wrong Files: If you have downloaded or installed the wrong or corrupted voicemod files, then it may be possible that it will not work.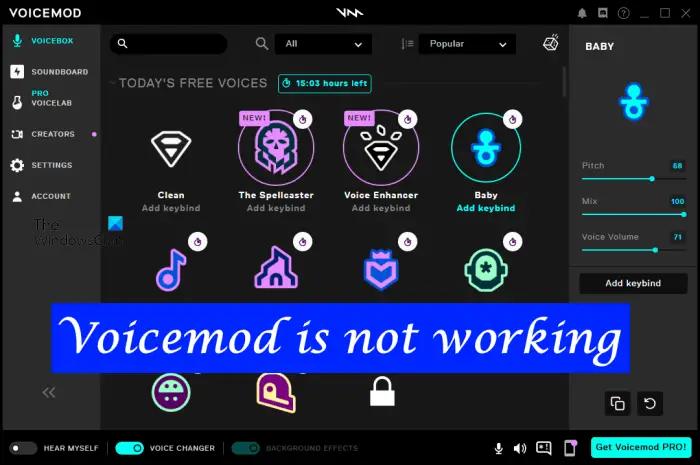 Part 2: How To Fix Voicemod Not Working On Discord?
There are different ways that you can follow to fix the issue of the voicemod soundboard not working on Discord. These are mentioned below:
1. Restart the System or the Computer
Occasionally, when using a computer, we inadvertently disrupt its settings without even realizing our mistake. Consequently, these disruptions in the settings can lead to the computer displaying errors and impeding our work. The inquiry as to why does Voicemod not work on Discord may also arise as a consequence of these disruptions.
As a result, every time you encounter such problems, you must restart your computer or system. Any mistakes or inaccuracies in the settings will be instantly returned to their default locations as a result.
2. Setup Microphone Accurately
If you have restarted the computer and the issue persists, there is a possibility that there is an error in the microphone setup procedure. Any incorrect settings can result in system glitches. If you're also wondering why Voicemod not working on Discord, you can follow the provided steps.
Firstly, you have to move to the Windows setting and then select the option 'System'. Further options will appear. You have to select the sound option from the left side.
Then choose the headset option under the input section. Keep in mind you have to choose the headset option, not the voicemod microphone.
Here, you have to select the device properties and then test the microphone. Don't forget to keep the volume at 100 and uncheck the disable box.
Then you have to restart your voicemod app to make sure that it is working. Hope that your voicemod soundboard issue will be figured out after following these steps.
3. Check Discord Audio Settings
You may face different issues with your discord if there is any disturbance in the audio settings or if it is not compatible with the voicemod application. You can follow the given discussed steps to check the discord audio settings:
Firstly, open the voicemod app on your computer and then move to the option named 'Hear me, voice changer'. You have to toggle on this option.
Then head towards the Settings tab and choose the Input & Output device option.
Open the Discord app on the computer and select the settings icon. You will see Voice & Video tab in the settings and you can select it.
Here, you have to choose the input device as WDM. Hope that your issue will be solved by following these steps.
4. Install Voicemod drivers afresh
If the above methods did not work, then you can go ahead with another method to overcome the issue of why is my voicemod soundboard not working on Discord. This is because sometimes our voicemod driver is outdated or facing any fault. You can follow the given steps to re-install the voicemod drivers:
Look for the control panel option in the Windows search bar and then select the uninstall a program option.
Tap on Voicemod and then choose the options Uninstall. You can successfully uninstall the app by following the instructions coming on the screen.
Then, search the official platform of Voicemod and install the application from here.
5. Update the Windows System
There can be a condition that you are using the outdated version of your Windows, and because of this, your voicemod is showing disturbance on Discord. You can follow the given mentioned steps to update the Windows system:
Move to the settings app by pressing the Windows + I keys together. Choose the Windows update option that will be present at the bottom of the screen.
Next, locate the "Check for Updates" option and click on it. Any available Windows updates will be installed automatically. Remember to restart your computer once the updates are installed.
6. Using Voicemod correctly [Desktop and Mobile]
The final yet highly effective method is to utilize Voicemod flawlessly. Ensure that you have installed the correct Voicemod application and that its installation process is carried out seamlessly. Then, carefully select the microphone input and complete all the required settings. Always test your voice and fine-tune the voice settings to perfection.
Part 3: Bonus Tip: Superb Real-Time Voice Changer for PC
HitPaw Voice Changer is a real-time voice changer designed to alter and modify the voice of an individual in real-time. Whether you want to have fun with friends during online gaming sessions, create unique voiceovers for videos, or maintain your privacy during online communication, HitPaw Voice Changer provides a range of options to transform your voice.
Key Features of HitPaw Voice Changer:
Real-Time Voice Effects: HitPaw Voice Changer allows you to instantly change your voice. With a vast array of voice effects available, you can sound like a robot, a cartoon character, a celebrity, or even adjust your pitch and tone to sound younger or older.
User-Friendly Interface: The software boasts a user-friendly and intuitive interface, making it easy for both beginners and experienced users to navigate and access various voice-changing options effortlessly.
Compatibility: HitPaw Voice Changer is compatible with various applications and communication platforms, such as Discord, Skype, TeamSpeak, Twitch, and more. You can seamlessly integrate it into your favorite communication or streaming software.
Video Tutorial:
Part 4: FAQs About Voicemod
Q1. Is Voicemod A Good Voice Changer?
A1. There is no exaggeration in saying that voicemod is an effective voice changer that offers multiple voice effects along with features of the soundboard. You can rely on this tool without worrying about the protection of your device.
Q2. Is Voicemod For Discord Safe?
A2. Yes, voicemod is a protected app for Discord and doesn't come with any dangerous impact. But you have to keep in mind that you always install voicemod through its official online platform and never rely on third-party tools.
Q3. Why Isn't Voicemod Picking Up My Mic?
A3. Several reasons result in creating the problem of the voicemod mic not working on Discord. If there is incorrectness in the microphone settings or you have done something wrong in other settings, then this issue may be caused. Moreover, using an outdated version of a voicemod can also create such issues.
Final Verdict
No doubt that voicemod brings a very amazing voice-changing experience to Discord that allows users to enjoy their creative conversation. But you can also face different issues with voicemod on Discord. In such a situation, you can follow the above-mentioned effective fixing methods.