How to Combine MP4 Files for Windows/Mac/Online/Destop App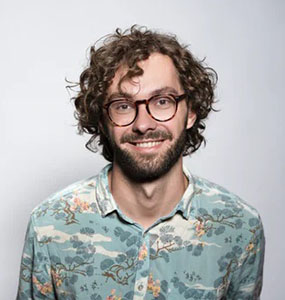 Joshua Hill
You capture a lot of memories in the form of videos. Trying to gather all that experience in one place? Or making a self-explanatory presentation about any topic using multiple videos? Your aim is to combine multiple video files but don't know what tools to use and how to use them. Keep reading and you will learn and gain the basic understanding of how to combine MP4 files on different platforms such as Windows and Mac.
How to Combine Mp4 Files Windows 10
If you are a Windows 10 user and your objective is to combine two MP4 files but don't have the slightest notion on what to do. Below we will make it easier for you to understand on how to easily and efficiently combine MP4 files and work with an app named Photos that is present in Windows 10 by default.
Firstly go on start menu and search for Photos, clicking on the search result will initiate the app.

Right next to the search bar, you will click on the button labeled as "Create".

You will be provided with three different options once you have clicked on "Create". The options include, "Automatic video with music", "Custom video with music" and "Album". You will make the selection of the second option that is "Custom Video with music."
Note: Selecting "Automatic video with music" as an option to combine MP4 files using the Windows 10 Built-in Photos App won't make a difference.
Now that you are ready to combine MP4 files, all you need to do is determine which video you will be adding first. After that just click on "Create".
When you have clicked on "Create", you will be required to name the file which will be set as you desire.

You are now shifted to editing mode. A page section namely "Project Library" will be displayed on your editor screen. To place additional videos in your combined MP4 files you will need to select "Add photos and videos" option.

Drag them to the "Storyline" section once you have added them.
The next step would be to notch it up and add music to your combined MP4 files. The music you desire for your combined MP4 files can also be the audio track that is already present there by default or you can add your own distinct set of audios that you might have. To acquire that goal you need to click the "Music" glyph icon as it is depicted in the screen.
If you choose not to add any other audio, choose the option "None" and the default audio will stay there in your combined MP4 files.
If you choose not to keep the default audio and want to color it with different audio tracks of your choice, then you need to select "Your Music" tab and after that select "Select A Music File" in order to replace the default audio with a track of your own choice in you combined MP4 files.
The next part would be to save the work that you have done which can be done by choosing the "Export or Share" option.
Lastly you will be provided with three options to save the file in a particular size.
Make a selection of the size that suits you the most for your combined MP4 files.
Now you can successfully and proficiently create combined MP4 files. After the last step, your combined MP4 files will be saved and be available for later use.
How to Combine MP4 Files Mac
Way 1: Use iMovie
Step 1. Import Video
Select and import all of the videos or MP4 files which you want to merge. To achieve this, you need to select "File">"Import Media" option and import the files that you have selected to your album.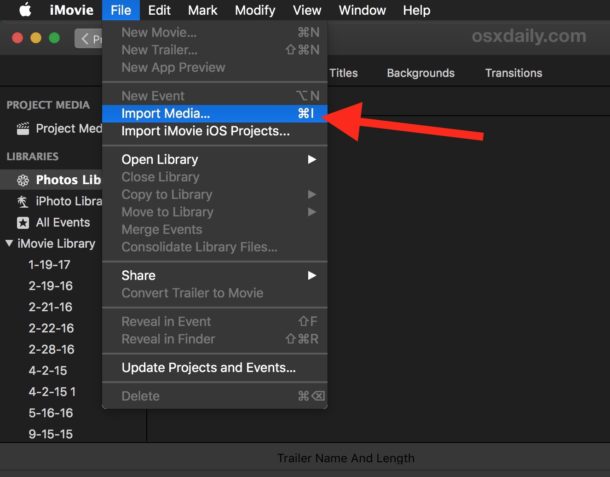 Step 2. Combine MP4 Files
To Combine MP4 files, you need to select the files one after and other and drag drop them to the timeline in the order that you desire. To make sure that your files don't converge over one another, a slider bar feature is provided to sort them out. And also to examine your work that is done by far, you can play your work over and over using the play button simultaneously while you work further to combine MP4 files.
Step 3. Saving the Combined Video
There are multiple ways that are provided to export your file which will be presented to you once you select the "Export" button. Similarly, different formats are present in the "Format" tab for you to choose from. You can save your work directly to your devices, on the other hand, a direct sharing feature is also there for you if you choose to combine MP4 files and upload them instanly to "Facebook" or "Youtube". You will only need to provide your account credentials and it is done.
Way 2: Use Quicktime
Combine MP4 files simply, efficiently and free of cost though Quicktime.
Select and open your video file Through the quicktime app.
If you would like to combine MP4 files, just drag-and-drop other files in the Quicktime app.
To rearrange the clips individually, select them and drag them.
Select Done once you have combined files.
As you will exit the app, you will be asked where to store the new combined file.
How to Combine Mp4 Files Online
1. How to Combine Two MP4 Files with HitPaw Online
You can easily combine MP4 files online as you desire, using HitPaw Online. Only uploading of your file is required to utilize this tool and no extra hustle to download any other thing is needed that might take someones precious time.
First, from the main interface, select Merge function.

There are multiple ways to upload your files which include uploading them one after another or just drag and drop them to HitPaw Online's Editor.

To sort and combine MP4 files according to the way you like, you just need to drag and drop them in the places that you desire.
You can also choose to resize the video to 1:1, 4:3 and many other scales.
Click the Playback icon to view your video and then click to save to finish the whole process.
2. FlexClip MP4 Merger
To initialize, you will need to click on 'Create a Video' button and a storyboad will be created.

To add and combine MP4 files you need to follow the ' "+" > Add Video > Browse My Files' path and add MP4 video files to the storyboard.
A preview feature is provided to look at your work in real-time, and once you are satisfied, save the work to your System.
3. OnlineConverter
The first step is to select two or more than two files.

Its is as easy as to click on the "Merge" button to begin uploading your files.

As soon as the uploading is complete to combine MP4 files, you will be redirected to a web page which will display you the combined result.
Great Apps to Combine 2 Mp4 File for Both Win and Mac
1. Machete Video Editor
One of the best and most efficient video editor that is present is Machete Video Editor. The videos will not be re-encoded as long as resultant file or a video does not match the same settings as your source file or video.
Pick any video that you want to use. A clip will be generated, the order does not matter in which you select the video.
The 'Play>Jump' option can be used to combine MP4 files according to your desire.
After that select 'Edit>Insert' to add the video at that particular location.
The upper steps need to be iterated to combine MP4 files and then select 'File>Save As' to save your work.
2. Format Factory
If conversion of file formats is also important for you or you need to perform a ripping process from CD or DVDs the Format Factory is the tool you need to use.
Select the option 'Utilities > Video Joiner' present in the sidebar.
Arrange settings as you desire.
To load the clips you need to click Add File and all the clips will be loaded.
Click Ok and the process to combine MP4 files will begin.
3. FaaSoft
If you need to combine MP4 files with best tool on the Mac platform, then FaaSoft is the tool you want to use as it supports a large number of video formats.
To start the process to combine MP4 files, you need to select and drop the videos to the main interface of the program, and the program will start to load them one after another.
The first step is to select the files that you need to combine from the task list. The items will be depicted in front of a light grey background. After that you need to go to the Edit menu or the context menu where you will click 'merge selected into one'.
To Finish the task and combine MP4 files "Convert" button needs to be clicked.
Conclusion
As the world is becoming digital, these types of tools are being used more and more as more people are feeling the need to understand and use these tools in there daily lives. This article provides the basic ways about how to combine MP4 files Windows 10/Mac and video files of other sort and aims to educate more people about these tools.