8 Best Free Online Video Compressors|All Devices|Full Guide
Videos recorded with your iPhone, iPad, or another camera may easily exceed 1GB in size, particularly if they get taken in high quality. Some social networks have video size restrictions. Therefore if your video exceeds the platform's video size restriction, you can use a free video compressor to satisfy the requirements of a particular social network.
Suppose you need a fast method to compress your films. In that case, there is no need to invest a lot of money in professional video editing tools. In reality, regardless of the operating system you use, you may do this job with video compressor free. Let's check at the top 10 video compressor online free. This article will go through the ten most powerful free online video compressor that will enable you to compress movies whenever and anywhere you want.
8 Best Free Online Video Compressors
1. HitPaw Online Video Compressor
It may be a pain when uploading videos from your smartphone or another camera to sharing sites. More extended-size videos with high resolutions often cause problems while downloading or viewing the clips. As a result, we all need the HitPaw best free video compressor! HitPaw Online Video Compressor free may assist us since it decreases the file size by eliminating unnecessary data elements.
Video should get uploaded. Upload the video by dragging and dropping it.

Modify the Output Settings. Change the output video's quality, frame rate, resolution, or format.

Download or modify. To save the video, click Download or Go edit to begin editing.
2. Media.io Online Uniconverter
Media.io Online Uniconverter is a video compressor free online that allows you to compress video and audio files easily. Furthermore, it supports over a thousand music and video file types, allowing you to compress movies shot on various devices using Online Uniconverter. Compressing movies bigger than 100MB, on the other hand, is not an option.
Features:
Resolutions supported include 480p, 4K, 720p, 360p, and 1080p.
There are no file restrictions with this internet video compressor.
With a single mouse click, you may reduce the size of a video file.
This free video compressor employs an HTTPS connection, allowing you to submit any video safely.
Platforms supported include Mac, Windows, and Linux.
3. Clipchamp
This web-based video editing software allows users to utilize templates to improve their movies for various uses. Clipchamp transforms, records, and compresses video files in addition to making video editing simpler. This best video compressor free allows you to decrease the size of all movies stored in MP4, MOV, or AVI file formats without sacrificing quality.
Features:
Excellent batch conversion options.
Provides a large number of templates.
Outstanding file-sharing capabilities.
Uploading videos is a breeze.
4. AConvert
To begin a free video file compressor using AConvert, go to the Movie window and import a video from your hard drive or a file sharing service such as Dropbox. The Target Format drop-down menu allows you to choose one of many output video file formats, such as AVI, MP4, or MOV. Then, from the Options drop-down menu, choose to modify the Video Size, Bitrate, Frame Rate, or Video Aspect settings. Then, select the new resolution from the Video Size option. AConvert has many preset resolutions and allows you to change the bitrate, which may help you decrease the size of your video even more.
Features:
Provides sophisticated video file conversion and compression capabilities.
Allows you to upload movies from Dropbox or Google Drive.
A diverse range of video file types output.
An extensive collection of resolution templates.
5. YouCompress
This simple free video file compressor enables you to compress the music, video, and picture files. You may also use YouCompress to compress an infinite amount of MP4, MP3, JPEG, or GIF files. However, since the video file reduction process is entirely automated, you cannot change the output video resolution, file type, or bitrate.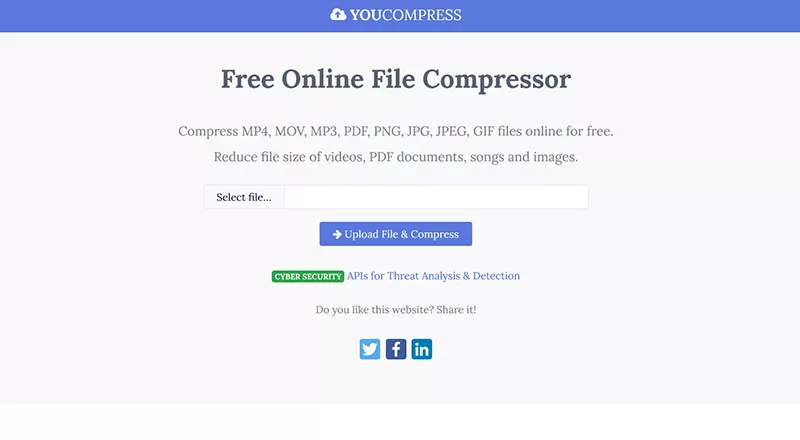 Features:
Audio, video and picture files may get compressed quickly and easily.
The simple file compression procedure.
Watermarks are not present in compressed videos.
6. Online Video Compressor Converter.
If you're searching for a video compressor free that's both dependable and simple to use, go no further than Online Converter. Videos in MP4, MOV, WMV, and other file types may get uploaded from a URL or your PC. Online Converter allows you to choose the ultimate size of the video you're compressing and provides various audio quality choices. Remember that compressing a movie too much may cause the compression process to fail, so avoid compressing videos more than necessary. You may also use the Internet Converter's Resize Video feature to decrease the scale of your
Features:
Supports a variety of video file types.
Uploading is a breeze.
Allows users to select the desired output video size easily.
7. PS2PDF MP4 Video Compressor Online
Compressing a video file using this web-based video compressor online free takes just three easy steps. You may upload a file from your PC or utilize Dropbox or Google Drive for quicker upload rates before proceeding to the output codec selection. As the name implies, this online video compressor free can only produce video files in MP4 format.
Features:
Google Drive and Dropbox have fast upload rates.
There are no file size restrictions for videos.
Provides a variety of compression techniques.
Users may choose the dimensions of the produced video.
8. Clideo
Clideo is a web-based video editing software that allows you to do basic video editing operations easily. Clideo can compress video files in addition to cutting, rotating, and combining them. After logging in with your Google or Facebook account, choose the Compress Video option. Clideo will automatically configure all compression settings when you upload a video file from your PC, Google Drive, Dropbox, or URL. Clideo's free edition watermarks any videos you compress with it. You must upgrade to a subscription plan if you wish to modify or remove watermarks from your movies once the compression process is complete.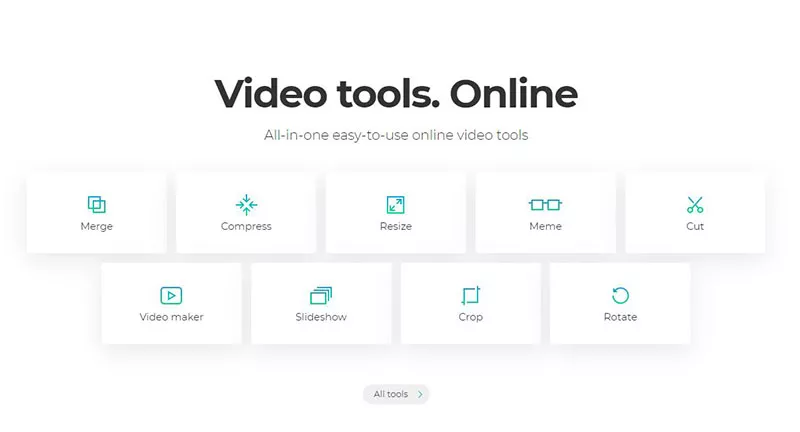 Features:
Provides several techniques for decreasing the size of video files.
Offers video editing software.
The simple sign-in procedure through Facebook or Google.
The rapid video compression procedure.
Cons:
Only for MAC users.
Offers limited editing options.
Frequently Asked Questions
1. What is a video compressor?
The technique of decreasing the total number of bits required to represent a particular picture or video sequence is video compression. Most video compression gets done by software that uses a specific algorithm or formula to determine the best method to reduce the amount of the data.
2. How does video compression work?
A free video compressor examines the number of pixels in a single video frame. It compresses it by grouping like pixels together to form a more significant block. A compressed video has less information owing to pixel bunching.
The Bottom Line
Regardless of whatever free video compressor software, you choose, compressing video files is a straightforward procedure. However, the amount of video compression free tools at your disposal may affect the quality of the produced video. That is why you must choose a HitPaw Online Video Compressor that meets all of your requirements.