HitPaw Screen Recorder
Best Screen Recorder & Free Video Streaming Software
Beyond a Screen Recorder - Record, Stream & Share
Not only a screen recording software, it is also a free streaming software and webcam with full features.
Simple Operation with Rich Features: Capture Everything Without Limits Or Lags
· Capture and record screen or webcam from PC/Mac or iOS devices
· Be a screen recorder and webcam recorder simultaneously
· Capture the full screen or part of screen flexibly
· Record video with internal audio or sound from microphone
Amazing Free Streaming Software: Make Your Streaming More Attractive and Engaging
· Produce professional-grade live streams with various elements and sources
· Schedule Recorded Video Streams to Facebook, YouTube, Twitch
· Simultaneously stream live to over 30 popular platforms
· Easliy record and live stream at the same time
Awesome Webcam: Keep Your Audiences from Video Meeting Focused on You
· Interest your video meeting with templates, stickers, pictures, etc.
· One click to switch modes among presenter, content, content + presenter
· Change to the desired virtual background with ease
· Capture and record webcam videos with a high quality
Don't Miss! HitPaw
is Your Best Choice
Record speaker and microphone

Capture screen with or without system audio or microphone sound easily in high quality.

Customize recording area

Record full screen or customize partial area from your computer freely based on your needs.

Green screen/chroma key

Remove the background or use a green screen via chroma key automatically.

Scheduled/timed recording

Start recording video at a set time and end at a specific duration.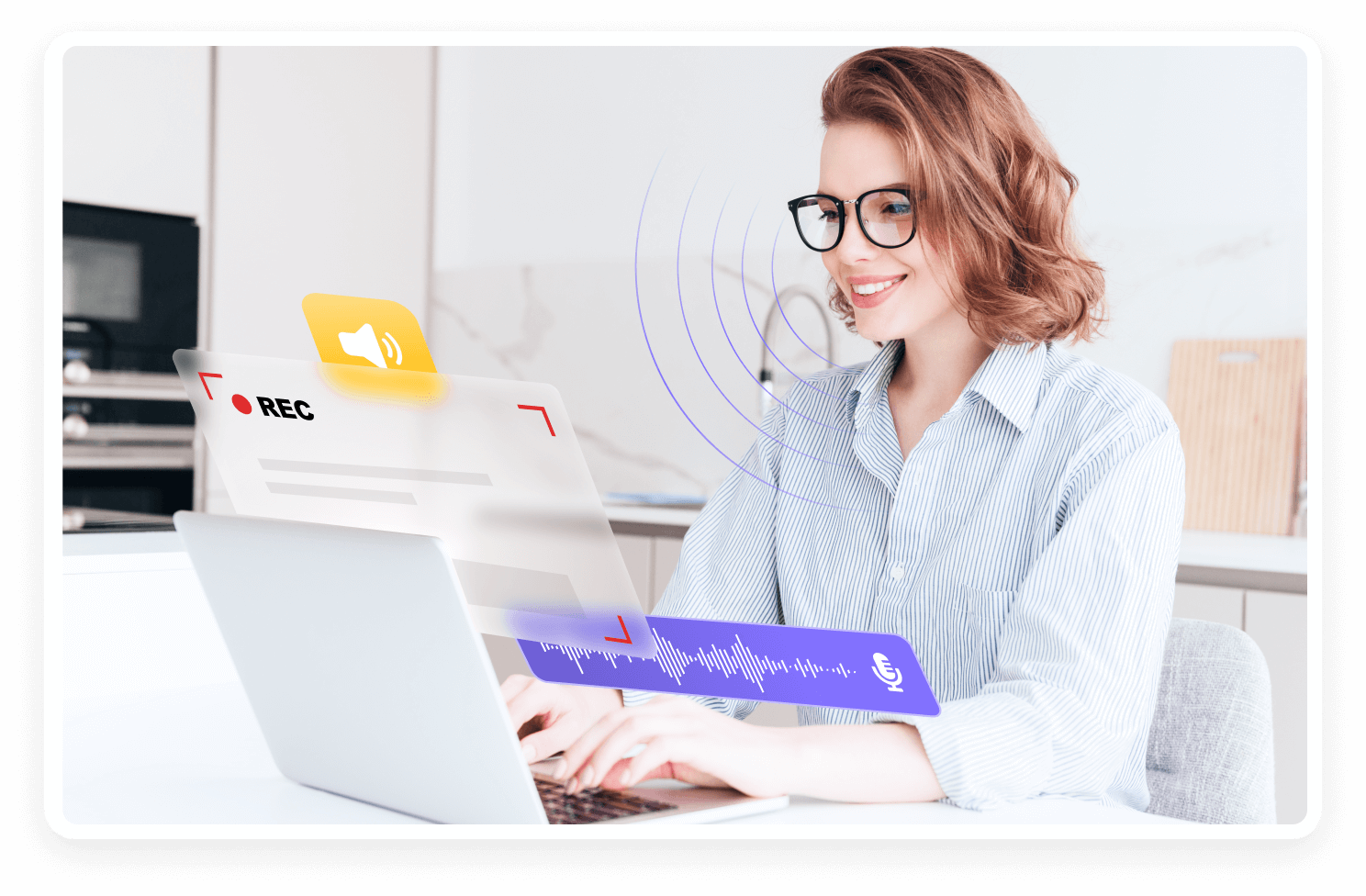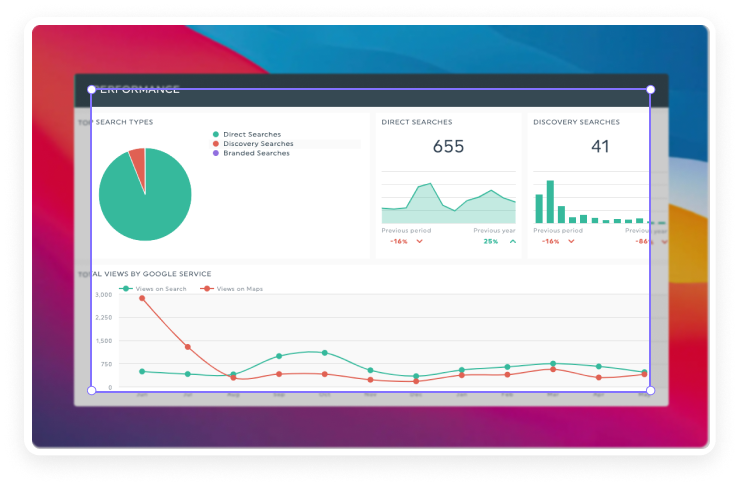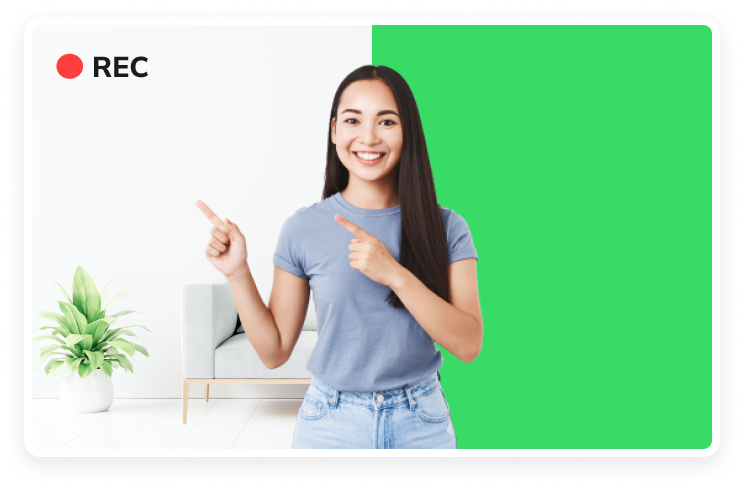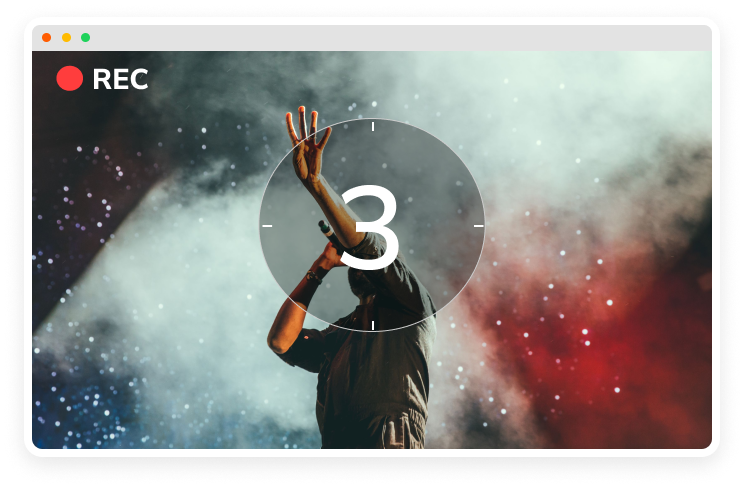 Segment recording

Capture mouse/keyboard

Pen, highlight, arrow

Customize PIP position/size

Real-time monitoring

GPU Acceleration

4K video supported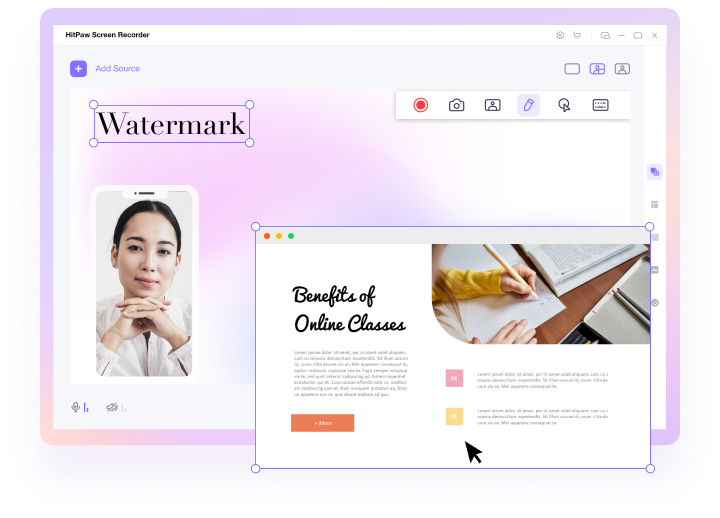 Advanced

Operation Studio Brings the Magic to You

With advanced operation studio, this screen recording software makes everything interesting happen. You can add screen, window, webcam, game, iOS devices, pre-recorded videos, pictures, or texts to record at the same time, switch from content only, presenter only, or content + presenter, create professional scenes based on your script, etc.
Game

Screen

Webcam

WaterMark

Image

Text

iOS Device
Interesting

Elements Unleash Your Creativity on Streaming

To stand your videos, live streaming, or presentations out, this professional streaming software offers free templates, stream overlays, virtual backgrounds, stickers, and texts. Easy to get use & started for beginners!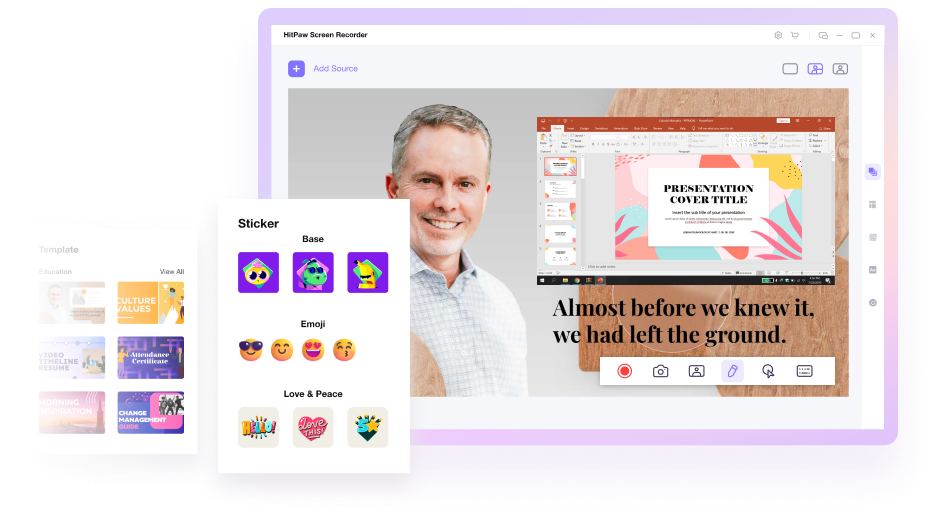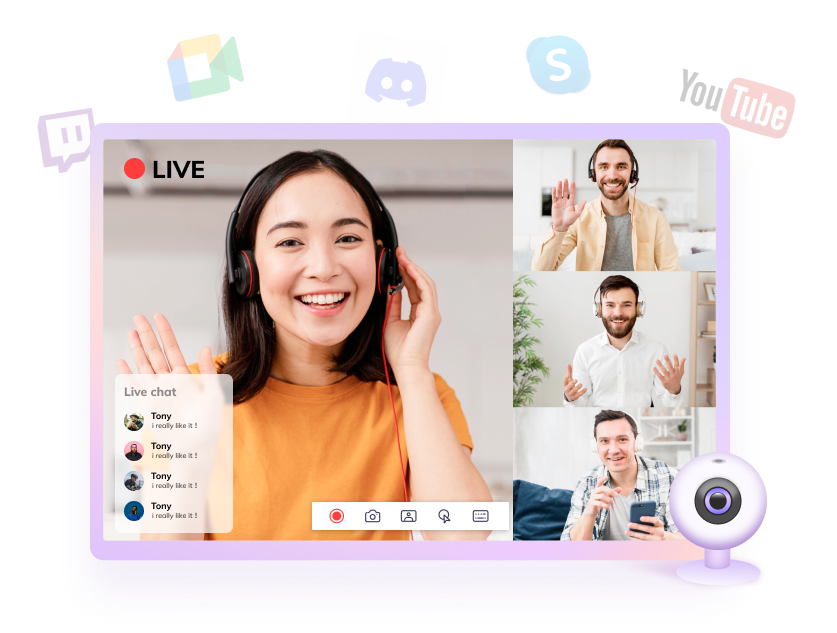 300+

Streaming Platforms and Video Meeting Apps Support

Almost all popular streaming platforms, video meeting and chatting apps are supported:

Streaming Platforms: Youtube Live, Facebook Live, Twitch, YouNow, Vimeo, LinkedIn Live, Mixcloud, Douyu, Bilibili, Yingk, BOOYAH!, and more.

Video Meeting Apps: Zoom, Google Meet, Microsoft Teams, Webex, Goto Meeting, gotowebinar, BlueJeans Meetings, join.me, Zoho Meeting....

Social Apps: Discord, Skype, Slack, Telegram, WhatsApp, Line, Kakaotalk..

Webinar:Demio
How to Record or Live Using HitPaw Screen Recorder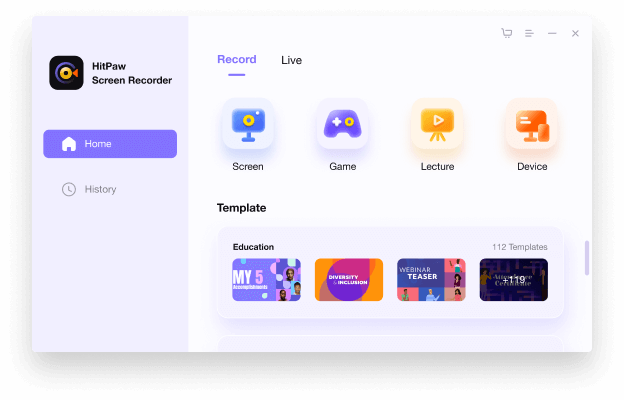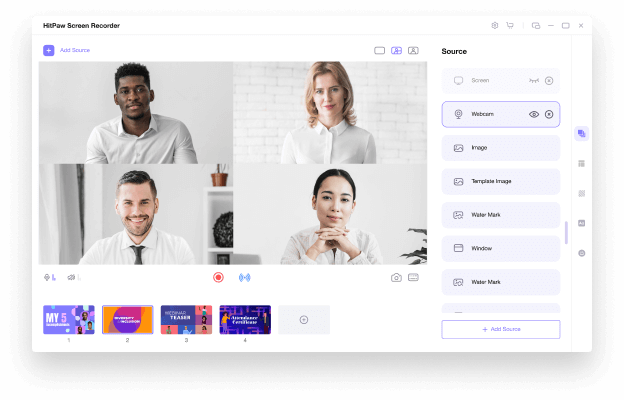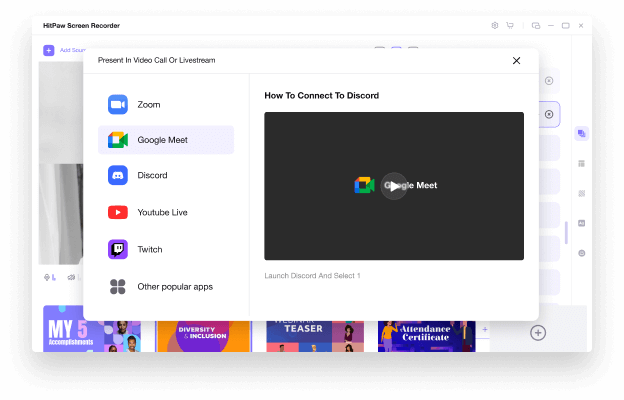 Select Record or Live
Choose "Record" or "Live" according to whether you need to record the video or want to start live streaming or join a video meeting.
Set and Edit
You can add any sources you need, templates you want to apply, stickers or texts you prefer. Just set and edit to get the satisfying effects you need.
Record or Present
Record or present your contents to streaming platforms or video meeting applications. And now, you can record or stream you want to show.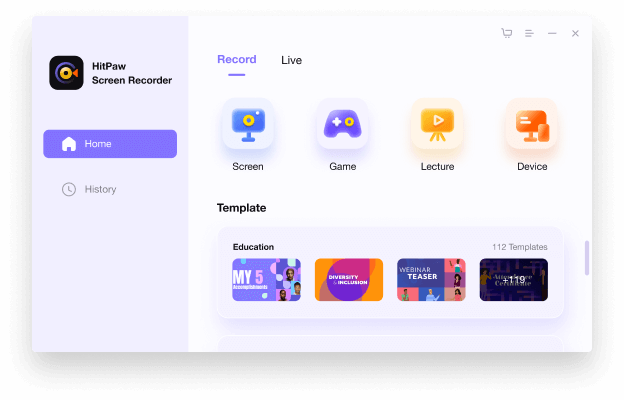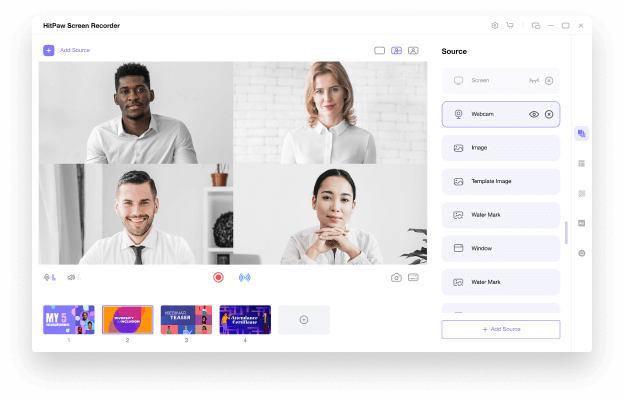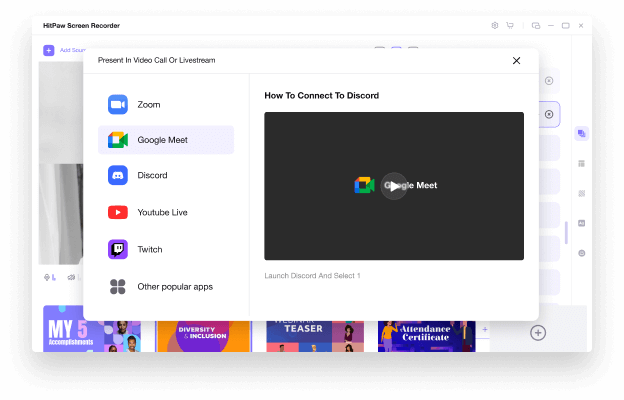 6,000,000+ People Love Us
HitPaw Screen Recorder is worth 5 stars with its powerful tools to make your class funny.
I sincerely recommended to use this screen recording software for PC for an online class by my friends. It is worth 5 stars. I used this screen recorder to express my ideas and replied to our teachers' questions in more funny and vivid ways by showing different sources such as my computer screen, my handwriting notes via iPhone camera, stickers, etc.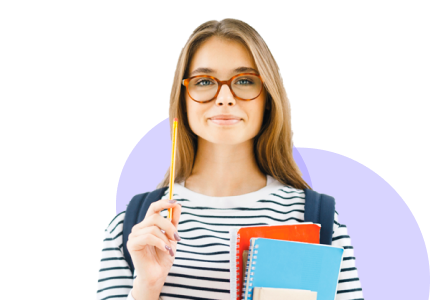 HitPaw Screen Recorder brings big change to my video conferences
I had a lot of video conferences because of coronavirus disease. In fact, it is very boring and a lot of those who participate in the meeting cannot focus on you. It had a big change after I used HitPaw Screen Recorder to give some surprises with stickers, pictures, or add other funny elements.
Felicjan Jacenty
in Los Angeles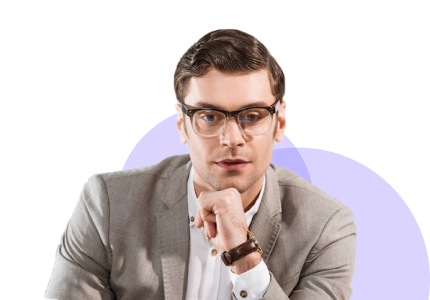 It is cool for gamers and will not let you down any time.
I had a live streaming account on different streaming platforms. I hope I can reach all my subscribers on all platforms, so I came to HitPaw Screen Recorder. This free live stream recorder does not let me down. More importantly, I can also record the video during live streaming, then, I can upload and share with different social media. That is very cool.
Vardan Bedros
in Mexico City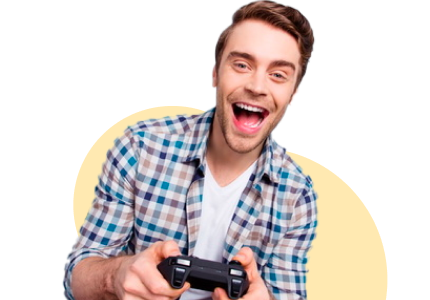 HitPaw Screen Recorder is the best screen recorder I ever used.
It is totally different from other screen recording software. It provides a lot of awesome templates. And what I like most is that I can prepare and create scenes according to our prepared script before recording. That will be very helpful to create a perfect video and save me a lot of time.
Vardan Azat
in San Francisco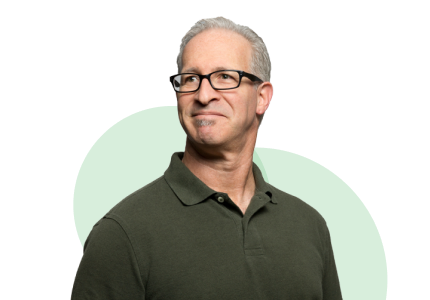 A very helpful screen recorder for my online video interview.
HitPaw Screen Recorder is my great auxiliary tool for my online video interview through video meeting application. When I want to show different informations to interviewees, I can add them to the screen directly. And to get more closed and let interviewees relax, I can show some interesting pictures or videos to them.