What is VLC Video Editor? Is It Really Good? Check Answers Here!
Videos have become an increasingly popular means of self-expression, communication and advertisement. A picture might speak a thousand words but there is something even more special about a picture in motion accompanied by a catchy soundtrack in the background.
With the addition of new technology, some very high-quality video recording devices have been introduced in the market, but they are not enough to produce good quality videos. Videos need to be edited to stand out. Therefore, we present to you a complete guide on the VLC Video Editor that is a fine video editing tool.
Summary
Summary
Check this article to know if VLC is a video editor, the complete features of it, how to use each of its functions and what are the online reviews of it.
Is VLC a Video Editor?
Yes, VLC Media Player is ideal not just for watching videos from multiple sources but it can also be utilized as a device for editing videos. To build the video files, you can split or trim some images. Which ensures that you can pick any portion of your video and reduce it to a shorter video. You can conveniently choose a starting position, then an ending position.
VLC may not be the most sophisticated tools for video editing but can trim videos quickly. Specialized camera processing requires advanced expertise to execute even key activities such as camera trimming. But VLC is easy enough to let you cut components of your videos.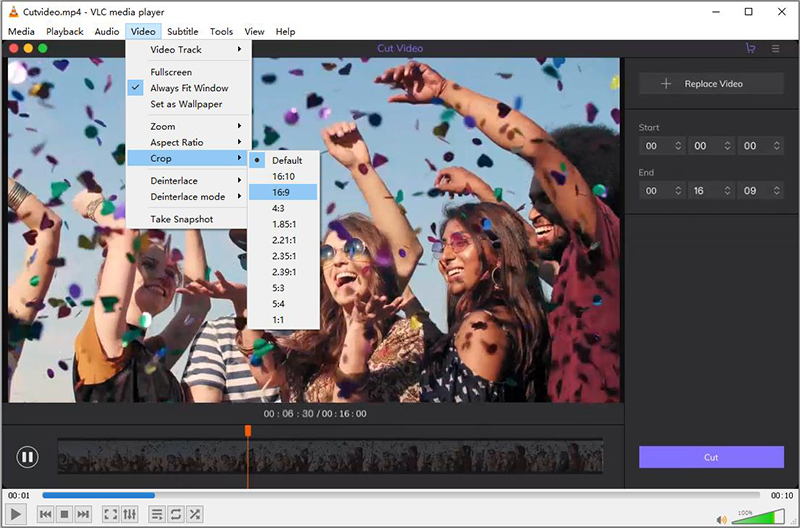 You'll never need to keep a long video stream because of a few parts in the video you really wouldn't want to erase. Select all your main parts and cut the others down. It will also encourage you to exchange videos with peers and relatives quickly through different media.
For a lengthy time, VLC has been recognized as a free media player. However, the hidden characteristics in VLC are much more fascinating than the software for players. VLC also operates as a video editor, video conversion tool and a DVD ripper, to list just a couple of functions. That being said, it's best not to expect a lot from it.
The Features of VLC Video Editor
The following are the editing features of VLC video editor:
Video cropping
Video cutting or trimming
Image effect
Color adjustment
Rotating effect
Interactive zoom
Impressive overlay options
Advanced effects such as motion blur and spatial blur.
How to Use the VLC Video Editing Features
We are going to reveal all the video editing features hidden in VLC, and show you how to use VLC to create a movie by rotating, splitting, cropping image, etc.
VLC Video Editor free Download
VLC Video Editor download is completely free, you can go to this site to choose the version you need to download. It supports Windows, macOS, Ubuntu, Android and iOS.
Importing the Video
First you have to launch the VLC player. Then click the Media option in the tool bar. Then choose open file and choose the video clips that are present in the local media folder. However, before you start editing, switch on the advanced controls option in the menu box.
Video Trimming with VLC Video Editor
Push the play slide bar to the starting point that you want the video to be trimmed. Press the record and play tab and the tool will start capturing the video. Select the record button once more to halt the recording process of the required video portion at the final ending point. Look for the video that are cut in the Videos library of the computer.
Theoretically, the VLC media player trims your video in a way that records the video. In addition, if you are operating VLC to trim a video on a Mac device, there will be several variations from the above instructions, so kindly direct to our guidelines, which will provide specific details about how to cut a video using VLC about Mac.
Video Cropping with VLC Video Editor
We have two methods for cropping videos with the VLC media player. The first method is to go to click on the video option in the menu tab and scroll down to select the crop option. Here you can choose the aspect ratio of your choice and the video would be cropped.
The second method is to go down to the end part of the player and choose the option that says, show extended settings and then move to the tab that says video effects. There you will find the option to crop the video and then you can save it.
Video Rotating with VLC Video Editor
We have two options for video ration as well that are namely transform and rotate. Through transform's list you can pick Rotate by a vast option of rotating degrees. You could also turn clockwise or counterclockwise using the Transcope or Anti-Transcope effect.
Or only turn the rotate function on and set a particular angle of rotation. Remember that you can only facilitate transform and rotate at the same time if required, or you would need to flip the video at am aspect ratio that has been cropped.
The VLC Video Editor Review
Every tool has both good and bad reviews which is why we will be highlighting both of them:
Good Reviews of VLC
"
Free of cost.
Very customizable.
Outstanding support for different file formats.
Expandable through Plugins.
"
Bad Reviews of VLC
"
Editing metadata isn't as simple and easy as in certain other tools.
Since it is not a video editor primarily, the editing isn't as up to the mark as with other editors.
Cannot be used for professional editing.
Poor subtitle addition and editing.
"
Why the Reviews of VLC Media-Player are Poor on Trust Pilot?
The following are the reasons why the reviews are so poor on the trust pilot website:
Does not read CDs or DVDs.
Keeps crashing frequently.
Poor options for re-editing.
Frequent freezing of the audio-track.
Difficult file conversion.
Poor display of subtitles.
Conclusion
Video editing is becoming a growing necessity and although the VLC Video Editor does not give much of a professional experience, it's still quite convenient to use and gets the job done in a satisfactory manner.