A Must-Have Professional Video Editor - Filmora Pro
First and foremost, Wondershare Filmora Pro is a video editing software. It enables you to create a professional video that includes composting, motion graphics, special effects, color correction tools, and more. Filmora Pro is a powerful video editing software; it is easy to use.
Filmora Pro is compatible with both Windows and Mac platforms. You can create videos of any popular formats. Filmora Pro is a reputed software, but if you want to know more about this editing software, check out our Filmora Pro review below.
Summary
Summary
We will introduce Wondershare Filmora Pro here. You will know clearly about Filmora price, the difference between Filmora Pro and Filmora 9, and how to use it.


Part 1. Is Filmora Pro Free?
So, is Filmora Pro free? No, it is not. Filmora Pro is a paid video editing software. But it offers a fully-featured trial version.
Filmora Price
How much does Filmora Pro cost?
Well, the Filmora Pro price is the same for both Windows and macOS. The company provides an annual play and a lifetime plan. Let's check them out.
The annual Plan for Windows and Mac will cost users $89.99, and the Lifetime Plan will cost $149.99.
Free Trial version limitations
Unlike other video editor programs on the market, Filmora Pro provides a fully functional trial version. But there is one restriction. The output videos will have Filmora Pro Watermark. The Watermark covers like the one-third of the bottom portion.
Filmora Pro getting rid of Watermark is impossible unless you purchase the software. When you purchase the software, no watermark will be visible on the exported video files.
Part 2. Filmora Pro vs Filmora 9
So, what's the difference between filmora 9 and filmora pro?
Filmora Pro and Filmora 9 are both video editing programs developed by the same company. But there is a big difference between the two.
The main difference is control. Filmora 9 is simple; it comes with several pre-built effects. But Filmora Pro enables you to customize those effects. It adds some more advanced editing like key framing but at an affordable price.
So, when it comes to Filmora Pro vs Filmora 9. We think the Filmora Pro is designed for the professionals. They are capable of and customize several hundred effects. While Filmora 9 is suitable for beginners. As the effects are already built in the program, it is easier for them to use.
Part 3. Can You Edit Professionally on Filmora Pro?
If you are asking, can you edit professionally on Filmora Pro? Then, of course, you can edit professionally on Filmora Pro.
It is a video editing software that enables you to create professional-level videos with composting, motion graphics, special effects, and more. It is a combination of power and convenience.
Filmora Pro Features
Here are a few highlighted features of Filmora Pro.
Unlimited Tracks

While Filmora 9 is limited to only 100 tracks, the latest Filmora Pro will get you unlimited tracks. You can add additional videos for personalization. There is no limit; let your creativity run wild.

Timeline Clips

You can tag clips with labels. It is a simple feature. You will be able to group all the clips on your timeline and edit them at the same time.

Use Video or Audio

You can choose whether you want the audio or just the video of a clip. A very convenient feature for the professionals. While this feature is available on the standard version of Filmora, Filmora Pro is more smart and elegant about it.

Range Makers

You can easily mark part of any clip and add it to your project. Simply, select the start and the endpoint, and then drag it out.

Advance Editing Modes

There are a couple of advanced editing modes added to Filmora Pro. The slip tool, slide tool, the ripple edit, and the toll edit tool.

Color Correction

Many professionals desire the advanced color tuning on Filmora Pro. There are color heels, scopes, and even controls for highlights, mid-tones, and also for the shadows.
How to use Filmora Pro
Now, that we had a glimpse into the range of features provided by Filmora Pro. Let's check out how to use Filmora Pro…
Step #1: Download and install Filmora Pro on your computer. Then, run the software. Now, you have to import the files you want to edit.

Step #2: After importing the files successfully, you can start editing. All the effects and customization options will be available on the software panel.
So, after making the Filmora Pro download, you can edit videos as per your specification using the steps we have detailed above.
Part 4. A Better Video Editing Tool than Fimora Pro for Beginners
At first glance, Filmora Pro is an excellent video editing software. But it is the high price and difficulty that push a lot of users away.
Now, if you are looking for a beginner's video editor, then the software has to equally effective but available at a lesser cost. HitPaw Video Editor is best suited for it.
HitPaw Video Editor an excellent program. It creates great looking videos and at a cheaper price and without any efforts to learn how to start.
Let's find out the reason why HitPaw Video Editor is a great video editing tool for beginners.
It is a great straightforward tool.
Easy-to-use and understanding UI lets you no need to learn how to use.
A free trial is available and you can use all features in free trial.
It costs only $29.95 for one month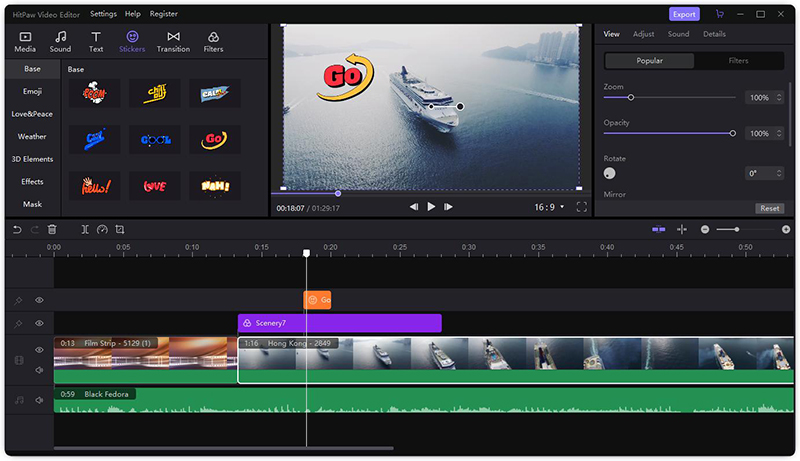 Final Thoughts
Filmora Pro is excellent high-priced editing software. You can get a lot of professional tools with it. But the price is very expensive and it is not suitable for beginners. So, we recommend the users who are looking for a more budgeted option, HitPaw Video Editor.
You May Also Like
I already have a lifetime license for wondershare filmora for mac so what is price for filmora pro?
FilmoraPro and Filmora9 are two different software. If you buy Filmora9, there is no way to upgrade to Filmora Pro. However, you can contact with Wondershare support to get discount to buy the FilmoraPro. They may provide 20% off or more.
Why do i have to pay full price for filmora pro?
Filmora Pro is a paid software. You need to pay full price for Filmora Pro. If you bought Filmora 9 or other Wondershare software, you can contact with their support team, then may provide some discount to you.
How to upgrade from filmora 9 to filmora pro?
There is no way to upgrade Filmora9 to Filmora Pro. But you can get some discount from Wondershare support to buy Filmora Pro, if you already bought Filmora 9.
How to erase watermark in filmora pro?
You need to buy Filmora Pro to remove watermark when you trying to export the video. But watermark on the exported video cannot be erased any more.