How to Add Text to Gif on PC, Online, Android, iPhone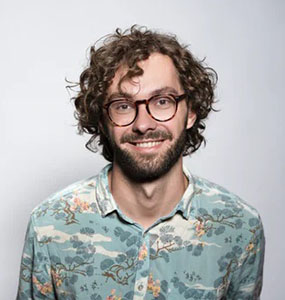 Joshua Hill
GIF is an image format that has animated and static effects, which becomes more and more popular among social media networks. For the youth, adding text to GIF makes it more interesting, and this becomes a huge demand. So we will show you how to add text to GIF in this article.
Part 1. How to Add Text to a Gif on PC/Mac
If you love GIF and would like to edit GIF as many as you can, then there is no doubt that ApowerEdit is on your list. ApowerEdit allows you to import videos and images to the program, and edit them as you like. So adding text to a GIF will be faster on PC or Mac.
Wondering how to add text to a GIF using ApowerEdit? Try this:
Step 1: Download and install ApowerEdit in your Windows computer or Mac (available for Win and macOS).
Step 2: Launch the program, and import your GIF files by going to Media > Images > Import.
Step 3: After importing all the necessary images, drag and drop these to the timeline.
Step 4: Select where you want to add text to the timeline and click the Text menu.
Step 5: You will see lots of text templates available. Select the one that you prefer, and drag it to the GIF image, and then type the text you would like to add.
Step 6: Once done, click the Export button.
Step 7: In the new pane, click the Video tab, and choose GIF for Video format. You can also rename the gif file and choose another file path.
There it is. This is way easier than you thought.
Part 2. 5 Ways to Add Text to Gif Image Online
If installing a video editor software is a deal-breaker to you, or you don't want to make it complicated, then you can try to add text to GIF online. Never think of that, right? There are plenty of online services that can help you do it.
1. GIFGIFs
GIFGIFs is an incredibly easy and simple GIF maker on the internet. And it offers free animations for you to try on your images. It is your first choice to edit GIF images, so adding text to GIF would be just a snap for GIFGIFs.
How to add text to GIF via GIFGIFs:
Step 1: Click GIFGIFs.com in your browser to open it.
Step 2: Then you will see all the tools on the left menu, click Add text to GIF from the list.
Step 3: Either choose to upload GIF, or paste the URL.
Step 4: Then you can type the text you want by double-clicking the text layer. You can also drag and drop the layer wherever you want.
Step 5: After that, click the Add Text button at the bottom to finish your work.
2. Ezgif.com
Ezgif.com has been famous for image editor and GIF animated maker, as it can help you adjust the animation speed and resize the image. Besides, you can upload up to 2,000 images equivalent to 100 MB of file size in total.
To add text to animated GIF on Ezgis.com, follow these steps:
Click https://ezgif.com/ in your device.
If you have not had the GIF image, click GIF Maker, otherwise, you can click Add Text from the menu on the top.
Click Choose File to upload your GIF image from your PC, or paste the URL in the URL field. Then click Upload to confirm.
After that, click the Write button, then type the text, and click Create GIF. Then you should add text to your GIF.
Then you can follow the tips on the screen to download or share your GIF!
3. Gifgit
Gifgit is a free online image editor that allows you to edit your images as GIF as well as add text to GIFs.
To do it, you can try this:
Click https://www.gifgit.com/ to open it.
Click GIF on the top, and then click Add Text > Choose file to import your GIF.
Click the Add Your Text box on your image, and type your text. You can also configure the text settings on the right. Finally, click Generate GIF to finish it.
Click the Download button and the browser will download it for you.
4. Free Online Image Editor
Free Online Image Editor is one of the popular GIF makers and editors for young people, as its design is modern and intuitive. Not to mention the fact that it is 100% free.
If you want to add text to GIF using this tool:
Go to https://www.online-image-editor.com/ and click Upload An Image button.
Click Add Text toolbox, and type the text in the box on the left. Then click Apply.
Click the Save button and it will save the GIF to your computer.
5. Kapwing
Kapwing is an all-in-one online tool for video and image editing. It features a video converter, video maker, meme generator, and video editor on one website. It is a wonderful tool.
If you want to add text to GIF using this tool:
Go to https://www.kapwing.com/ and click Start Editing.
You can upload directly from local, or paste the GIF URL in the link field.
Click the Text button on the top, and double click the sample text box to type your desired text.
Once done, click Export Image. After processing, you can download or share your GIF.
However, if you would like to add text to gif on your mobile device, then you can check the following parts.
Part 3. How to Add Text to Gif on Android
If you do a lot GIF editing work in your Android phone, then you are recommended to try a professional GIF maker like GifGuru - the best GIF maker, GIF editor, and GIF camera. You can create GIF from images, videos, and cameras.
How do I add text to a GIF using GIFGuru?
Step 1: Download GIFGuru from Google Play Store in your Android phone.
Step 2: Tap My GIFs on the bottom if it is already in your device, otherwise you can create a new GIF on your own.
Step 3: After getting a GIF, tap Text. 
Step 4: Type the text you prefer, and save it to your device or directly share it out.
With the add text to gif app, it would be much easier, especially when there are lots of GIFs to edit.
Part 4. How to Add Text to Gif iPhone
Besides, if you are using an iPhone, and would like to add text to GIF in your iPhone, then GifLab would be your must-have. You can add text and filters to your GIF, adjust the play speed for your GIF, and upload it to the website or share it to Instagram.
How do you add text to a GIF on the iPhone?
1. Download and install GifLab in your iPhone, and launch it.
2. Tap Camera to create a new video or click Gallery to import your existed video or GIF.
3. Tap the T label at the bottom to add text.
4. In Tap Here to Add Text field, type whatever you want to say, and you can change the text color if you want. Then tap Done and you are good to go.
Final Thoughts
So this article tells you how to add text to GIF in various methods: you can choose to add text to gif on your PC/Mac/Android/iPhone, and you can also do it online with several useful online GIF tools. By the way, if you would like to try a professional and safe tool, then ApowerEdit would be a good one as it helps you edit images, audio, and video easily.