What is the Easiest Software to Make Music for Beginners? (Free)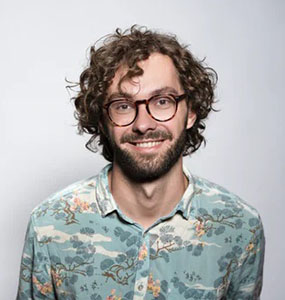 Joshua Hill
Finding a music software which has incredibly amazing recording, editing and sharing tools is not an easy task. Along with the extraordinary feature, the easy interface is not what every software offers. Therefore, in order to help you, we have made a list of the 5 easiest software to make music, especially for beginners. We have included features, pros and cons of each software
If you are planning to pursue music as your career then you would be required to generate your own personal new tunes and music. To do so, the most ideal option is to make use of music software. Music software will considerably help you in generating music that will rock your audience. But which software to use is a very difficult decision to make. Therefore, to save your time, here we will tell you about what is the easiest software to make music. Read this article to enlighten yourself.
Part 1. 5 Easiest Music Production Software for Beginners
1. GarageBand-Free Easy Music Production Software
Compatible System: Mac, iOS
GarageBand is a free music production software for beginners, which is designed specifically for Apple devices. It offers audio recording and editing features. It turns your iDevice into an excellent multitrack recording studio. It offers amazing loops, editing and producing tools, and sharing options. It also supports third-party digital instruments. The visual interface offered by GarageBand increases the visibility of sound, hence, making it an ideal platform for composing as well as teaching music production to students. The software comprises incredible features to provide its users with remarkable musical experience.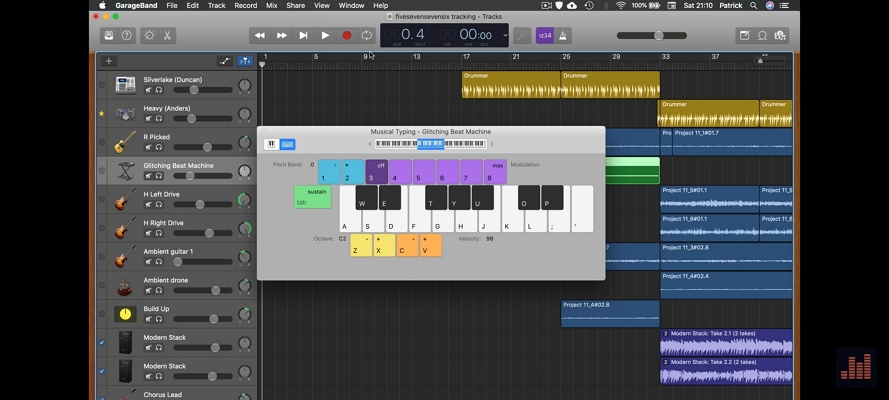 Pros:
1. Free of cost. Pre-installed in Mac device.
2. Numerous free sample instruments available for download.
3. The built-in effects along with compressor and reverb enhance the musical experience.
4. You can use sample libraries by Native Instruments, EastWest, and lots of other great VSTs.
5. User-friendly.
6. Compatible with 24-bit recording and third-party plug-ins.
Cons:
1. Mixing console view is missing.
2. Limited control is granted to users.
3. Track grouping is not available.
4. Editor's options for singers and pitch-correction tools are very limited.
5. Elapsed time in projects is not displayed.
6. You cannot purchase additional Apple loops.
7. VU meter in an Audio Recorder is not shown.
2. Audacity-Music Production Software for Beginners
Compatible System: Mac, iOS
Audacity is a well-known audio editing and recording software that is used all over the globe. It is an ideal free music software for beginners. It is an open-source software that offers cross-platform compatibility. It consists of Beat Analyzer feature that allows the users to make a beat faster or slower without affecting the overall quality of the music. Bands use this software to make rough demos. Audacity also supports several plug-ins & libraries, expanding its functionality significantly.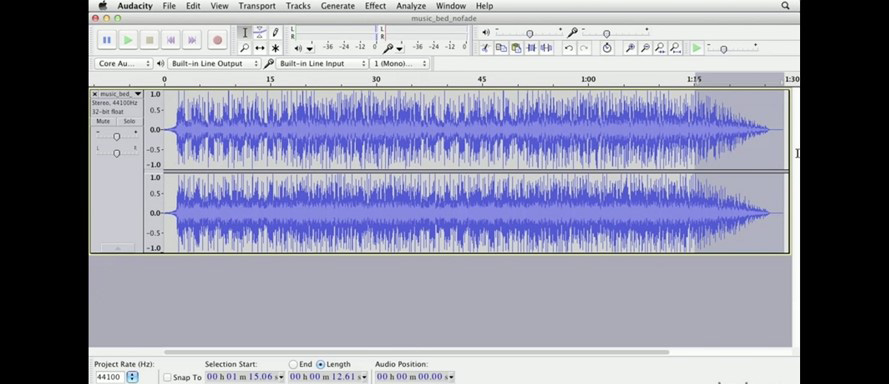 Pros:
1. Can be downloaded without paying any amount.
2. Compatible with Windows and Mac operating systems.
3. Easy to use interface.
4. Create high-quality music with numerous editing and producing tools.
5. Allows the users to capture music from the microphone as well as from computer playbacks.
6. Several plugins are supported.
Cons:
1. Can only be used on a laptop. Not compatible with a mobile phone. Neither iOS nor Android smartphone.
2. No customer support.
3. Cannot effectively tag MP3's.
4. Cannot generate music from scratch, instead, it allows to import MIDI files.
5. Only permits to export. No sharing or publishing options.
3. DarkWave Studio - Best Music Production Software for Beginners
Compatible System: Windows
DarkWave Studio is claimed to be one of the best beginner music production software. It is a free recording studio that offers a modular virtual studio, Pattern Editor, Sequence Editor, and Multitrack Hard Disk Recorder. It is an amazing Digital Audio Workstation for Windows. Effect plugin and VSTi, as well as VST instruments, are supported.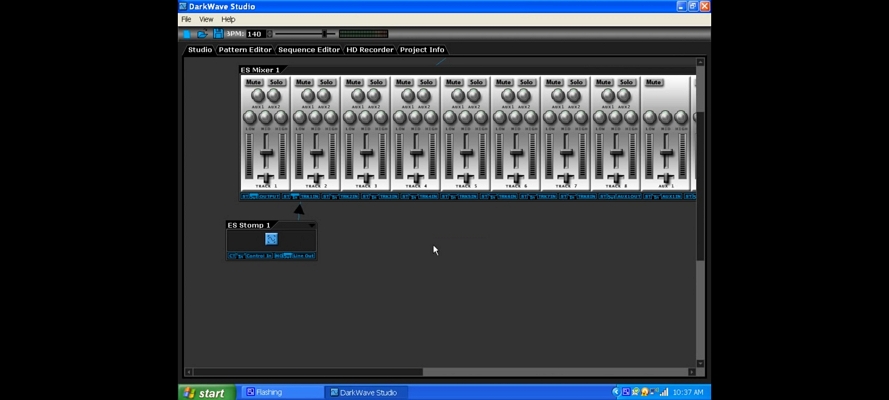 Pros:
1. The software is safe to use.
2. The developers continue to add new features and enhance existing features frequently.
3. Major bugs issues are solved with every new update.
4. Very cooperative customer support.
5. Supports VST plugins.
6. Compatible with Multi-core & multi CPU.
Cons:
1. More privacy should be added to this software.
2. Some very important features are still missing.
3. At times the support is very slow.
4. Available for Windows only. Android and iOS are not supported yet.
5. No proper guide can be founded regarding how to use it.
4. LMMS - Open-source Easy to Learn Music Production Software
Compatible System: Linux, OpenBSD, MacOS and Windows.
LMMS is a free open-source music production software. This software was made especially for Linux but later it was expanded for Windows and macOS users. It is the best music making software for beginners who are planning to learn to create their own music. The software permits the users to compose, mix and sequence music in a simple and spontaneous interface while also offering MIDI and keyboard support.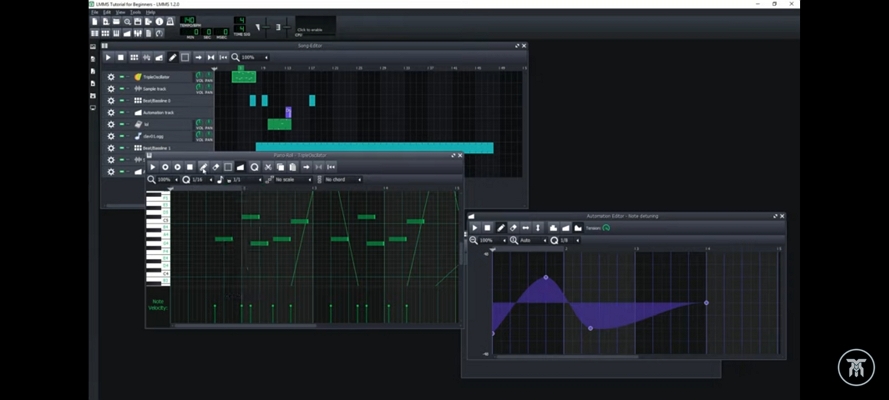 Pros:
1. Functions efficiently on Linux, Windows, and MacOS.
2. The layout and features resemble FL Studio. The only difference is that FL Studio is paid while LMMS is a free open source.
3. Can operate properly off a flash drive.
4. Some of the basic VST instrument plugins and modifiers are pre-installed.
5. Ideal for beginners as it is super easy to use.
Cons:
1. There is no option to merge or splice tracks.
2. Only virtual instrument tracks can be added into the mixing console.
3. Audio recording option is not available.
4. In macOS VST's are not supported.
5. The software crashes frequently.
5. SoundBridge-Easiest Music Making Software
Compatible System: Windows
SoundBridge is a simple music production beginner software that comes with a very simple and familiar layout. Sadly, not much information is available on the internet regarding how to use it. You have to download and learn features and its functionality on your own.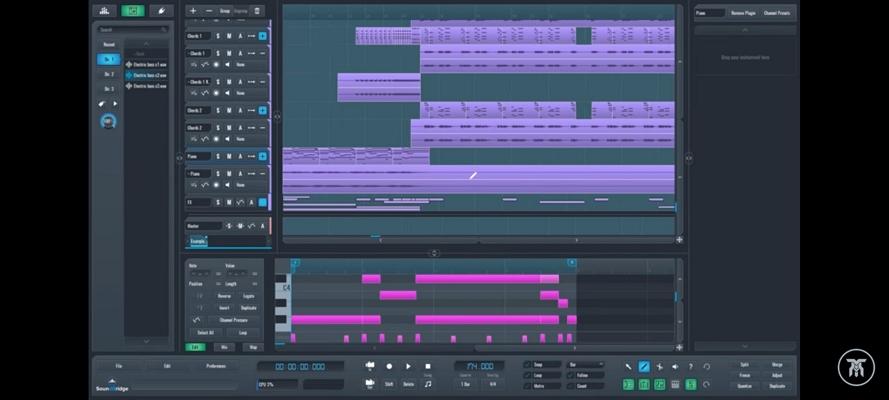 Pros:
1. Only compatible with Microsoft Surface system.
2. Very easy to learn about how to use it.
3. A free and open-source software.
4. Very responsive and quick.
5. The layout is very simple. No chance of getting lost or pressing wrong buttons.
Cons:
1. Plugins are not supported.
2. The keyboard does not support piano playing. You have to use the mouse or MIDI keyboard to play the piano.
3. No virtual instruments are included.
4. Video player not available.
5. Error is shown while copy protection.
Part 2. Bonus Tips: How to Create a Video with Music that People Like
Creating a video with music is not an easy task and to do so you need a handful of features. You can find such features at HitPaw Video Editor. HitPaw is a powerful software that contains all the important video editing tools. You can create a video along with your music easily without any hassle. The layout and features are very easy to understand, making it an ideal platform for a beginner to generate video along with the music. Below is a guide about how to create a video with music using this mind-blowing software.
How to Create A Video with Music Via HitPaw Video Editor?
Step 1

Download the HitPaw Video Editor software on your PC and open it.

Step 2

Click on the Drag & drop files here to import pictures and soundtrack of your choice by selecting them from your gallery.

Step 3

Drag the soundtrack to fit the video file perfectly. In Sound option, there are also several BGM for you to choose. You can drag one of it to the timeline if you like.

Step 4

Lastly tap on the button of "Export" and make some output settings to produce your video.
Bottom Line:
After reading this article you can easily decide about what is the easiest software to make music for you. However, we strongly recommend users to make use of HitPaw Video Editor whenever they wish to create a video along with the music. Not only it helps to create a video with music effortlessly, but it also has many other editing features that are extremely useful. Download this software to discover more about it.