How to Add Music to Snapchat Directly or with Video Editors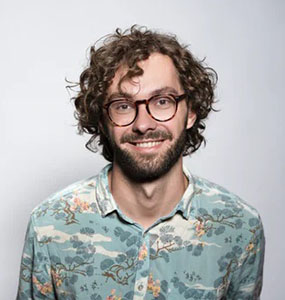 Joshua Hill
Snapchat is a huge hit these days. As a result of which its number of users is increasing each day. However, many people still have no idea how to use Snapchat, especially how to add music to Snapchat.
Therefore, in this article, we will discuss in detail how you can add music to your Snapchat videos to make them more interesting.
Part 1: How to Add Music to Snapchat Directly
Are you trying to find how to add music to Snapchat with a video editor? Below is the best and easiest way to do so.
How to Add Music on Snapchat iPhone
The easiest and simple solution to your question of how to add music on Snapchat iPhone without video editor is to record music simultaneously with your Snap. Play any song of your liking from your device. This is one of the best solutions for iPhone users.
Go to your music app like Spotify on your iPhone and play a song. For the best result, adjust the volume of the audio.

Now open your Snapchat and bring up the Control Center. All you have to do is swipe up from the bottom of the screen and click on the "Play" button from the music section to start playing it.

Then hide the Control Center by swiping down and click on the "Recording" button from the Snapchat app to capture your video.
Share your Snapchat story with your friends and family.
How to Add Music to Snapchat Android
Just like you can add music without using video tool apps on your iPhone, you can add music in your android as well. It is a simple process and doesn't require much effort.
First, open the track you want to add in the Snapchat story from your favorite music apps.
The go-to your Snapchat app and launch its camera tab and hold the recording button.
And record your video while music is playing in the background. Pause music by scrolling down the notification panel before posting your videos.
Part 2: How to Add Music to Snapchat Story with Video Tool
There are numerous excellent tools to add music to the Snapchat story. In this section, we will explain the 5 best tools.
1. ApowerEdit
When it comes to the list of best video tools on how to add music to a Snapchat story, ApowerEdit names shine on top. It is one of the best video tools to add music to a Snapchat story to make it more interesting. It is an excellent desktop program.
This incredible video tool allows its users to reverse any part of their video clip. Moreover, it comes with additional editing functions that help users cut, zoom, crop, add duration, etc. besides, you can also do further enhancements by placing text, filter, overlays, and transitions.
First of all, download this program on your phone.
Open this video tool and drag the Snapchat video in which you want to add music.
Drag the video to the timeline and highlight the video. Then click on the Edit button from the toolbar and tick on the "Reverse" function box.
Lastly, click on the OK button. Once you are done, click on the "Export" button to send reverse video to your friends.
2. Inshot Video Editor
Another solution to your query on how to add music to a Snapchat is using Inshot video editor. The use of a professional app makes the editing process much more comfortable and gives access to amazing features as well.
Besides, from adding music to Snapchat video, you can also use it for video editing with its built-in functions.
Download app from the Play Store.
Then open it and click on the video menu. Now select the Snapchat story in which you want to add music.
Click on the "Music" icon and select a music file from your video.
After adding music, click on the "Save" button.
Once it is saved, you can share it with your friends.
3. BeeCut
BeeCut is one of the most professional methods to add music to your Snapchat stories. It comes with all the best features for video editing yet, at the same time, extremely easy to use. Moreover, it allows you to add more personality to your stories.
Some of its essential features include support to videos of different ratios, offer double tracks of picture-in-picture, text, and overlay.
First, download and install BeeCut on your desktop.
Now open the program and select your desired video ratio aspect like 9:16.
Click on the "Import" icon under the "Media" tab. Now add a song to your Snapchat story.
Drag the music on the timeline you want to add in your video and edit it by clicking on the "Edit" button.
Once you are done, click on the "Export" button.
4. Quik App
If you are looking for some good video tools, go for the Quik app without thinking twice. It helps users to make videos quick. It offers a fast editing process to edit and post videos in no time. Initially, it was designed for the Instagrammers, but it is also suitable for Snapchat users. It comes with 28 different video styles.
Its best feature is the automatic editing, but you can also make a few tweaks like style, font, filter, trims, etc.
Download the Quik app and install it in.
Now open the app and click on the Music icon from the video editor screen.
Then you can choose from different background audio for your Snapchat story. You can also go to your Music Library to find music on your phone.
Then finally, click on the "download" icon and download your video.
5. VivaVideo
Lastly, we have VivaVideo free tool on our list. It comes with a simple interface, and within a few steps, you can easily add music. Its main features include a lot of stickers, themes, sound effects, and animated texture. Besides, it can also blur the background, adjust speed, and can apply fade in fade out.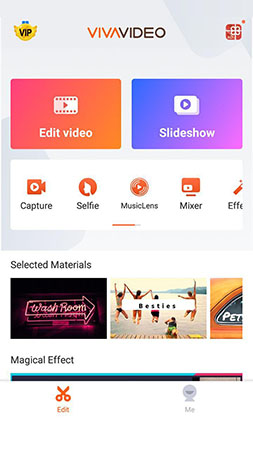 Its detailed steps include:
Start with downloading the app and install it on your phone.
Open the app and click on the edit option.
Now select the video in which you want to add music.
Then rotate this video by clicking on the "Add" button to apply the rotation.
Then finally click on the done button and save the video.
Part 3: Compare the Two Ways (with and without Video Editor)
There are two main ways to add music to the Snapchat. One is without video editor software, and the other is by using video tools.
Here are the main differences between the two:
You can also edit your video using video editor tools while adding music in your Snapchat story. However, when you are not using a video editor, you cannot edit your story.
Another significant difference is that you can add or filter a sticker, which is not available without a video tool.
Moreover, using a video tool, you can cut all the unwanted clips and can control your play speed.
Conclusion
We have tried to explain all the possible ways about how to add music to Snapchat video. You can either directly add music from your music apps or by using a free video tool.